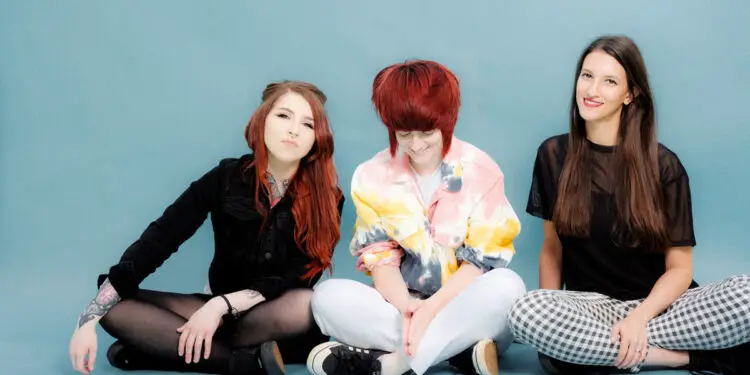 Bristol trio's fast-rising punk rock riot – here are Bec, Nic & Jenn from IDestroy…
What's the title of your latest release, and what does it mean to you?
Bec: Our latest release is called We Are Girls and it's our debut album!
Nic: It's the first official IDestroy record that I've played on which is super exciting for me! I am immensely proud of us for finally getting to release it into the world.
Jenn: I have loved recording our EPs, but to actually have our debut album is the best feeling. I am so happy it has finally come together despite everything that 2020 threw at us and we're so pleased with the result.
What was the hardest part about putting this release together, and why?
Nic: COVID 19! We were so close to finishing the album before the first UK lockdown hit; when everything came to a halt, we were unable to go back to the studio to get the last little bits done. Having said that, before the pandemic we had planned to get the album recorded sooner but touring and playing a lot throughout 2019 was taking up a lot of our time. In a way, despite the pandemic stopping us getting in the studio for a bit, being unable to tour meant that, once we were safe to go into the studio again when lockdown restrictions were briefly lifted, we had no touring distractions, so we got it done really efficiently!
Jenn: Yes, the pandemic definitely put the brakes on the release for a while. I also found it really hard not seeing Bec and Nic for so long as we are used to being together either every day whilst on tour or at least two or three times a week gigging. So, it was difficult to go from that to not seeing each other at all for months with half an album recorded and not knowing when we would be able to finish it.
Who produced the release – what did they bring to it?
Jenn: We wrote the album ourselves, although we did get some really good input and suggestions about the production from our recording and mixing engineer Jay Hills. It's great having complete creative freedom and to end up with our album that is exactly how we wanted it to sound. The main thing was that he was using really modern equipment but managed to get the smashed lo-fi sound that we were after, recreating a mix from a reference track we gave him perfectly. He ran a lot of the tracks out to a custom-made tape machine which was made by pulling apart an old cassette to create saturation and distortion (which was pretty cool).
What do you want the listener to take away from listening to your music?
Nic: I think having people able to relate to the content of the songs in whichever way they interpret them is one of the most wonderful things about music – it connects people in so many ways and it would be awesome to think that listeners could relate to our songs in some way. Growing up listening to bands that I loved was such an escape from reality and it kept me going, so much so that I knew I needed to play music and make some sort of living playing in a band. I would love to know that listeners could get something out of our music in that same way and, if our songs could inspire someone to pick up an instrument and start their own musical journey too, it would just be such a wonderful feeling to have been a part of that.
How does a track normally come together? Can you tell us something about the process?
Nic: Normally, Bec writes the song melodies and records a little demo which she then sends over to me and Jenn so we can jam ideas at home before getting together and jamming out the songs to see what works. On some occasions, Bec might have a specific bassline in her head so I will try that and maybe add a few variations. On other songs, I will make a bassline from scratch and do my best to make it work for the song, whilst getting feedback from Bec and Jenn. Once we start playing new songs live, we always find that we end up naturally adding little parts to the songs in front of an audience! Some of those fills or solos that we do might end up sounding great and just become part of the song. I'm not sure if that's the way you're meant to write songs… but I feel like it makes our audience part of the process too and for me that is awesome!
Jenn: Yeah, we get the music together and then I think the lyrics are the last part to be finalised and these can change sometimes up until the day of recording. Sometimes they are even perfected on drunken nights out where they seem to just come together!
Bec: Lyrics literally take me forever to finish! I'm always changing them right up until the last minute. Most of the time though, I will start writing with a song title in mind and go from there.
What band/artists have influenced you the most since you started this project, and why?
Bec: At the time of forming IDestroy, riot grrrl had a big influence on me. Bands like Bikini Kill, Sleater Kinney and The Gossip were huge reasons why I wanted to form our band. I think before we even had our first band rehearsal, we all got together and watched the The Punk Singer. It's a documentary about Kathleen Hanna from Bikini Kill. I remember feeling so empowered and like YES LET'S DO THIS!
Nic: Bec and Jenn started the band a couple of years before I joined, but my influences have always been high energy 90s/00s alternative and punk rock bands like Green Day, My Chemical Romance also bands like Guns n Roses, AC/DC and Red Hot Chili Peppers. I'm also a sucker for some pop artists like Taylor Swift and Avril Lavigne (I suppose she's more pop-rocky) and I quite enjoy a bit of metalcore as well and some hardcore bands, but mainly I've always just been drawn to musicians that could give it a lot of energy and that's why IDestroy was the most ideal band I could ever imagine getting to be a part of!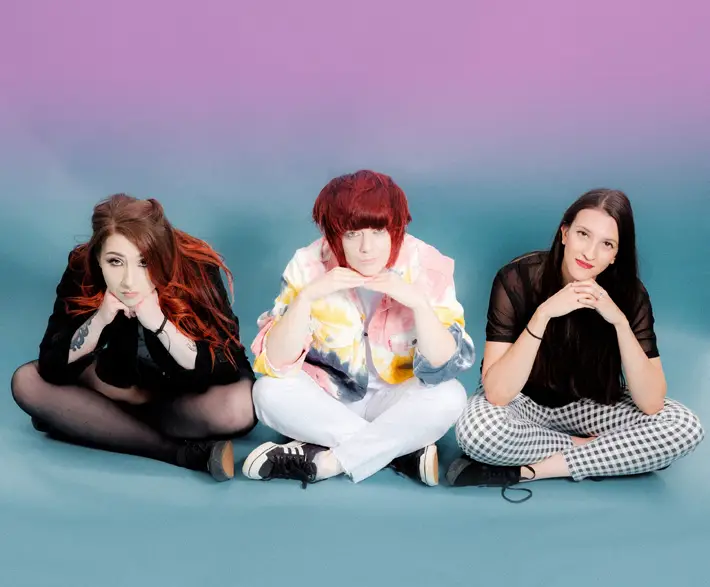 What countries would you like to tour? Are there any standout venues you'd like to play in?
Bec: We pretty much want to tour everywhere! That was always one of the biggest aims when starting IDestroy – to play in as many different countries and cities as possible. We'd definitely love to go back to Asia, and I think one of our ultimate goals is to tour across the US.
If you could pick one track for our readers to listen to in order to get a taste of your music, what would you pick, and why?
Bec: I'd probably say 'We Are Girls' – it's the title track of the album and our latest single.
Nic: It's tricky, but I think I would say 'G.O.D' It's high energy, fun and to the point.
Jenn: I agree with Nic; it sums our sound up pretty well. My favourite song on the album keeps changing, but at the moment it is back to 'G.O.D' again!
What ambitions do you have for the band/your career?
Nic: I feel like we have already exceeded my life ambitions ha ha – 14-year-old me would be so happy if she knew what she was going to happen! But I think now our future goals would just be to get to continue touring with some wonderful bands and play in different countries and cities, write the next album and just keep on spreading the IDestroy joy to as many people as we possibly can!
Jenn: We would also like to get slots on some of the big festivals like Glastonbury when they are up and running again.
Bec: I'd like to tour with Green Day.
Finally, as you leave the stage, what are your parting words?
Nic: Thank you all for being here with us tonight. WE ARE IDESTROY, GOODNIGHT.
The debut album from iDestroy, 'We Are Girls', is out February 12
For more info visit: facebook.com/Idestroyband