New age Dutch-Austrian jazz-pop! – here's Elmar from Eloah…
What's the title of your latest release, and what does it mean to you?
Our latest release is called 'Proud to Love You'. As the name suggests, it is a collection of ballads and soft rock songs. The 14 tracks on this album were all inspired by the different emotions around romantic love – from ecstasy to agony, from serenity to heartache, but with a clear bias on the pleasant aspects, as I experienced them in different periods of my life. Isn't love what makes our existence worthwhile? Isn't it worth all the suffering, waiting, fear and despair that often accompany the experience? Isn't it true that we can do anything, endure anything and be anything if we do it in the name of, or with the power of, love? And, most importantly: Isn't it heaven on earth when it finally works out? Especially, the last question is embedded in most of the songs which can carry us deeply into the realm of the heart – we just need to allow them to enter.
What was the hardest part about putting this release together, and why?
The hardest part was to select the songs and their order on the album. I know that in times of iTunes, Spotify and playlists, this issue seems less important, but it was very important for me, since in my opinion an album as a whole should be a round, complete product. This time I was aiming for a generally positive, but not too tacky or superficial album, thus the tracklist changed a couple of times, a few songs were taken out because they did not fit into the overall character of the album, and at the last moment a very new one ('Caterpillar') was added, and only then I was finally happy with the feeling I got from listening to the album as a whole, from first to last track.
What do enjoy most about producing your own material?
We produced it ourselves, though it is distributed by Big Bad Wolf Records. I personally enjoy all parts of the production process – from the very first moment of inspiration to the practising, the recording, the mixing, the mastering, working on the artwork – all of that has its merits, all of that is fulfilling in its own way.
What do you want the listener to take away from listening to your music?
Joy – and the idea that even if sometimes accompanied by sadness and despair, love is the most beautiful, most enjoyable and most important experience that we can make on this planet – and that love can be an immense source of strength, power, kindness – and, last but not least – meaning for one's life.
How does a track normally come together? Can you tell us something about the process?
Normally, a track starts with me picking up the guitar and playing – something. Every now and then, all of a sudden, I would play something that "feels right" – I have no better words to describe it – and then I pick up a pen and a piece of paper and start writing down lyrics to what I play and sing them. Then I rehearse it until neither lyrics, the melody nor the chords, riffs or licks change anymore – and then the "unplugged" version of the song is finished. This version I would then present to Johan, Peter, Orion, Sylvia and Dominik – not necessarily in that order – and discuss with them how to develop it – thus which kind of drums/percussion would fit, if I should play it on the piano instead of the guitar, additional lyrics, bass line, e-guitar parts, saxophone, etc. Then we put it all together until everybody likes it as a whole – and the song is finished.
What band/artists have influenced you the most since you started this project, and why?
Probably the bands I like to listen to like (but not limited to) Savatage, Maestro, Saviour Machine, Iron Maiden, Manowar – but also other kinds of music like the Dutch chansonnier Herman van Veen or Loreena McKennitt or Keith Jarret. That is true for me, but naturally the other members have different tastes and thus different influences they bring to the band. And as to answer why other artists and musicians influence us – well, I guess that it is a natural process that if you are musician and/or composer, styles you like can to some extent be found in the music you create – nobody starts from scratch, we are all creating our songs and sounds based on a huge musical heritage.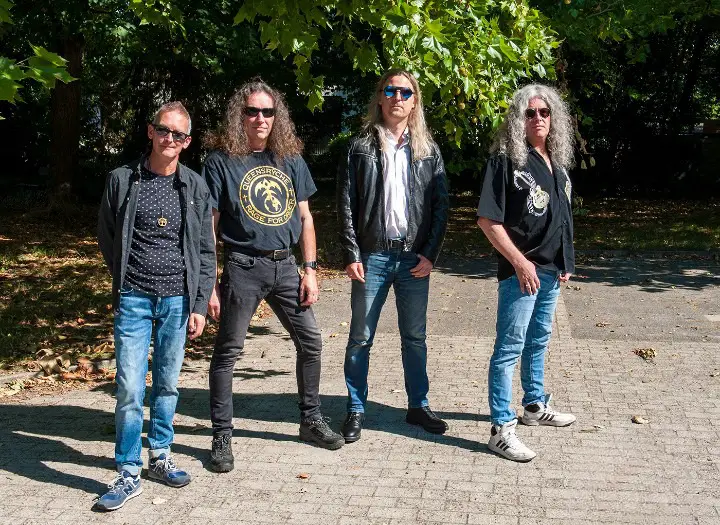 What countries would you like to tour? Are there any standout venues you'd like to play in?
We usually don't tour together, since we are all either playing in other bands (that do that), or we have different day jobs. However, we have been talking about putting together a live set possibly after the album we are working on now – a heavy rock / metal album – but we have not discussed venues let alone countries that we would like to perform in. Personally, I would like a joined tour with Maestro, the band of our guitar player Orion Roos, with which we also share the bass player Peter Douwenga.
If you could pick one track for our readers to listen to in order to get a taste of your music, what would you pick, and why?
I would suggest the track 'Caterpillar' from our latest album. It is probably the most intimate song we ever released, and very close to the singer/songwriter type of ballad which most of our songs are based upon.
What ambitions do you have for the band/your career?
We are at the moment recording a heavy rock / metal album which we would like to release in 2024. After that we will put together a live set and see if/where we can live. Further on the horizon, I have already a number of tracks in mind for an album afterwards, this time with hymns and gospels…
Finally, as you leave the stage, what are your parting words?
Thank you all, it has been truly wonderful to be with you!
For more info visit: facebook.com/eloahmusicsite
images: Rob Meijer