Mali and Leo from AR/CO…
What's the title of your latest release, and what does it mean to you?
MOVE is a song that gets under your skin, and puts a pep in your step. It's a feel good anthem for all occasions.
What was the hardest part about putting this release together, and why?
This song had a few different production phases, it was re-written a few times because we weren't sure it was right. This version that's out though, is exactly how we imagined it and more. Definitely worth sticking at it.
Who produced the release – what did they bring to it?
This song was produced with our mates Nick Enriquez and Paul Harris who have an arsenal of big records between them. Their experience with where pop meets dance is invaluable, and they're perfect sounding board for us and our wild ideas. Oh, and we always laugh and don't take it too seriously together, we find that's the key.
What do you want the listener to take away from listening to your music?
It's all about having a good time, letting go of inhibitions and getting sucked into the moment. Hopefully the songs encourage people to do just that.
How does a track normally come together?
Usually we get in rooms with people who know us, the spirit of AR/CO and us as a duo, and we create pretty freely.
Can you tell us something about the process?
Usually we let a producer go with how they interpret the music, sometimes we pick up a guitar or start with a synth, before we both start singing melodies out loud. Usually we find something that captures the feeling melodically and then lyric afterwards. We have a bank of titles we pull from too.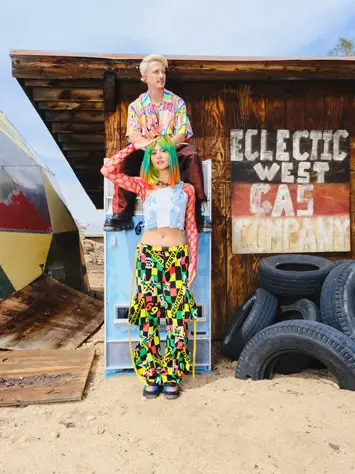 What band/artists have influenced you the most since you started this project, and why?
Empire of the Sun, PNAU, MGMT, Daft Punk, Justice. They write classic, party starting bangers that stand the test of time and always go off no matter the audience, time of day. We wanna make music like that.
What countries would you like to tour? Are there any standout venues you'd like to play in?
We're pretty new actually. We've not toured, we're gonna support 5 Seconds of Summer in Sept/Oct on their UK/EU tour! We're so excited. London is where we both live, so the O2 will be a highlight for us!
If you could pick one track for our readers to listen to in order to get a taste of your music, what would you pick, and why?
We always sat Night Feels sets the tone, and really is the best intro to us (but they're all good and weee not biased)
What ambitions do you have for the band/your career?
Crowds dancing, people smiling, all to the soundtrack of us. Anywhere and everywhere.
Finally, as you leave the stage, what are your parting words?
Welcome to AR/CO, all welcome. Chances are if you're looking for us, we're looking for you.
Follow AR/CO on Instagram