Young and Dangerous by The Struts – Album Review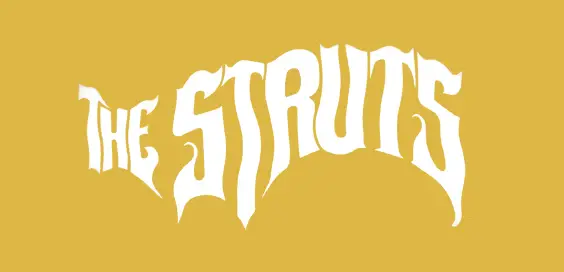 By David Schuster
When I was a kid watching Top of the Pops it seemed to me that glam rock was how pop stars should be; larger than life singers, outrageous costumes and anthemic songs. In a world where the music moguls are increasingly risk-averse, the music industry needs this, and The Struts have all of it, by the bucket load.
The band have taken their time putting out Young & Dangerous, this is only their second album since they formed back in 2009. You can't accuse them of rushing material out! It's been well worth the wait though, there's quite a few songs that will make great singles: 'In Love With A Camara' sounds a lot like The Darkness in their heady initial days. 'Primadonna Like Me' and 'Bulletproof Baby' are full of the (appropriately) strutting pomposity of the Rolling Stones; "You only love us 'cause we're hot. So what?", whilst 'Tatler Magazine' is a hymn for anyone who's ever dreamt of fame: "'Cause one day everyone will know I'm the star of my own show. Living life in luxury inside a Tatler Magazine".
"On fire"
It's a shame then that my favourite, 'Freak Like You', is unlikely to get any national airplay due to its overt use of the 'F' word. It won't matter though, if I was The Struts I'd finish every concert with this crowd-engaging, hand-clapping-above-heads rock anthem. It's not hyperbole to compare it to Queen's 'Radio Ga Ga', perfect for a Glastonbury headline performance. Michael Eavis, sign them up immediately!
Tracks seven 'Fire (Part 1)' and twelve 'Ashes (Part 2)' are presented as a pair, a conceit which made me smile. The former deals with the heady initial days of a relationship: "We're on fire, burning desire… Can't hold back the fire", whilst the latter deals with the aftermath, "We burned like fire, now everything's turned to ashes".
"Put it on repeat"
The Struts' Young & Dangerous gets my first full 10/10 rating for 2018. It's a perfect New Year's Eve dance floor filling, shout at the top of your lungs, party CD the like of which we've not seen for a long time.
I'd decided this on my first listen through, but on later consideration I dithered: There's an awful lot here that sounds like other bands; 'Primadonna Like Me' echoes Franz Ferdinand's 'Do You Want To', 'Body Talks' reminds me of Amy Winehouse, and there's a lot more that's familiar in part.
Often though you should just go with gut-instinct: I played the album in the car, on a family road trip. As soon as the record finished, my teenage daughter asked me to put it on repeat. You can't argue with that.
10/10