The Tommy Steele Story (1957) – Film Review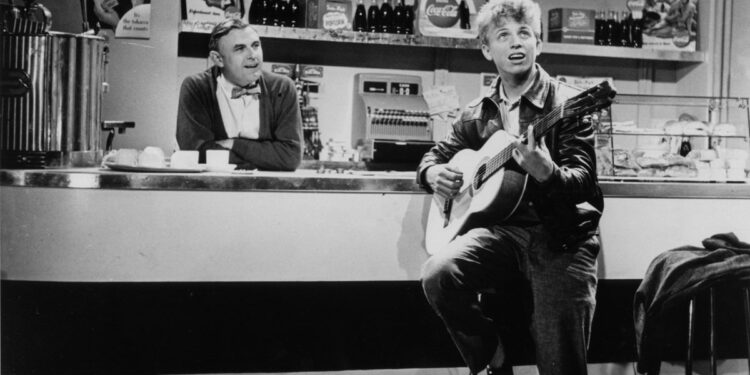 Director: Gerard Bryant
Cast: Tommy Steele, Humphrey Lyttelton, Chas McDevitt
Certificate: U
by @RogerCrow
You'll never guess what this biopic is about. Yes, in 1957 the toothsome eponymous entertainer was all over the news and the charts. Fresh faced, though cursed with terrible skin, Tommy's feel good movie was one of the most popular British films of that year. (In the States few people had a clue who he was, so it was released as 'Rock Around the World').
Via some clumsy bookend storytelling courtesy of Norman Hudis, the bulk of the film is a flashback to how Tommy rose from zero to hero. What is interesting is seeing how much David Bowie might have taken from Tommy. After all, he was a young man growing up in London around the same time, and though Anthony Newley was a key inspiration, there are times Tommy seems to be a blueprint for Bowie's act.
As someone who was weaned on TS's overlong but charming movie version of Half A Sixpence, and specifically 'Flash, Bang, Wallop', which I used to play on a loop 30 years ago, it's fascinating to see how he got to that point.
"Charming enough"
It's also interesting to see how much Paddington might have taken from the biopic, which its excellent Calypso-themed narration.
While it's not a perfect film, and most of the songs are forgettable, as a vintage curio, it's certainly fascinating.
If you grew up in the 1970s, kids' show A Handful of Songs always seemed to be wholly original. I had no idea the key tune was taken from this movie. It's also interesting how Tommy's scenes in hospital, where he learns how to play guitar, feel like a forerunner of Peter Rogers' other productions Carry On Nurse and Doctor. (Screenwriter Norman Hudis also worked on many a Carry On).
The extras here don't have much to do aside from mumble in the background or dance occasionally. This is The Tommy Steele Story after all, and the director tries to get him in every shot. Until the finale which seems like an excuse to get a bunch of other artists such as Humphrey Lyttelton a few minutes in the spotlight.
Tommy's path from patient to cruise liner to coffee bar entertainer is charming enough, and when he's spotted by the obligatory agent in the coffee bar, it looks obvious now, but may have seemed more original in 1957.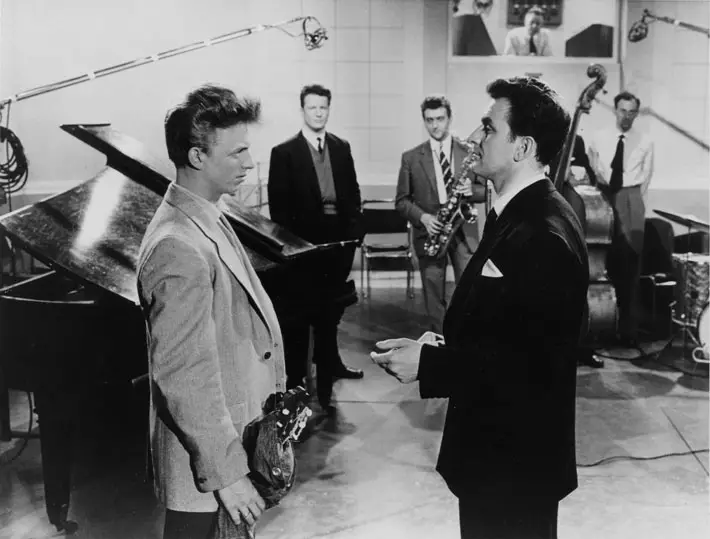 "Fascinating watch"
The sound is pretty good, even if many of the songs are just so-so, and it looks okay, considering the age. However, some of the ads for Tommy's other works are compelling, especially a brief shot of York's greatest composer, John Barry.
Hardcore fans will lap this up, but there's a strange inertia to some of the scenes. Obviously Tommy was just setting out on his path as one of the kings of showbusiness, but there's a few too many looks to camera, and the finale is just a little annoying as the chirpy Londoner adopts an annoying transatlantic patter, possibly tagged on to appeal to an overseas audience.
'Cannibal Pot' and 'Elevator Rock' may have rightly vanished into the mists of time, but I'd be lying if is said some of the songs don't get under your skin.
More 'Flash, Bang and Wallop', and yes, what a picture this would have been. But if you love vintage British cinema and music biopics, it's no Slade in Flame (the gold standard of the genre), but a fascinating watch nevertheless.
The Tommy Steele Story is released on Blu-ray by Network, £17.99