The Last House on the Left (2009) – Film Review
Director: Dennis Iliadis
Cast: Garret Dillahunt, Monica Potter, Tony Goldwyn
Certificate: 18
By Sarah Morgan
Remaking classic movies isn't a rarity, and usually, the new versions are nowhere near as impressive as the originals. There are, of course, exceptions, but for every 1990s Thomas Crown Affair there are half a dozen Sylvester Stallone-style Get Carters, sadly.
In recent years, various horror movies have been revamped for modern audiences, including Halloween, House of Wax, The Amityville Horror, The Bad Seed, I Spit On Your Grave and The Hills Have Eyes.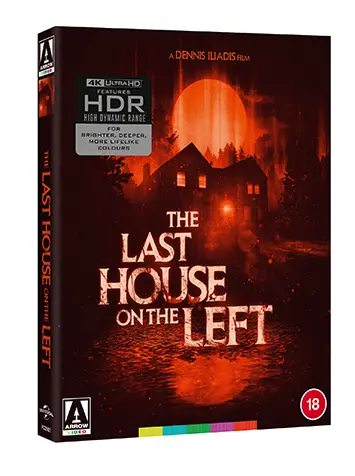 The latter was based on a film written and directed by Wes Craven. Three years after the remake hit screens, Craven's directorial debut, The Last House on the Left, was also dusted down and given the slick Hollywood treatment. Its predecessor had been made on a tiny budget and Craven gave the new version his blessing because he felt some aspects of the story he'd had to leave out due to a lack of money could now be inserted.
"Wreaking revenge"
Although I'm a huge fan of horror movies from the 1930s to the 1970s, I've never got along well with Craven's Last House on the Left. It's important in the development of the genre because it inspired a bunch of other film-makers, but for me, it's simply a really nasty tale told not particularly well.
Greek director Dennis Iliadis was brought in to helm the new take, and he's made it look like every other slickly produced entry in the genre, which to my mind isn't a particularly good thing; there's nothing in the mood or atmosphere to make it stand out from the crowd.
As you'd expect, the plot remains largely the same, with a bunch of criminals terrorising a couple of teenage girls, then seeking refuge at a remote home which, unfortunately for them, is owned by one of the girls' mother and father. When the parents discover their daughter has been beaten, raped and left for dead by the gang, they set about wreaking revenge.
Craven and Iliadis both claim the film explores how even the most ordinary, civilised people will commit violent acts if pushed too far. Whether that occurred to anybody who paid for a ticket to see it at the cinema remains to be seen. It's more likely they were either lapping up (for want of a better phrase) or being repulsed by what they could see on screen – namely lots of blood-letting and hideously violent set-pieces, including one involving a faulty microwave oven.
"Wealth of special features"
The cast, which includes Aaron Paul, just as he was about to become a star via Breaking Bad, do their best with the script. There are some characters who could have become cartoonish depictions of evil, but the likes of Garret Dillahunt and Riki Lindhome, as the main villain and his moll, manage not to go too over the top.
Iliadis says he wanted his Last House on the Left to avoid becoming a 'torture porn' movie in the style of Hostel or Saw. I'm not sure he managed it, but full marks for trying. But one thing this release does have in its favour is the wealth of special features included on the disc (as well as a second disc containing an unrated version of the film), which are a must for fans of the genre.
4K ULTRA HD BLU-RAY LIMITED EDITION CONTENTS
Two versions of the film: the original Theatrical Version (4K Ultra HD Blu-ray) and the Unrated Version (Blu-ray)
Original uncompressed stereo audio and DTS-HD MA 5.1 surround audio for both films
Optional English subtitles for the deaf and hard of hearing on both films
Illustrated collector's booklet featuring new writing on the film by Zoë Rose Smith
Reversible sleeve featuring original and newly commissioned artwork by Eric Adrian Lee
DISC ONE – THEATRICAL VERSION (4K ULTRA HD BLU-RAY)
4K (2160p) Ultra HD Blu-ray presentation in Dolby Vision (HDR10 compatible) of the original Theatrical Version of the film
Exclusive new filmed introduction by director Dennis Iliadis
Brand new audio commentary by David Flint and Adrian Smith
A River of Blood, a new 31-minute interview with Sara Paxton
The Notorious Krug, a new 27-minute interview with actor Garret Dillahunt
Suspending Disbelief, a new 18-minute interview with screenwriter Carl Ellsworth
Reviving the Legend, a new 33-minute interview with producer Jonathan Craven
Look Inside Featurette, from the film's original 2009 release
Deleted scenes
Theatrical trailer
Image gallery
DISC TWO – UNRATED VERSION (BLU-RAY)
High Definition Blu-ray (1080p) presentation of the Unrated Version
The Last House on the Left
is released on Blu-ray by
Arrow