The Gunfighter (1950) – Film Review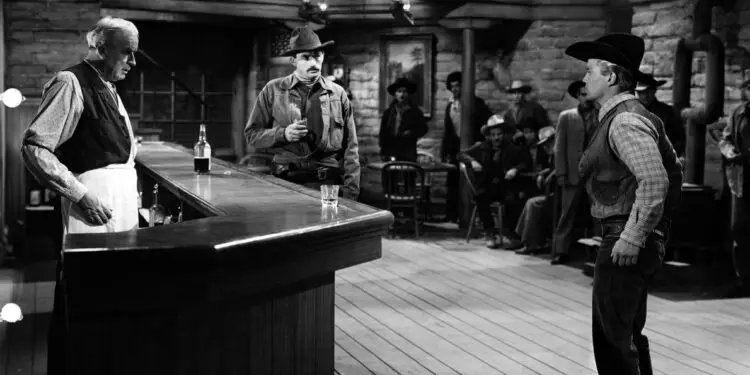 Director: Henry King
Cast: Gregory Peck, Helen Westcott, Millard Mitchell
Certificate: U
By Sarah Morgan
A quick admission – I tend to be a little biased towards Gregory Peck. He's one of the most reliable actors of his generation, and one who has starred in three of my favourite films of all time – Roman Holiday, The Big Country and To Kill a Mockingbird.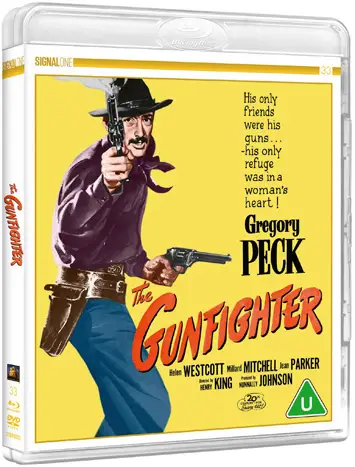 So when the chance to review one of his other classic movies came along, I jumped at the chance. I've seen The Gunfighter before, but it's never looked as good as it does on this Blu-ray release. The picture itself is impressively crisp, and at times, the depth of vision makes it almost appear as if it was shot in 3D.
"Marked man"
In the opening titles, Peck's character, Jimmy Ringo, is described as a 'long, lean Texan', and the Californian-born actor certainly fulfils two of those criteria. It's also stated that Ringo is the fastest gun around, a fact that has not made him a happy man.
When we first meet him, he's on his way to the town of Cayenne, where he's hoping to convince his estranged wife Peggy that he wants to settle down and make a fresh start with her and the young son he's never met.
But Ringo is a marked man – every cocky young gunslinger hopes to make a name for himself by being the man who shot Jimmy Ringo, which means that trouble follows him wherever he goes.
On his arrival in Cayenne, Peggy is eventually persuaded to see him, and she agrees to go through with her husband's plan to move away and start a ranch somewhere – providing he can stay on the straight and narrow for an entire year. However, fate has something else in store.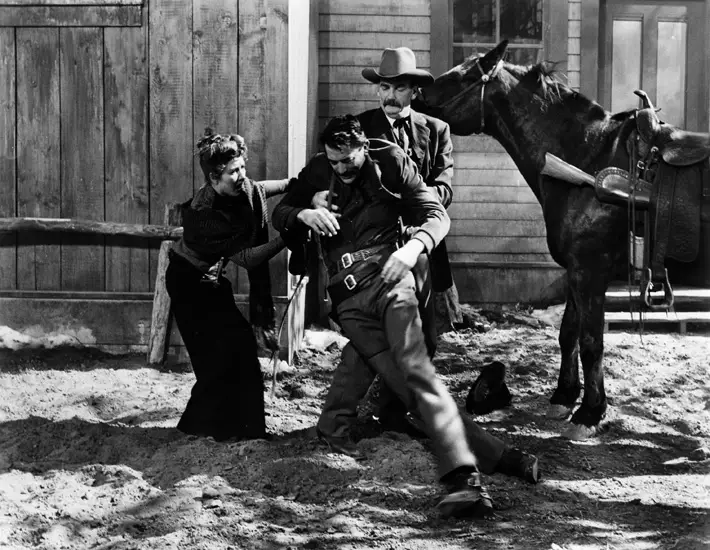 "Style and grace"
Peck had apparently shown an interest in tackling a Western, but one without the usual heroic trappings and stereotypes. Rumour has it that Roger Corman, then working as a story reader for 20th Century Fox, found The Gunfighter script, thought it would fit the bill, added some ideas of his own and passed it on – but when he received no credit, quit the studio to go it alone, eventually becoming arguably the most influential independent film-maker of all time.
Whatever the truth, this is a hugely compelling, thought-provoking and cerebral tale. Henry King – who worked with Peck on six movies over the years – directs with style and grace. The leading man is as impressive as ever, but he's well supported by Karl Malden as a fawning barkeep, Millard Mitchell as Ringo's pal-turned-Marshall and Helen Westcott as his wife Peggy.
Sadly, the special features are thin on the ground, although there is an excellent introduction from director Alex Cox, who loves the film almost as much as I do.
Special Features:
• High-Definition Transfer
• UK Blu-ray premiere
• Introduction by Alex Cox (Director of Repo Man)
• Original Mono Audio
• Still Gallery
• Optional English SDH subtitles for the main feature
The Gunfighter is released on Blu-ray by Patriot Films, £17.99