The Defiant Ones (1958) – Film Review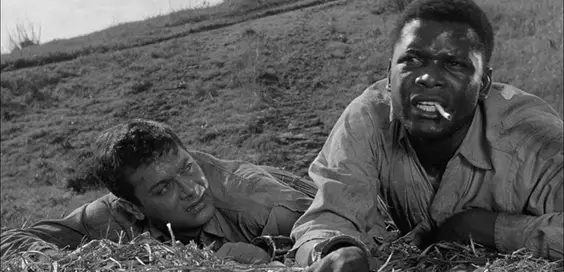 Director: Stanley Kramer
Cast: Tony Curtis, Sidney Poitier
Certificate: U
by Sarah Morgan
Two men, one set of manacles and a whole lot of tension – that, in a nutshell, is The Defiant Ones.
Originally released in 1958 and regarded as an important film to the Civil Rights movement, it's simply wonderful and stands up to scrutiny 60 years on.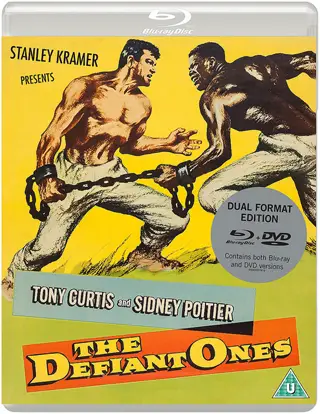 For decades, Tony Curtis has been regarded as a matinee idol or charmer relying on his looks rather than as a genuinely talented actor. However, there was clearly a lot more to him than just charisma and good looks.
I recently saw his compelling performance in The Boston Strangler, where he outshines even Henry Fonda, and he's equally as impressive here; career-wise he was on something of a roll having just starred in Sweet Smell of Success before going on to make Some Like It Hot.
"Mutual respect"
Perhaps Curtis raised his game so that he wouldn't be overshadowed by the obvious acting chops of Sidney Poitier; both men would be nominated for Oscars for their roles here.
Curtis plays Joker and Poitier is Cullen, two convicts chained together while being transported across America's Deep South, a place where racism runs riot.
When the truck they're travelling in crashes off the road, Joker and Cullen take the opportunity to abscond. The authorities are soon on their trail and the duo must work together if they're to make it to freedom.
Joker is initially depicted as a racist, but he soon alters his viewpoint as he and Cullen begin to rely on each other and develop a mutual respect, even affection by the end of the film.
Director Stanley Kramer delivers one of his most assured projects, doing nothing showy with the camera, giving the tale an almost documentary feel, particularly as there is no musical score.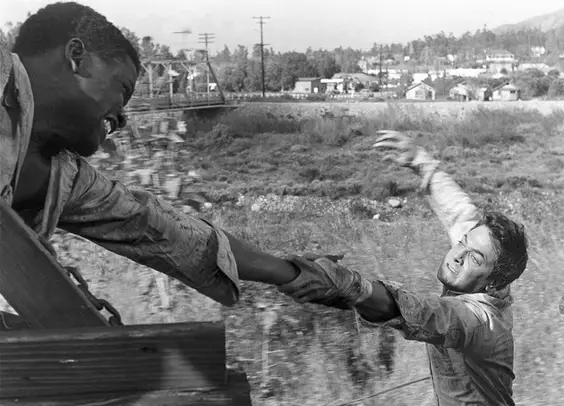 The supporting cast is full of character actors with wonderful faces, including Lon Chaney Jr. Best known for appearing in a series of Universal horror movies in the 1940s, he's on fine form here as a worker sympathetic to the men's cause, showing depths few would have known he possessed while watching him play the title role in The Wolf Man.
The restored print makes the model work and stunt performers stand out more clearly than they would previously have done, but that doesn't detract from the overall movie.
Sadly, ever-grinning film historian Kim Newman delivers a monologue about its merits as a special feature, and you get the impression he hasn't watched the film for a while – he doesn't even manage to get where the main protagonists are manacled together correct (it's by the wrist Kim, not the ankle).
9/10
'The Defiant Ones' is released in dual format DVD and Blu-ray by Eureka Entertainment, £17.99