The Count Yorga Collection – Review
By Sarah Morgan
Which movie was conceived as a soft-core porn flick but ditched the sleaze to become a cult hit?
That's right, Count Yorga, Vampire.
Producer Michael Macready (who also takes a supporting acting role) wanted to make a quick buck and felt that a mix of low-budget sex and chills was the right way to go about it. However, actor Robert Quarry told him the only way he'd take part was if it became a straight horror movie.
Macready is probably pleased that Quarry intervened, because the resulting film was a hit.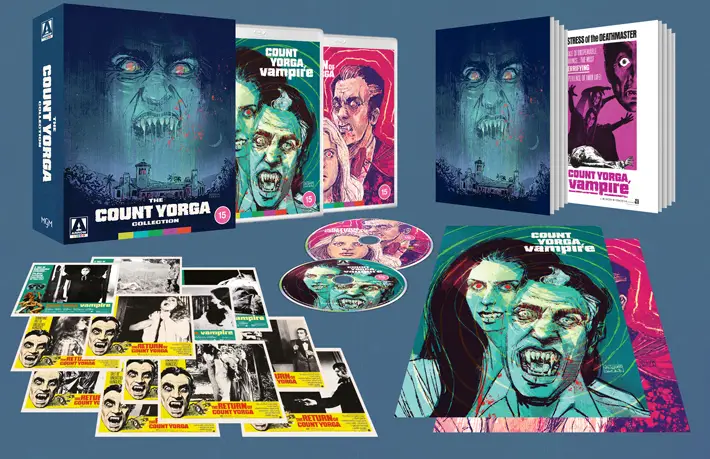 "Shocking sequences"
Quarry was a steady if unremarkable actor, but he nevertheless delivers a pleasingly enigmatic performance as the Count, a mysterious Hungarian 'living' in modern-day California.
Following the death of her mother, who was dating the Count, twenty-something Donna asks him to lead a seance in the hope of contacting her. It turns into a disaster, and soon afterwards, her friend Erica, who was in attendance, begins acting very strangely.
A bizarre series of events – including Erica devouring a kitten in one of the film's most shocking sequences – leads Donna's boyfriend Michael and blood specialist Dr Jim Hayes figure out what Yorga really is, and set out to stop him.
In terms of plot, the film is somewhat formulaic – like many a vampire movie before it, it features nubile young women falling under the spell of an older, mysterious man; their menfolk are slow on the uptake, but realise what's going on shortly before a showdown with the villain.
That being said, it's an atmospheric offering which perhaps kick-started a trend for more modern-day-set blood-sucking offerings, including Blacula and its sequel, and Hammer's Dracula AD 1972 and The Satanic Rites of Dracula.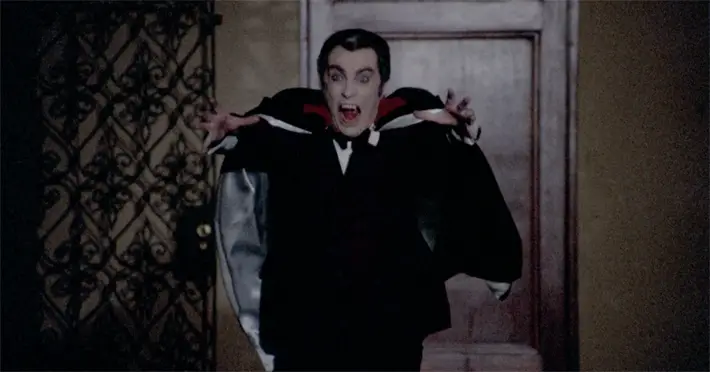 "Well worth a look"
A follow-up, The Return of Count Yorga, followed a year later. This time, the aristocrat has moved close to a San Francisco orphanage, where a variety of odd events begin to occur. He also has his sights set on a new bride…
Although not as strong as its predecessor, the sequel is still well worth a look. Roger Perry, who appeared in the first film, pops up here in as a different character; George Macready, the actor father of producer Michael, who narrated parts of Count Yorga, Vampire, has a role here, as Professor Rightstat.
Quarry is as enigmatic as ever, but thanks to a few decent lines in the script, gets to show off a previously unseen witty side to Yorga, making him less two-dimensional than before.
Both discs also include several special features, including interviews with critics Kim Newman and Maitland McDonagh, and renowned director and self-confessed Yorga fan Frank Darabont.
LIMITED EDITION CONTENTS:
• Brand new 2K restorations by Arrow Films of Count Yorga, Vampire and The Return of Count Yorga from new 4K scans of the original 35mm camera negatives
• High Definition Blu-Ray (1080p) presentations of both films
• Original lossless mono audio
• Optional English subtitles for the deaf and hard of hearing
• Illustrated perfect bound collector's book featuring new writing by film critic Kat Ellinger and horror author Stephen Laws, plus archive contributions by critic Frank Collins and filmmaker Tim Sullivan
• Limited edition packaging with reversible sleeves featuring original and newly commissioned artwork by Heather Vaughan
• Fold-out double-sided posters for both films featuring original and newly commissioned artwork by Heather Vaughan
• Twelve double-sided, postcard-sized lobby card reproduction artcards
• Reproduction pressbook for Count Yorga, Vampire
DISC ONE - COUNT YORGA, VAMPIRE
• Brand new audio commentary by film critic Tim Lucas
• Archival audio commentary by film critics David Del Valle & C. Courtney Joyner
• The Count in California, a brand new appreciation by Heather Drain and Chris O'Neill
• I Remember Yorga, a brand new interview with Frank Darabont in which the award-winning filmmaker talks about his love for Count Yorga, Vampire
• A Vampire in L.A., a brand new interview with actor Michael Murphy
• Fangirl Radio Tribute to Robert Quarry, an archival episode featuring host Jessica Dwyer in conversation with Tim Sullivan filmmaker, Yorga fan and friend of Robert Quarry
• Theatrical trailer
• Radio spots
• Image galleries
DISC TWO - THE RETURN OF COUNT YORGA:
• Brand new audio commentary by film critic Stephen R. Bissette
• Archival audio commentary by David Del Valle & C. Courtney Joyner
• The Count and the Counterculture, a brand new interview with film critic Maitland McDonagh
• Chamber-music of Horrors, a brand new interview with David Huckvale about the scores for both films
• Archival interview with film critic Kim Newman
• Theatrical trailer
• Radio spots
• Image gallery
The Count Yorga Collection is released on Limited Edition Blu-ray by Arrow, £44.99