Sometimes Aunt Martha Does Dreadful Things (1971) – Film Review
Director: Thomas Casey
Cast: Abe Zwick, Wayne Crawford, Don Craig
Certificate: 15
By Sarah Morgan
An odd title for what is undoubtedly an oddity.
There seems to be no end of low-budget, long-forgotten movies made in the 1960s, 1970s and 1980s by directors who have since faded away. The first time many of us learn about them is when their work pops up on either streaming services or via DVD/Blu-ray releases.
"Unhinged"
They could never have envisaged such an interest in their CVs when their films first came out – few will have made it into mainstream cinemas, more likely popping up in drive-ins and grindhouse theatres across the US.
Whether many of them are worth resurrecting is a moot point, but Sometimes Aunt Martha Does Dreadful Things is being pitched as an overlooked or simply ignored relatively early entry in the queer cinema genre, which should help to generate more interest in it than most exploitation flicks receive.
The story takes place in Florida, where two Baltimore-born criminals – cross-dresser Paul and his partner Stanley – are hiding out after committing murder in their home city.
They're trying to throw the authorities off their scent by having Paul pose as Stanley's Aunt Martha, a ruse which, incredibly, despite his terrible wig, hairy chest and arms, has fooled the neighbours.
But Paul's unhinged mind can't deal with Stanley's friendships with several local girls, and the arrival of an acquaintance from up north finally tips him over the edge…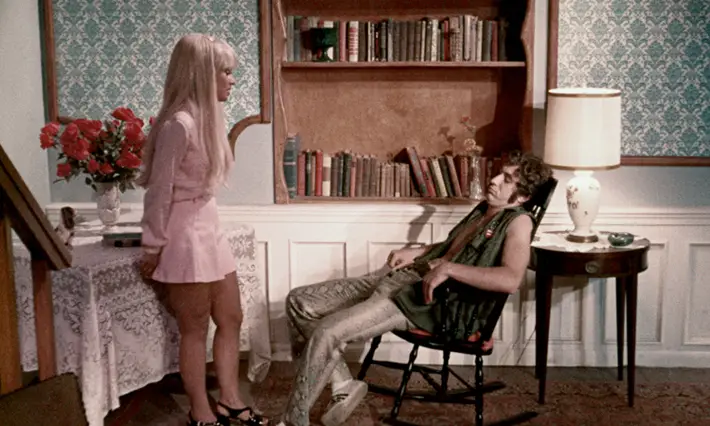 "Baffled"
Although Abe Zwick – in his only screen credit – does his best as Paul/Martha, his complete inability to pass as a woman does ruin the premise somewhat. The film itself never overcomes its low-budget or its amateurish approach, which is a shame because there's the germ of a good idea here and in more skilful hands, it may have been more of a success.
Writer-director Thomas Casey is a somewhat enigmatic figure. A quick look at his IMDb entry doesn't really help us get an idea of his background or what happened to him after the film was released – he seems to have vanished. Among the special features is an audio commentary, in which the participants appear somewhat baffled by him too – it feels as if there's a story to be unearthed somewhere…
The disc also includes several short films which may also appeal to students of queer cinema, but it's hard to imagine it gaining a wide audience.
Special Features:
• 2K preservation from the only 35mm theatrical print in existence
• Commentary with queer film historian Elizabeth Purchell + AGFA's Bret Berg
• Bonus Movie: THE DRAG QUEEN'S BALL
• Shorts: GAY-IN III, CAUGHT IN THE CAN
• Trailers: GAY LIBERATION, LUSTING HOURS, MY THIRD WIFE GEORGE THE QUEEN, SINS OF RACHEL
• Reversible cover
Sometimes Aunt Martha Does Dreadful Things is released on Blu-ray by 101 Films, £15