Man Under Table (2021) – Film Review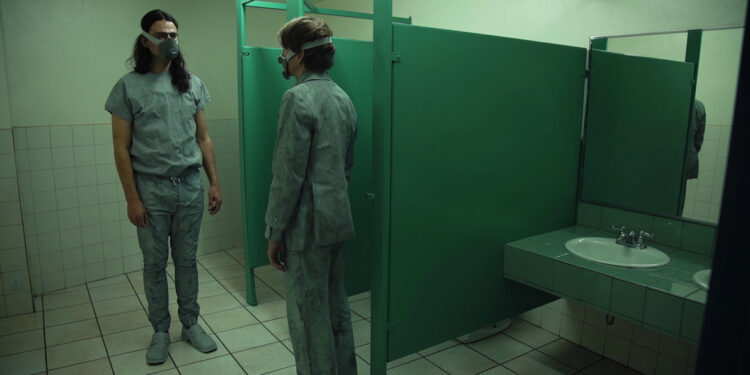 Director: Noel David Taylor
Cast: Noel David Taylor, Katy Fullan, Ben Babbitt
By @Roger Crow
I love surreal comedies… when they work. But it's such a delicate genre to get right. A great offbeat comedy can remind us of what an amazing medium cinema can be, and how inspiring. It's a fine line between a masterpiece like Being John Malkovich and overly arty, pretentious, whiny arthouse flicks which are worthy of 30 minutes but have been stretched to feature length.
In Man Under Table, writer/director Noel David Taylor stars as Guy, a troubled, obnoxious scriptwriter navigating his way through the chaotic indie film scene in a dystopian Los Angeles.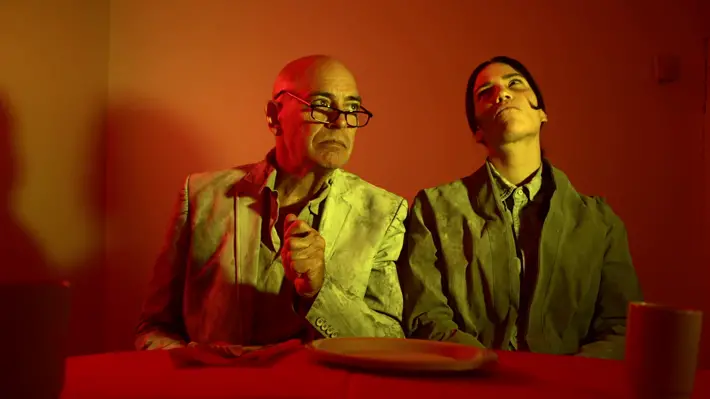 "Interesting ideas"
He is writing a movie, or so he claims in bars, parties, wherever he can. Guy eventually stumbles into the path of indie darling Jill Custard (one of my favourite character names of the year), and her lackey Ben, who repeatedly accosts him and pulls Guy into projects that are not his own. A frustrated Guy decides to join forces with a washed up Gerald, and the duo plan to write what could be the dumbest movie ever made.
The supporting cast includes Katy Fullan as Jill, and Ben Babbitt as Ben.
It's been described as The Player for a new generation of filmmakers who will do whatever it takes to see their dreams realised onscreen. It's really not. Robert Altman's masterpiece was one of many ensemble pieces that he crafted with the skill of a maestro. This is a patchwork quilt of interesting ideas, some of which work and others leave you gnashing your teeth in anger.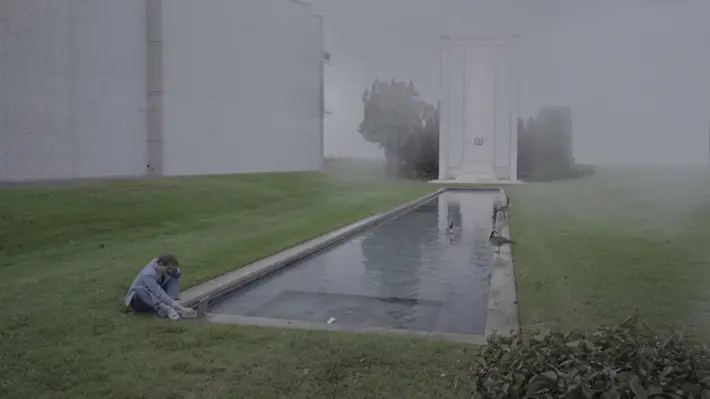 "Attempts to be different"
It's well lit, with some stylish cinematography, and the pop-up adverts are mildly intriguing. However, I was pretty annoyed within the first 10 minutes. There are times when it's as substantial as the green gas which seeps through the movie.
This colourful indie should land Noel David Taylor a more mainstream studio picture at some point, especially as it's reminiscent of Joel Schumacher-era Batman with a hint of David Lynch and Terry Gilliam.
So while Man Uunder Table is not perfect, at least it attempts to be different. And even though 'Jill Custard' would have been a much better title, this avant garde slice of nonsense should at least inspire film makers to get their own bonkers visions on screen.
Man Under Table is available on the following Apps/devices: Roku (all Roku sticks, boxes, devices, etc), Apple TV; iOS devices, Android TV and mobile devices, Fire TV (all Amazon Fire TV Sticks, boxes, etc), and on all web browsers at arrow-player.com