I, The Jury (1953) – Film Review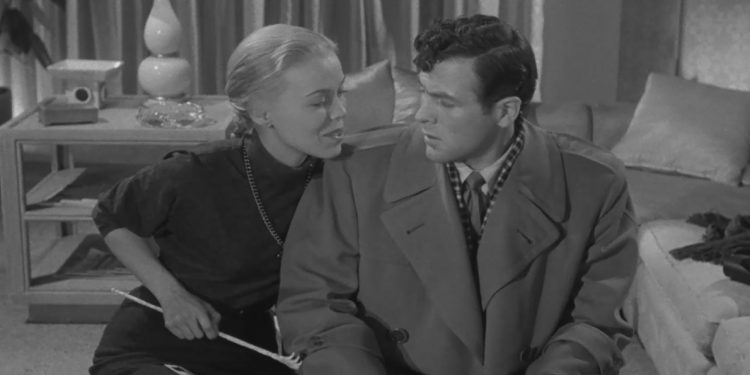 Director: Harry Essex
Cast: Biff Elliot, Preston Foster, Peggie Castle
Certificate: 12
By Sarah Morgan
Like your movies hard-boiled, populated by manly men and dames who might kiss or kill ya?
Then I, The Jury is the movie for you.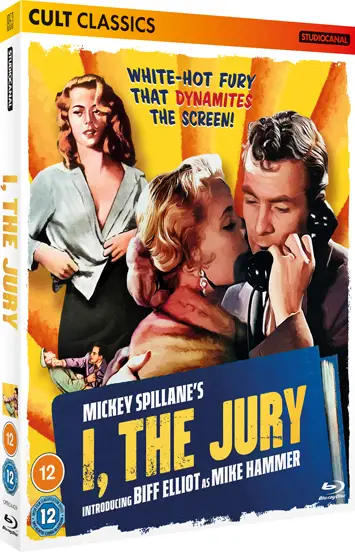 It's based on the novel by Mickey Spillane, whose life story is even more incredible than that of the characters he wrote about (he was a lifeguard, a trampoline artist in a circus and a fighter pilot before his writing career really took off). But he remains best known for creating Mike Hammer, the hard-as-nails private eye who's been played on TV and film by the likes of Stacy Keach, Ralph Meeker, Armand Assante and Darren McGavin.
"Dark alleys"
But the first actor to portray Hammer was Biff Elliot. With a name like that, it perhaps comes as no surprise to find that Biff's early ambition was to become a boxer; it's his rather muscular acting style that makes him the ideal guy to tackle Spillane's lone wolf detective.
Set shortly before Christmas, the film begins with the murder of insurance investigator Jack Williams who, we later discover, lost an arm while saving Hammer's life during the war. An incensed Hammer immediately pledges to dish out his own brand of justice to whoever killed his friend.
As you might expect from a 1950s film noir, Hammer's investigation leads him into some dark alleys and insalubrious places, all populated by ne'er-do-wells who'd rob their own grandmother for a lousy dime.
There's a smattering of nubile blondes too who threaten to distract Hammer from his mission, as well as any number of red herrings to throw him off the scent. But they all fail, and while the final denouement is rather guessable, it's still hugely entertaining watching the whole thing play out.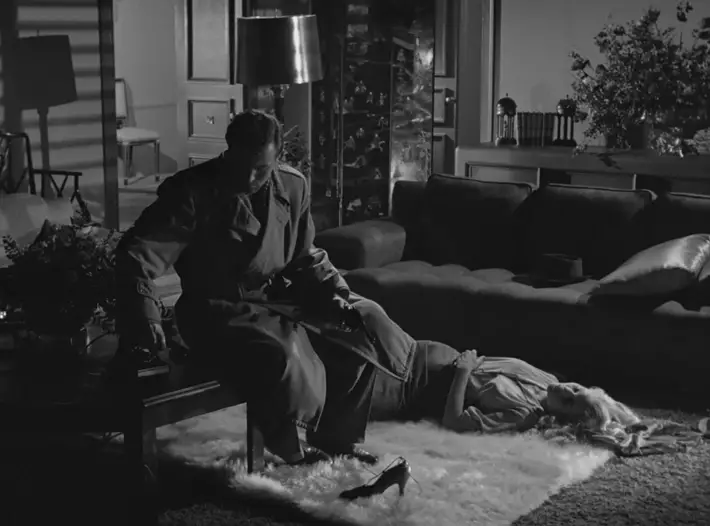 "Superb effort"
Amazingly, on its initial release in 1953, the film received largely negative reviews, which will have prevented any proposed sequels from being made. And that's a shame, because there's much to applaud about the film. Elliot himself has been criticised too, and yes, he lacks some subtlety, but his brutish approach to Hammer works well; you believe he could tan the hides of the villains who make the mistake of looking at him sideways.
The film's look is extraordinary too. Director Harry Essex, who also wrote the screenplay, uses some clever angles and camera placements to interest the eye, while cinematographer John Alton produces some incredible shots. His use of light and shadow are the very definition of film noir.
A superb effort made apparently on a shoestring, I, The Jury may be set during the festive season, but the film itself is the real gift. Unmissable fun.
Features:
● Interview with Biff Elliot (2006)
● Audio Commentary with star Biff Elliot
● Audio Commentary with novelist Max Allan Collins
I, The Jury is released on DVD & Blu-ray by StudioCanal Cult Classics