An Interview with Robin Ince
By Matt Callard
I blame Robin Ince. Second-hand bookshops were always solitary refuge for some serious artistic discovery. A lost gem, three classics for a fiver, that tattered out-of-print novella you once heard your favourite writer namedrop. But now, because of Robin Ince, I find my eyes travel elsewhere. Into the dustier recesses, toward the bargain bins, down to my knees into the long-forgotten corners, in amongst the books-behind-other-books.
Looking for – what? Eccentricity. Strangeness. Danger.
Robin Ince started the 'Bad Book Club' in London in 2005 and it's been growing stealthily ever since. He's been touring it on and off, in-between his myriad of other projects. He's dragging his vast array of bad books across the country again this winter, although he's keen to point out that 'bad books' is, in fact, something of a misnomer.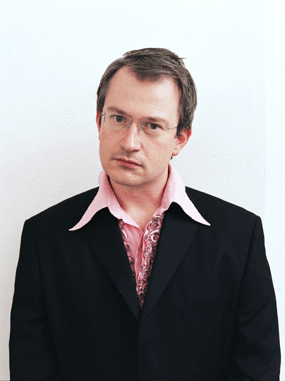 "I didn't want to call it 'Bad Book Club'. I wanted it just to be Book Club, because I don't think most of them are necessarily 'bad' books. It's just that they are different books. Some of them are pulp-y books, some are in a non-specific market and some are just plain weird. So in many ways I would've liked a more celebratory name. What I love is a lot of the books are quite eccentric. It's too long a word for the title but really this is 'Eccentric Book Club'. At the start of my own book I state that I don't consider these bad books, otherwise I'd be walking into a minefield."
"I've definitely encouraged people to buy more giant killer crab books"
Yes, the 'Bad Book Club' now has its own book. Which kind of begs the question, is 'Robin Ince's Bad Book Club' book a good book?
"Well that's the tricky thing," he says. "In the book I talk about some terrible writing that I've done in the past. I didn't want to appear to be looking down from a lofty height saying look at all this rubbish. I think it'd be a boring book if I wrote a book saying 'aren't all these books rubbish'. It really is a celebration of pulpy literature."
So much so, in fact, that Robin's favourite re-discovery, pulp author, one Guy Smith, is enjoying something of a cult renaissance.
"I think one thing that I've definitely done is encourage people to go and buy more giant killer crab books. I've actually heard from the author of Crabs on the Rampage, thanking me for publicising his work. He wrote things called The Sucking Pit and Cannibals. One book called Locust is about some locusts being secreted in a tin of peaches. When the tin is opened all hell breaks loose – near the Welsh border! About 1976 they became enormously popular. At about the same time James Herbert did The Rats. Guy Smith wrote six novels about crabs. On the back of one of them it says 'A seafood cocktail for the strongest stomachs.'"
"What a frightening place 'darkest Yorkshire' must be"
There's more than just B-movie horror in the 'Bad Book Club' however. All manner of strange and out-of-time musings are rediscovered. Including a certain purveyor of blushingly romantic fiction.
"In Mills & Boon you're got outback sheep farmers called Seth and McAllister. How can you not be drawn to that? Or for Yorkshire in particularly, you've got Diamond Stud where Diamond is the owner of a Yorkshire stud farm who descends into 'darkest Yorkshire'. What a frightening place this must be for the Mills and Boon reader. All those readers in America – what a mysterious place 'darkest Yorkshire' must seem."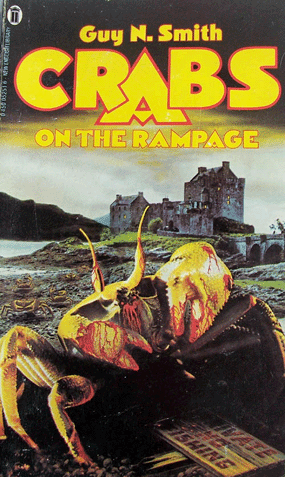 There is a lost art element to the 'Bad Book Club', too. Today's array of skilful, production line ghost writers ensure almost any book that gets a general release nowadays is, at least, 'correctly' written. This ensures the really exciting, odd narratives and bizarre plot ideas don't get out there so much. How much more interesting would Katie Price's eighth autobiography be if she really did write it herself?
It's remarkable, really, that Robin has the time to plough through all these bookcase botherers. His thrillingly entertaining Radio 4 comedy/science crossover show Infinite Monkey Cage shows up just about every TV panel show for wit, invention and intelligence. Ince himself has an interesting theory about the links between scientists and comedians and the natural inquisitiveness needed for both professions. Although he's keen to add "comedians are much lazier and much more stupid". Ince writes, acts and performs and has even transformed his favourite Guy Smith novel into a musical. Of sorts.
"Working out different ways of hiding grapes"
"I recently did the Latitude Festival and this year we put on an improvised musical based on Crabs on the Rampage with the music of Robyn Hitchcock. We had a 25-piece orchestra thrown together with saw players, swannee whistles, violinists, someone doing the mime of a death by giant crab."
And all of this without even mentioning that Robin was the support on 'The Fastest Selling Comedy Tour of All Time' no less, with his long-time friend and collaborator Ricky Gervais. Was it the comedy equivalent of Mötley Crüe's 'Root of all Evil' tour?
"The best thing is, if you saw exactly what it was like," says Robin, "you'd imagine there'd be huge trucks and massive catering. But we'd turn up at some of the biggest venues in the country and there'd be a couple of bags of sandwiches there and six cans of lager. At the time there was a celebrity-based TV show on that Ricky enjoyed watching and at 25 past 7 I'd go, oh bloody hell I'm on in a minute. And he is so easily bored. Any way that he can torture people or create some kind of prank, which would lead to someone being embarrassed or ashamed, that would tend to occupy his mind. Working out different ways of hiding grapes, or something like that."
"Bring the weirdest book you have"
Indeed Gervais asked Robin to support him on his recent 'Science' tour, but he declined. He states a curious case of on-stage boredom with the rigidities of arena stand-up. He prefers the random nature of 'The Bad Book Club' where he will drift randomly between various books dotted around the stage and, in some cases, pick up random ones planted there by audience members.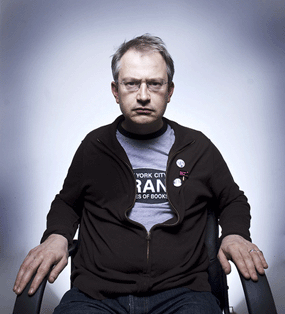 "That's the lovely thing – I genuinely love that," he admits. "I say to audiences bring the weirdest book that you have. I'll give it back at the end of the show . But I love just opening a book and finding the weirdest thing in there."
It's a strange sort of addiction, bad book hunting – and it's not without its pitfalls – especially when purchasing some of the more outré publications.
"Somehow when you start on something like this it's very hard to stop. I've spent a lot of time in book shops anyway. You know, for a while I thought I'll just buy books that are classics or, you know, the great books of science or philosophy but I always get drawn elsewhere. You know, when a 41-year old man buys a book on 'How To Marry The Man of Your Choice' eyebrows are raised."
So the next time you're eyes are drawn from the Dostoyevsky to the dusty, slightly garish paperback fluttering outside in the bargain bin, do as I do. Buy it. And blame Robin Ince.