You Say You Want a Revolution? – Review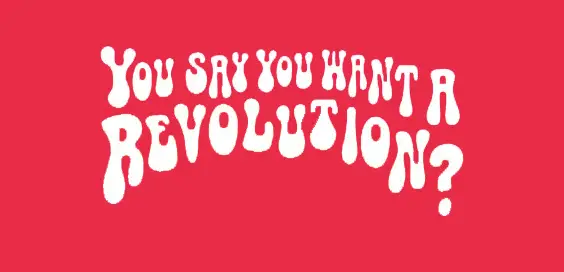 By Victoria Holdsworth
This small hardback book gives you an in-your-face insight into the swinging sixties, and it is suitable for any age group.
It is packed full of bright and brilliant illustrations and cartoons, alongside facts and figures from the time. As we know, the rapid social and political change of the sixties coupled with the years of unbridled optimism and experimentation brought forward many issues and questions that still dominate the headlines today: inequality, globalisation, and environmentalism.
"Idealism"
The 1960s design culture climaxed in an orgy of colour and shapes: a sensory overload of Barbarella-style inflatables and lava lamps. The book touches upon the music and fashions, culture and literature of the times and also briefly examines the moment when youth culture drove an optimistic idealism, motivating people to come together and question established power structures across every area of society. Sadly that is as far as the book scratches beneath the surface.
You Say You Want a Revolution is really a brief introductory guide to William Morris, the man who helped to build modernism. The book doesn't offer any deep insights into the author's own thoughts and feelings, and although Morris was a true revolutionary, his vision led not so much to politics, but to art.
A good coffee table supplement, but definitely not a reference guide.
'You Say You Want a Revolution?' is published by Ladybird, £6.99 hardback