Languages of Loss: A Psychotherapist's Journey Through Grief by Sasha Bates – Review
By Ceri Saunders
It is mere coincidence that I am passed Sasha Bates' book to review on the approach to the third anniversary of my mother's death.
As many who have been forced to deal with the sudden and unexpected loss of a loved one will tell you, time doesn't necessarily make things any easier – it just makes things more manageable.
Over the years, I have been unable to find a sincere, heartfelt book that also explores – through theory – the many waves of emotion that bereaved people encounter. Until now.
Bates, a psychotherapist by profession, was perfectly qualified to explain theories of grief and loss to clients who were struggling in some of their darkest days.
But when her seemingly fit and healthy 56-year-old husband – actor and playwright Bill Cashmore – died, she was stopped in her tracks.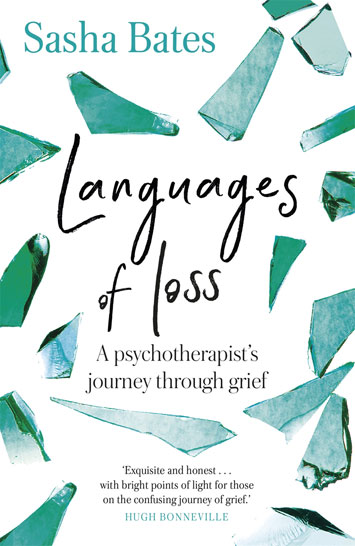 Languages of Loss is the product of Bates' journey through life without her husband. Thrown into a world she was simply not expecting to have to navigate, she turned to writing, using therapeutic theory to help her 'grieving self' cope with the reality of her life as a 49-year-old widow.
"Opens up the taboo of death"
She was enveloped by feelings of disbelief, doubt, guilt, anger and of course a huge sense of loss – and part of herself – with his death. How could this happen to him – and perhaps more importantly now, how could this happen to her?
Bates splits her journey into seven sections: implosion, scattering, flailing, floating, balancing, sailing and swimming. She takes us on a painfully raw and intimate journey in each, heartbreakingly broken up through anecdotes from her and her partner's time together.
But breaking up her story are well-known theorists' and psychologists' takes on grief, many of which she had led her clients to during her career.
The result of this blended approach is a powerful and informative dual narrative on grief unlike anything I have read before.
Bates impressively manages to weave her brilliant sense of humour to this very important and overdue piece that opens up the taboo of death to a wider audience.
Though his was at times a difficult book to read – bringing back some very raw memories of those tumultuous first few days, weeks and months – it was hugely beneficial and has equipped me with knowledge and grief theory I hadn't stumbled upon before.
I would urge anyone struggling to come to terms with their loss – or is even in the process of attempting to support somebody going through a bereavement – to flick the kettle on, get comfortable and give this a go. It could change your life.
'Languages of Loss: A Psychotherapist's Journey Through Grief' by Sasha Bates is published by Yellow Kite, £9.99, paperback