Sir Alex Ferguson: Never Give In (2021) – Film Review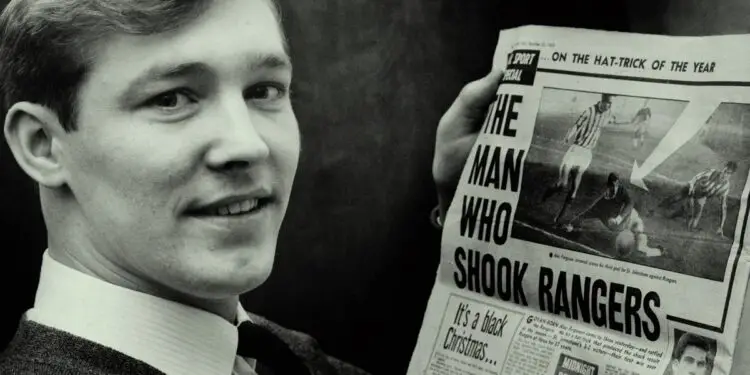 There are times when you think you know all you can know about an icon from sport, film, or music. But when you delve into their story – and I'm talking about their real story – it often gives you a fascinating education that truly opens your eyes.
Sir Alex Ferguson is the most successful manager in British football. But what drove him to be as successful as he was?  Drive? Determination? Fighting his way through any sort of adversity that laid in his way? Never Give In puts his success to the side for the most part, and focuses on how he overcame adversity in almost every stage of his life.
Growing up and learning a trade, family, sporting failure, and religious roadblocks; a protestant who married a catholic girl and was shunted out of his boyhood football club because of it. A brain haemorrhage that could have killed him, or let him survive and lose his memory. The latter being worst thing that could have happened, according to his son Darren.
Never Give In is directed by another of Ferguson's sons, Jason. But it doesn't come with a family bias that puts Ferguson on a pedestal. It's far from the plastic-type of Sky Sports-y montage of good times, goals and silverware that they tend to stitch together and call a documentary. I wouldn't call it a raw movie, but it takes you beneath the surface and lets you piece together how Sir Alex got the best out of himself and others around him. 
The film takes you right back to Sir Alex's youth before football, as an apprentice toolmaker in Govan, Glasgow. He explains an incident that saw him put in jail, and a turnaround moment in his life. And how despite being a goalscorer with 141 goals in 371 appearances to his name, Glasgow Rangers bombed him out because of who he'd married. Did that bother him in later life? Did that drive him? It talks you through that.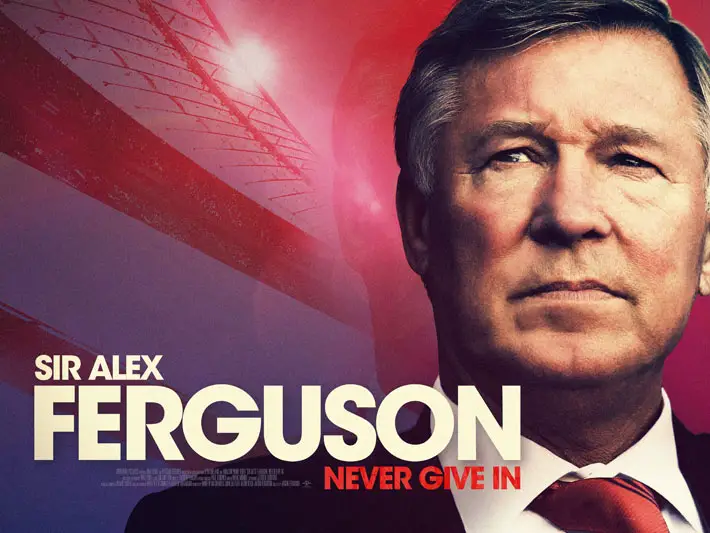 "Drive and determination"
The movie begins with the phone recording of the ambulance being called when Ferguson was found at home after his brain haemorrhage. Would it affect his memory? Never Give In preserves those memories, and creates a further element to the Alex Ferguson story that we thought we all knew off by heart.
With Ferguson interviewed throughout, and anecdotes from family and former players, it's a brilliant documentary. I'm a biography fan, and a modern British history fan too. So the incredible footage that's intertwined into the film makes it for me. There's film showing a young Alex Ferguson joining in a protest in the shipyards as a teen and some of his days training a title-winning Aberdeen on the local park because they didn't have a training ground. There are also some emotional bits from his wife and sons in there too. Pretty unique access to everything Sir Alex Ferguson and much of why Never Give In is up there with the best modern-day sporting films.
Yes, the successful bits come into it. The titles, the European Cups… the bits we've all seen hundreds of times before. But they merely just illustrate that Ferguson overcame any adversity that crossed his path. The snippets of success could quite easily have been left out of the picture. The chants of 'Fergie Out' from the terraces at Old Trafford in 1989 are more noticeable in this one.
What a great, insightful, fascinating watch. I don't think you have to be a Manchester United fan to enjoy this. Nor a football fan or a sports fan. It's for anyone. Never Give In is a compelling story about a working-class man's drive and determination to make good of anything he does. And how he worked hard to make moments that should always be stored happily in the memory bank.
'Sir Alex Ferguson: Never Give In' is released in cinemas 27th May, and on Amazon Prime on 29th May
Top image: Mirrorpix