It's All Going Wonderfully Well – Growing up With Bob Hoskins by Rosa Hoskins – Review
By Roger Crow
When Bob Hoskins died in 2014, for millions of us who had grown up with the beloved actor, writer and director, it was almost like he had gone off to some retirement home, or dropped out of the limelight.
I remember one of his final TV appearances on Paul O'Grady's Friday night ITV show. He proceeded to meet the women who formed the inspiration for his movie Made in Dagenham. Despite the fact it wasn't in the show's running order, it made for terrific TV.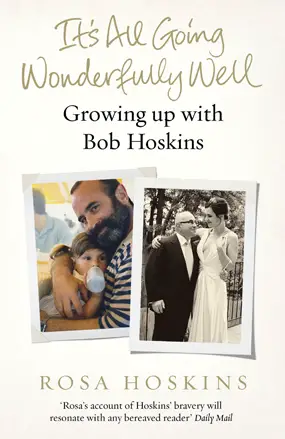 I thankfully knew little about his last days, preferring to remember the classic Bob moments in Pennies From Heaven, The Long Good Friday, Brazil and countless others films. Of course for his daughter Rosa, it was a very different story. She had spent her life with, or waiting for her dad as he went from jobbing thespian to Hollywood superstar.
Her book It's All Going Wonderfully Well is a bittersweet volume as you might imagine. It's refreshing to read a biography of an actor written by someone so close to him, and yet there are times when I want to know less about her wedding day (though it's obviously the most important 24-hours of her life) and more about the films Bob made.
"Spirit and love of life permeates ever page"
"But that's just me. I'm more of a fan of movies than matrimonial details, and this is obviously aimed at those who love a good cry. I can't blame the publishers for aiming at the most lucrative market. During Bob's days working on a London market, there's an anecdote about an ill-fated stowaway in a banana box that upsets me as much as many of the other touching moments when Rosa sees her dad transformed by illness into a shadow of the man she once knew.
I want to know more about why he was so affected by the movie Felicia's Journey instead of a brief mention of why he found it so hard to leave his character behind. But maybe that was just too painful a memory for the author.
Bob Hoskins was one of those larger-than-life blokes. He would give his loved ones the shirt off his back if he thought they were cold. It's that generosity of spirit and love of life that permeates ever page. It's great to read interviews with the likes of Who Framed Roger Rabbit director Robert Zemeckis and many other folks who worked with the mighty Bob.
"Hungry for another volume"
The memories of Rosa and her family visiting the set of Hook are a delight. While her own self-harming problems and the relationship with her dad are rather moving. And though it's obviously a melancholy book, seeing how that pint-sized Londoner became one of the world's best loved thespians, met the love of his life, and kept his family together while travelling the globe is often a joy.
Although Rosa Hoskins and Richard Butchins ensure this is a good page-turner which offers a unique view of one of Blighty's most missed actors, I'm actually hungry for another volume. One which goes into more depth on his movie and TV offerings.
Thankfully it does include one of my favourite Hoskins stories. Thirty years ago Brian De Palma wanted Bob to play Al Capone in The Untouchables. When he offered it to Robert De Niro instead, De Palma sent Bob a cheque for an eye-watering amount as compensation. Bob told him that if there were any more movies he didn't want him to be in, just to let him know.
When Richard Harris died in 2002, a mate and I raised a glass to him as our own form of closure. I never did that with Mr Hoskins. I really should have done. So if you'll excuse me, the pub beckons.
Cheers Bob – and Rosa.