The Incomplete Framley Examiner – Review
By @Roger Crow
I love great fake listings and newspaper collections. Charlie Brooker's TV Go Home was a thing of beauty, and The Onion has delivered some of the best fake comedy news of the past few decades.
I was a lot less familiar with The Framley Examiner, spoofing regional newspapers and their often extraordinary adverts. Given some of the news in our local paper, there's little wonder the genre is ripe for lampooning. One story once reported how a hedge caught fire and what was used to put it out.
The Incomplete Framley Examiner is a glorious collection of stories, personal ads, and the odd advert for mobile phones which generates a wry smile. And there is the odd time a section has just been filled with dummy body copy, which will strike a chord with anyone who has worked in the publishing business.
Demo advert: "Child's Paul Simon costume. Worn once. £30." And the brilliant "Turn your memories into crisps – Favourite photographs printed onto crisps. Smokey Bacon or Plain."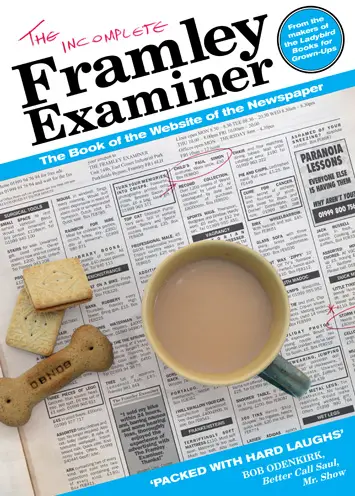 If there is a problem it's literally a small one. Some of the copy is so tiny, those with poor eyesight might have trouble reading the small print. Best thing is to take a shot on your phone or tablet and zoom in. Which sounds like advice from the publication itself.
"Chuckling for days"
There's such a wealth of comedy material here, you'll be chuckling for days, whether it's regarding an advert for Tweebins – 'The bookshop with no immediately discernible difference' or those killer headlines such as 'Mayor found in a box of cereal'.
There's less comedy value at the back of the volume. Just a list of names, like it was the result of some sort of crowdfunding exercise. Oh, it was. And more power to the likes of Lucy Wood and Joel Young for helping get these 200-plus pages out to the masses.
Authors Robin Halstead, Jason Hazeley, Alex Morris and Joel Morris have done a fine job with their collected works, though you might know them better for their work on those spoof Ladybird books, or Charlie Brooker's TV Wipe shows.
I'd say this is the perfect Christmas gift for anyone who likes a laugh. Or I could leave the final words to Diane Morgan, aka Philomena Cunk.
"On doctor's orders, take two chapters with a glass of warm milk if you need cheering up."
Wise woman.
'The Incomplete Framley Examiner' is published by Unbound