The Gothic Tales of HP Lovecraft – Review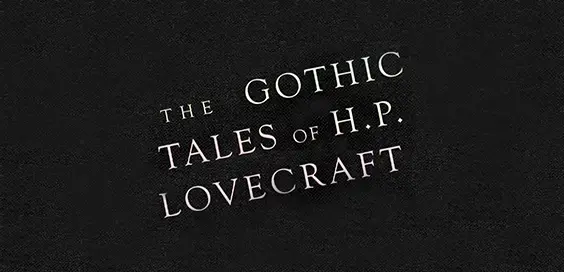 By Sarah Morgan
If HP Lovecraft were around today, he would no doubt be astonished by the respect his fiction receives from horror fans.
He'd probably be a very wealthy man too. Sadly, in his lifetime he was largely ignored (it's believed he lacked the confidence to push himself and his stories forward), publishing only in pulp magazines and dying in poverty at the age of 46 in 1937.
Now, however, his output is revered and he's widely regarded as one of the leading lights of the genre whose influence continues to be felt today. As a result, it shouldn't come as much of a surprise to see yet another collection of his tales heading our way, and although you may feel it's a little too early to be worrying about Christmas, it would make a wonderful gift.
"Truly original"
True fans will, of course, more than likely have them already in various other anthologies, although this one claims to be a first because it contains everything he wrote that could be termed as being Gothic in nature rather than just plain weird.
It covers some of his very earliest published works through to his later literary nightmares, and they offer truly original takes on their theme.
Fittingly, there are 13 tales in all, including such classics as 'The Lurking Fear' and 'The Haunter of the Dark', although my favourite is 'The Shunned House', which was inspired by a property Lovecraft was familiar with in his hometown of Providence, Rhode Island, and focuses on an investigator and his uncle's attempts to find out why the inhabitants of a particular place have all been beset by sickness and death over the course of a century.
"Spooky touch"
The stories have been collated by Xavier Aldana Reyes, Senior Lecturer in English Literature and Film at Manchester Metropolitan University. He's previously edited the British Library's excellent Horror: A Literary History, so is well placed to pen the informative preface to this Lovecraft tome.
Even those who have all his works will delight at this collection, not least because of its textured backing and extraordinary cover illustration by Sinem Erkas, which shows hints of Lovecraft's most famous monster, Cthulhu.
It's probably slightly too big to fit in a stocking, but reading the stories by firelight will certainly add a spooky touch to the festive season, or any other period, and solve the problem of what to buy for the horror fan in your life who seems to have everything.
'The Gothic Tales of HP Lovecraft' is published by The British Library, £14.99 hardback