An Interview with Paula Hawkins
By Sarah Morgan
Mention Paula Hawkins and more than likely, one title springs to mind – The Girl on the Train.
And no wonder – it was a major global smash, but she proved she was no one hit wonder when her subsequent novels also hit the top spot on the Sunday Times bestseller list.
Now Hawkins is in Harrogate at the Theakston Old Peculier Crime Writing Festival to publicise her latest offering, A Slow Fire Burning, which focuses on a group of disparate souls following a murder on a canal in Clerkenwell, London.
"A lot of grisly things have happened there," says Hawkins of the setting – and she should know, she lives there. "It's an old part of the city, there's an atmosphere to it. You feel as if anything could happen there."
But it's not just the tale of a murder – the author was keen to explore the lives of those who find themselves caught up in the crime.
"I'm a huge fan of the origin story, it's always my favourite part of superhero movies. I wanted to know how all these people got into this position, so there's lots of multiple storylines. It took time to put everything in place and make it flow nicely."
If that makes you think Hawkins must be obsessed with working every detail out before she begins writing, you're very much mistaken: "I'm not a meticulous planner – it takes all the fun out of it!" she laughs.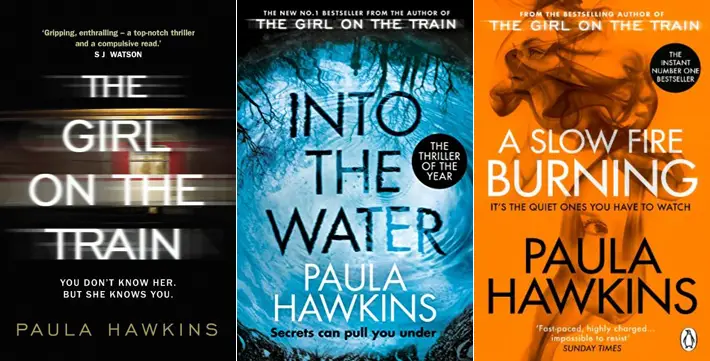 "Why is it I always turn back to these dark stories?"
It may surprise some to learn that Hawkins started her career writing romcoms, something she soon gave up because, "I was not a natural romantic comedy writer. Not being romantic or funny is a drawback!"
Instead, she decided to concentrate on the darker side of human nature, although she steers clear of the genre she loves whenever she's hard at work: "I don't want to read a lot of crime when I'm writing; I don't want to be infected with other people's plots – or think they've already written my book!"
She adds: "Women particularly read crime, but why is that? I'm not sure, but part of A Slow Fire Burning is me addressing why we like crime. Why is it I always turn back to these dark stories? I wanted to work through that because I don't have a definitive answer.
"When I was younger, women were taught to see themselves in the victim role. We were told, 'don't do this, don't do that' to keep us out of harm's way. We don't tell young men that, and yet they're statistically more likely to be victims of violence. So maybe if you're constantly put in that position, it's that that brings you to read about it."
Hawkins also discussed using "sensitivity readers", people who look over manuscripts to make sure they won't offend anyone, but ultimately, she believes, "you can't control what people think or how they react. If you thought about that too much, you'd never write anything."
So thank goodness she's still ploughing her own furrow – and long may that continue because it's clear Hawkins isn't resting on her laurels; there's a lot more to come in the years ahead.