An Interview with Brenda Blethyn and Kenny Doughty on 'Vera'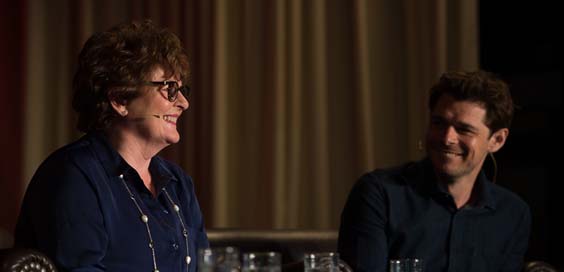 By Sarah Morgan
They're an odd couple – she's a dowdy loner of a certain age who seems to style herself after a bag lady, while he's her young, handsome family man sidekick. And yet pairing DCI Vera Stanhope with DS Aiden Healy has been a huge success – an average of 8.1million viewers tuned in to see them crack crimes in Northumberland during the last series of Vera on ITV.
The actors who play them – double-Oscar-nominee Brenda Blethyn and heart-throb Kenny Doughty – recently appeared at the Theakston's Old Peculier Crime Writing Festival in Harrogate to discuss their roles.
Despite her success in film, Blethyn had no hesitation about taking the lead part of the irascible 'tec when it came her way.
"Nobody had asked me to play a detective before," she reveals. "At my time of life, this sort of role doesn't come along, so I took it straight away without reading the scripts."
"I love being back up north"
Doughty came along later, after Blethyn's original co-star, David Leon, decided to leave the programme.
"There's a lot of pressure going into a successful show," he says. "But I was a fan of Vera and a fan of Brenda. I was anxious, but then Aidan was anxious about working with a new boss, so it worked well."
For Doughty, who was born and bred in Barnsley, there's another attraction to working on the drama – it means he can return to his beloved north.
"Yorkshire is God's own county as far as I'm concerned, but Northumberland is incredible. I love being back up north."
"My stunt double has a big ginger beard"
Perhaps one of the most surprising aspects about the show is that Blethyn isn't afraid to throw herself into some of the most dangerous aspects of filming.
"I mostly do my own stunts, unless it's in long shot, when you can't tell it's me – which is a good thing because my stunt double has a big ginger beard!"
Doughty adds: "His name is Arthur and if we're working together, I have to look the other way otherwise I would be laughing at the idea of him being Vera with all this facial hair!"
Both actors genuinely seem to love the show and working together, despite it often involving spending long hours away from friends, family and home.
"At the end of five months working, you're exhausted and think you can't do it any more," explains Blethyn. "But then you miss it and can't wait to get back."
And if those viewers keep tuning in in their millions, both Blethyn and Doughty will be returning to our screens for many years to come.
Images: Charlotte Graham/CAG Photography Ltd