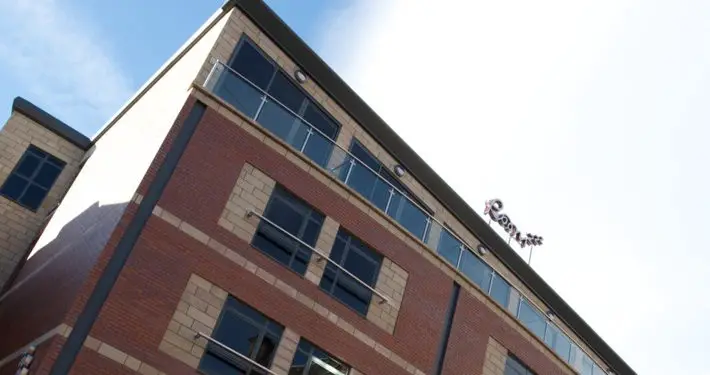 By Rachel Howard
If you take regular UK city breaks, weekends away or nights out, then Roomzzz may already be on your radar. Located in cities including Leeds, Newcastle, Manchester, Chester and Nottingham, this well-known brand is a little different to your standard hotel chain.
Launched in Leeds in 2006, its properties are more along the lines of serviced apartments, as opposed to your traditional hotel set-up. This was a canny move as it has enabled Roomzzz to not only cater for short term leisure stays, but also longer term bookings and business needs to boot. OK, it may be missing a restaurant and bar, but does the addition of a small kitchen, living area and amenities including a washing machine in every room make up for that? I was in Leeds for a spot of Christmas shopping, so decided to check in to the city centre branch to find out.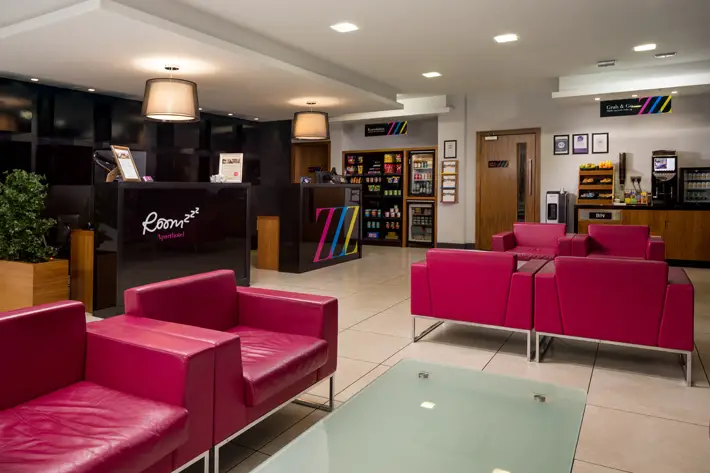 Located on Swinegate, Roomzzz is perfectly positioned, just a five minute stroll from Briggate and the Trinity Centre for shopping, and just ten minutes from Greek Street and all the bars and restaurants that make Leeds the perfect place for a getaway. It doesn't have a car park, but does offer 30% off at the Q Park located just across the road – not too far to walk with all those shopping bags!
First impressions are excellent as we are greeted by a team of happy, friendly staff who couldn't make us feel more welcome. Despite arriving hours before the official check-in time, our room is ready so we are able to drop our bags off, have a look around and freshen up before taking on the shops. Roomzzz offer a few different room types, and ours is the smallest, most basic format – the smart studio.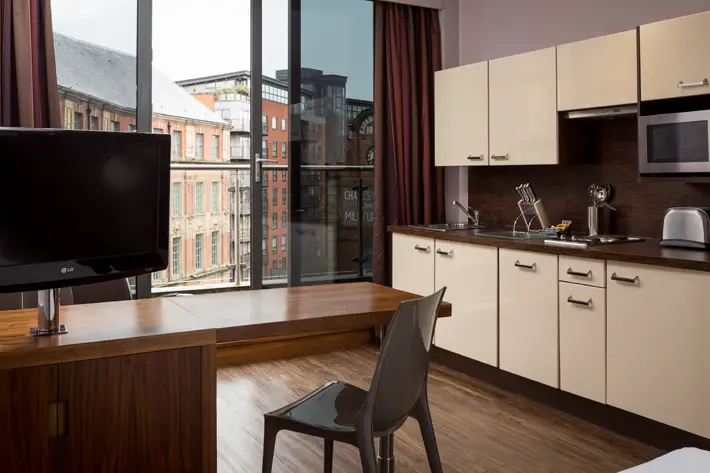 "Modern and clean"
To be honest, I was expecting a shoebox, but I am very pleasantly surprised. The room is spacious, housing twin beds and plenty of storage, a seating area with comfortable sofa, coffee table and flat screen TV, and a kitchen with everything you could possibly need, especially for a longer stay, including hob, microwave, kettle, toaster, dishwasher, washing machine, crockery, cutlery and utensils. The bathroom is modern and clean, featuring a large shower and luxurious White Company toiletries. So far so good…
For those that are only staying a night or two, or don't envisage using the kitchen to its full extent, the hotel foyer houses a tea and coffee machine, fresh milk and provides a complimentary grab'n'go breakfast featuring pastries, fruit, yogurts and fruit juices.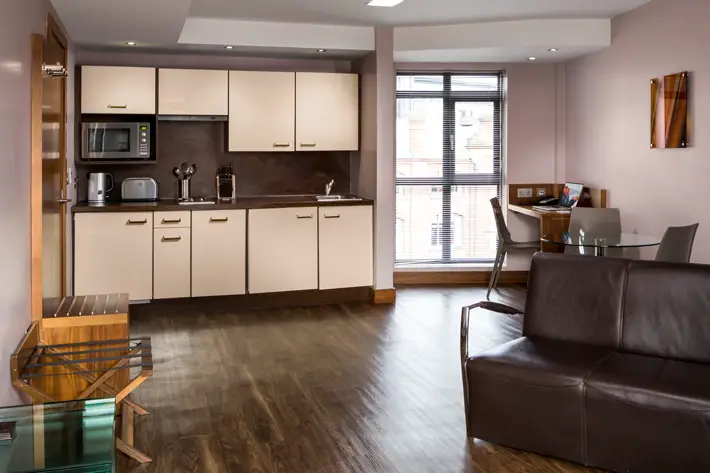 Having spent many hours doing that all-important Christmas shopping, we return to Roomzzz to put our feet up before heading back out for a meal. It is at this point that I notice a few small niggles with the room. OK, Roomzzz has never sold itself as a five star establishment, and its room rates are certainly very competitive (from £75 per room), but the furniture is a little scuffed and tired in places and the walls are in need of a freshen up. The shower is also tricky to work, which is apparently a common complaint from guests – perhaps a note could be left in the bathroom with instructions rather than waiting for people to complain… just a thought.
But, despite its city centre location, there is very little noise disruption and we sleep soundly in very comfortable beds. We wake feeling refreshed and ready to tackle the shops once more. The staff are, once again, very helpful and we are able to leave our bags (free of charge) at reception until we are ready to leave later in the day.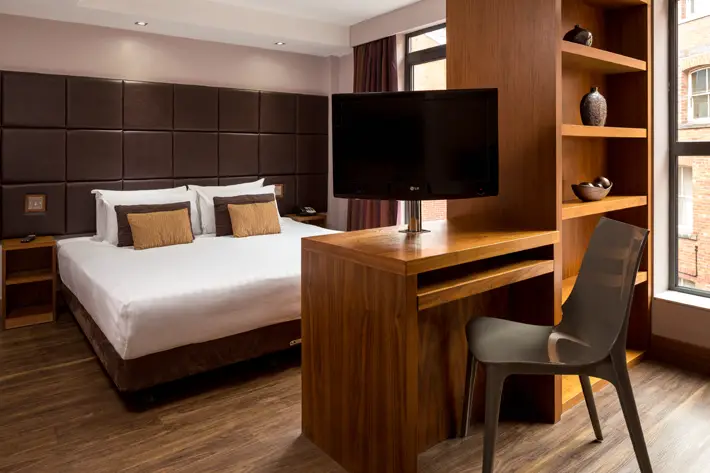 "Competitive pricing"
Roomzzz may well be a little tired in places, but with competitive pricing, an unbeatable location and staff that even help carry our bags back to the car park – yes really! – it is definitely worth considering for your next break or business trip. And with Roomzzz expected to open soon in York, Edinburgh, Liverpool and Harrogate, they must be doing something right. The York branch is even set to feature a deli and free-to-use gym; and in Edinburgh, there will be a roof terrace with views over the city and all rooms will have their own balcony.
My experience at Roomzzz Leeds has only made me more curious to check out the other locations, and the facilities and room rates make this an even more attractive prospect.
Roomzzz Leeds City Aparthotel, 10 Swinegate, Leeds, LS1 4AG
Prices from £75