The Botanist, Leeds – Restaurant Review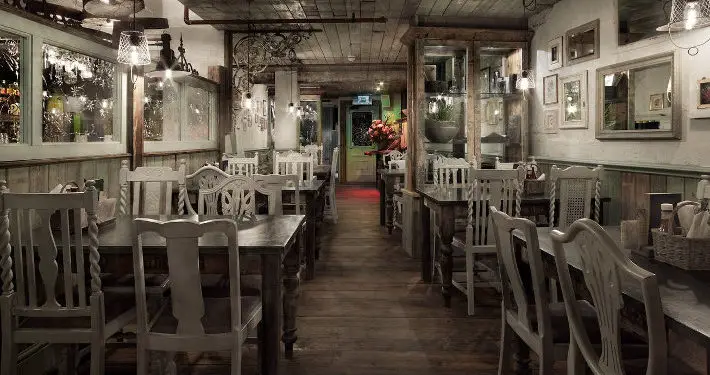 It's been a good 18 months since I last ate at The Botanist in Leeds. I've always enjoyed my visits here, whether it be it on a night out with friends, or a quiet afternoon drink.  But the food here is well talked about too, and whenever I've been in at whatever time of day, there aren't many tables going spare.
So, here we were again. A Friday tea-time, where we had a little under an hour to eat our food and go, as my friend and I had a gig across the city that started at 7:15pm.
Daisy took care of us this time, and welcomed us with a big smile and the low-down on the menu. She told us what was hot, what was new, and went to the nth degree to explain a few of dishes that she recommended herself. She went to fetch me a pint of Amstel and my friend a pint of Tribal ale while we made a decision on our starters and main courses for the night.
"Nice vibe"
The interior of Botanist seems to have changed slightly, but I can't quite put my finger on what it is. I might be wrong, but it felt a bit more open. Perhaps the layout has been slightly changed? But the eating area is still nicely divided away from the bar area without being too cut off.
Daisy returned with our drinks, and we went in for the order. I decided on the Scotch Egg to start at £5.95, and the Grilled Sea Bass at £14.95. My friend plumped for the Hanging Chicken Kebab for £11.95 for his big eat, with the houmous dish being his entrée (£5.25).
For a Friday tea time there was a nice vibe. It was the middle of good-weather season so there were people sat outside beginning their weekend and watching the people of Leeds go by.
"Tempting looking eat"
When our starters arrived, they both looked impressive and we dived right in.  I missed out on the Scotch Egg last time I was here as my friend jumped straight in and 'baggsied' it. So it was my turn now…!  And I was delighted with it. It was pretty huge too. If you're like me, you always forget the size of a scotch egg, but this one was larger than most. Cut in half, with a semi set yolk (fantastic) it was a brilliant way to kick off our food.  The flavour was very good, succulent sausage meat, and covered in a crisp, slightly salty breadcrumb. It was accompanied by a simple, tasty piccalilli.
The seabass was nicely presented too.  After such a big starter I was quite relieved that I'd chosen a more compact main dish which wouldn't stuff me.  It came with subtle flavour and was nicely tender. I'd ordered a side of garlic and sage fries too, and combined the whole dish was very nice
My friend's kebab looked the part. Although it did take him time to work out how he was going to devour it. Daisy had already applied the sweet chilli sauce via the hanger, and it drizzled down and made it an incredibly tempting looking eat. The kebab came with the garlic and sage chips included.
We'd both chosen well with both courses, and Botanist can continue to boast a fantastic food offering.
"Brilliant service"
It's pretty important nowadays to deliver a dish that is not only tasty, but is good on the eye too. Not just for the person who's ordered it, but the onlooker too. It tempts you to come again and try something else that you've seen go out to someone else.  Botanist do that perfectly. And the fact you can see the food being cooked as you enter Botanist throws even more trust in to eating here.
We had a great visit. And what pleased us even more is that Daisy didn't realise we were there to do a review. It meant that the level of detail she went to when she told us about the menu was something she did for everyone. Not just us. And that made her brilliant service even better.
Although we didn't have time for a dessert it didn't matter. We were nicely replete from the two courses we'd had. And because the food came out so swiftly, we headed across town for our gig and got there in good time.
Two very pleased, very well-fed people.
The Botanist, 67 Boar Lane, Leeds LS1 6HW
Sat – Wed: 12.00pm – 12.00am
Thu: 12.00pm – 1.00am
Fri: 12.00pm – 2.00am
0113 205 3240
thebotanist.uk.com