Peak Edge Hotel & Red Lion Restaurant – Review
By Elizabeth Stanforth-Sharpe, July 2022
The stag is a majestic beast, revered for its beauty, grace, elegance and strength. It is an animal that grows and sheds its antlers every year, each new set stronger and bigger than the previous ones, leading to many world folk stories and songs using the stag to weave tales of loss serving as a gateway to more rewarding gains in the future, and to tell of the restorative energy that can emerge from brokenness. It is a creature known throughout mythology to symbolise regeneration and healing.
It comes as little surprise then, that Steve Perez chose the stag as the logo for Peak Edge hotel; a true story of regeneration and overcoming loss.
The Red Lion Pub has been part of the Derbyshire landscape, as a welcoming beamed hostelry for locals and those needing refreshment on their travels, since 1788. In the late 1960's, its owner was Santiago Perez, and under his management it earned a valuable reputation as one of the finest places to eat in the area. His son Steve waited on the guests, became a Chef, and learned the ropes of the hospitality industry under the watchful eye of his father. Then sadly, in 1975, Santiago Perez died, and the family had to, reluctantly, sell the property and business. New owners came and went, until in 2010, the then management team added on a 27-bedroom boutique hotel, and orangery, escalating the Peak Edge venue into a much sought-after wedding and events location.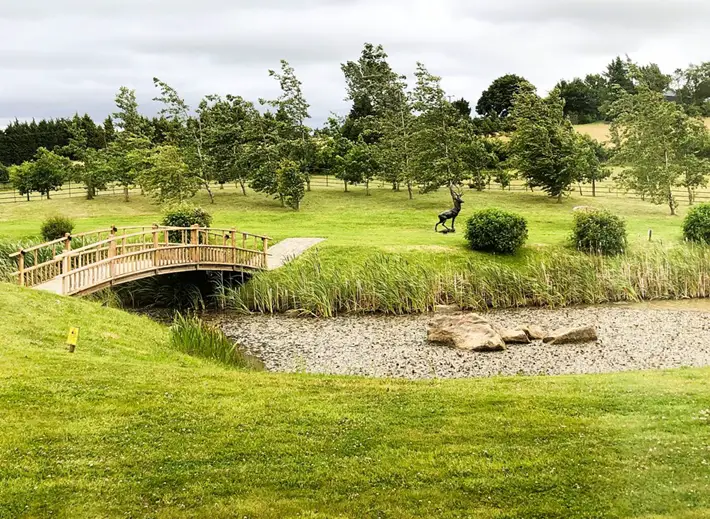 "Tucked away"
Meanwhile, Steve Perez had gone on his own journey within the hotel industry, which led to him building Chesterfield's first four-star hotel, Casa. Then in 2018, he heard a rumour that The Red Lion and the Peak Edge Hotel were going on the market again and acted quickly to add it to his portfolio. In just four years, Perez has expanded the facilities and renovated the bar and restaurant area exponentially. It's just the beginning of his development ideas for the place, but look carefully, and you will see that those old beams and stonework still remain as reminders of the heritage of the building and of the strong foundation that Santiago gave his son.
I arrived at Peak Edge Hotel on a sunny, but extremely windy day. A bride was making her way from the hotel to the Red Lion for her reception, white chiffon billowing out behind her, and the verdant green trees were blown into a graceful dance. It was like a scene from a romantic film and made me smile. The hotel is tucked away behind the foxglove filled hedgerows lining Chesterfield's Darley Road; quiet, and enjoying the attractions of the countryside, but easily accessible.
The front exterior of Peak Edge Hotel is unassuming, but once through the doors, it feels like another world. The interior designer that styled this hotel deserves an award. There is nothing about this space that is pretentious or over-egged, but every detail has a reason for being there. Several of the mirrors are shaped like over-sized pocket watches, suggesting that time has been tucked away for the duration of the guest's stay, and now is the opportunity for self-reflection and total relaxation. The cosy vibe embraces the implementation of polished wood floors and vintage pieces that radiate charm, alongside a carefully curated mix of plains and patterns, different organic textures and traditional seating to strengthen the theme, making it gorgeous to look at, but also extremely tactile and sensuous. This hotel must look absolutely spectacular when bedecked for Christmas.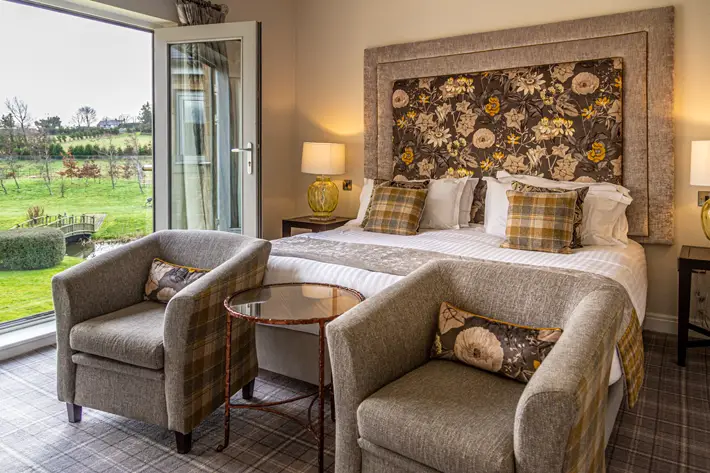 "Sensibly arranged"
I was shown to a Superior room on the ground floor of the building which was beautifully decorated in pale teal, browns and blue velvets and co-ordinating tweed plaids. It was a room that had the gravitas of classical, country manor chic; a king size bed with a Hypnos memory mattress, two very comfortable tub chairs (excellent for bad backs), a large dressing area and ample hanging space, a dark wood desk in a solid, heritage style, a substantial flex arm angle poise lamp, and bedside cabinets with slide out writing panels, upon which stood two beautiful ceramic lamps. The ensuite contained a separate fixed shower, a bath, toilet, basin, complimentary toiletries, a non-slip bathmat, and my first encounter with a Blutooth mirror – oh, the decadence of listening to The Archers whilst wallowing in a tub of bubbles! Towels were very sensibly arranged, linen closet style, on a shelf outside the bathroom door ensuring that only those needed were used; there were ample, and included much appreciated face cloths, so often missing from hotel supplies.
Amenities included a notebook and pen, a wall mounted flat screen tv, tissues, an ironing board and iron, a hairdryer, glasses, a safe, and a Gideon Bible. Tourist attractions were featured in a hardback book, and there was a copy of 'Pure Peak' magazine. There were plenty of sockets for all eventualities. The fridge contained complimentary fresh milk from a local dairy and bottles of Crag mineral water. The mini bar operated on an honesty box principle. The usual supply of coffee, tea, biscuits, sugars, sweeteners, and teas, including fruit teas, accompanied the kettle, some rather lovely mugs and two take-out cups.
But just as special as all of this was the view from the window, and the wagtail that hopped up to the glass to welcome me.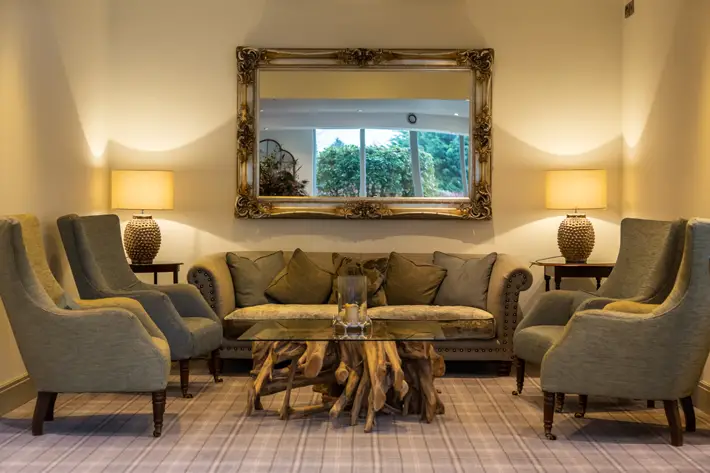 "Beautiful"
Although, at first glance, Peak Edge and The Red Lion appear to be two separate buildings, there are connecting corridors from one to the other, and as I went through the door to the Red Lion, I was met with more layers of different textures to add visual interest and make the space even cosier. Heavily patterned wallpaper, deep red Bokhara rugs, stone walls, leather upholstery and a variety of plaids, tweeds and damasks sounds so wrong, but it couldn't have been more right.
The bar area has infinite nooks and crannies set amongst the original beams held together with huge wooden pegs, and it must be so appealing on a winter's evening when the fire is crackling. It would be an ideal place to kick off the walking boots, and share food over exchanged stories at the end of a day walking the Monsai Trail.
On the way through to the restaurant, I saw the lovely bride again. There are two events rooms at The Red Lion. The Oak Room is a beautiful room that seats 200, with a skylight that brings the Peak District skies right into the space, chandeliers sparkle and a private terrace and garden area provides a stunning backdrop for photographs. It's an area that would look equally at home with structured floral displays of Classic peonies and roses, or armfuls of wildflowers for a more boho chic.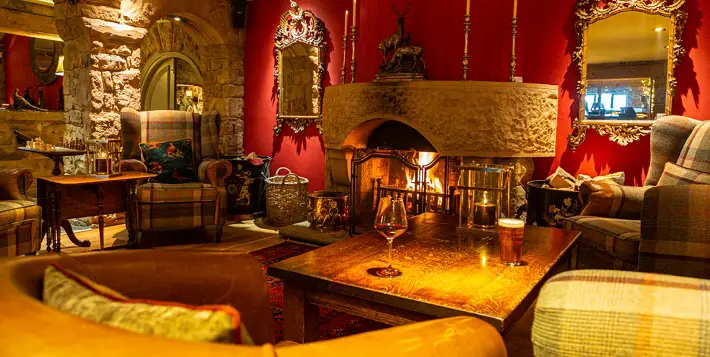 "Versatility"
In addition to weddings, it would be perfect for an Awards evening, or a Charity ball. The Walton is more intimate, with a stunning ceiling tented in exposed wood beams, and it also has a heated terrace, perhaps lending itself to a special birthday, a bar/bat mitzvah party, or a gathering of far-flung family, as well as smaller weddings. But both gorgeous rooms would be too big for the delightful couple I met, who had married abroad, and simply wanted a low-key reception back at home that included their close family members, so the pub has an area of floor that can be re-arranged, cordoned off, and made to look glamorous for just such an occasion.
The next morning, the long table had gone and the space was incorporated back into the bar area. It's versatility like this that makes every enquirer feel cared for and provides new creative directions for the management team. There is a dedicated wedding and events planning team at Peak Edge, they hold regular open days for prospective clients to view the facilities and the outstanding testimonials speak volumes of the wonderful service.
At the rear of the hotel is a pond with an arched bridge over and one of a number of stag statues around the building. It's a perfect spot for engagement photographs, or prom night groups, and there's space to lay out a picnic rug and hamper for other options.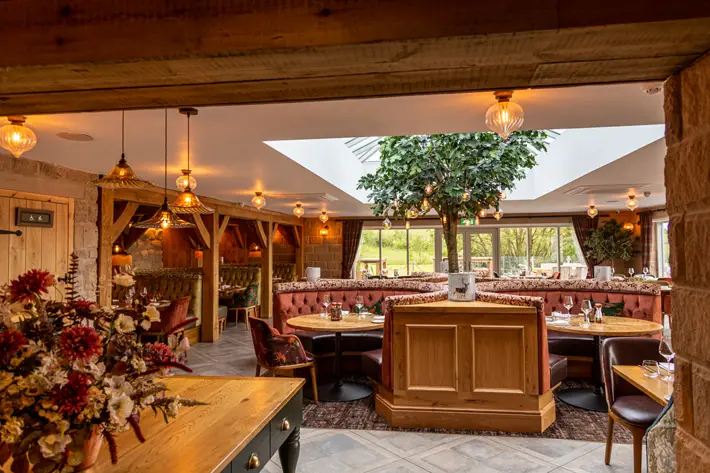 "Impeccable"
The restaurant has a mix of seating arrangements – enclosed alcoves for small groups, curved banquettes and tables with chairs, but all felt intimate and relaxed. A group seated in an alcove under the beams sang 'Happy Birthday' to one of their number, and it was a pleasant surprise to find that it didn't intrude upon the whole restaurant; I was aware it was happening and smiled to myself at the celebration, but the sound was focused on their private gathering, just as it should be.
Peak Edge makes a special point of encouraging young people who wish to enter the food and hospitality industries. I'd already encountered a young gentleman on work experience, and my waiter for the evening was also a trainee. The staff uniforms at Peak Edge are incredible, incorporating smart tweed waistcoats and jackets, with a metal stag's antler badge. They must be unbearably hot to wear in a July heatwave, but this young man, not yet out of his teens and already the consummate professional, shrugged away my concerns, carrying out his duties with impeccable standing and knowledge; I was so impressed, and particularly so when he asked if I had any food intolerances or needed to know the ingredient base of any of the dishes.
Walton Hall Farm, also owned by Perez, provides fresh, seasonal fare for the restaurant. Seasonal vegetables that go straight from the earth, gathered whilst tender and in their most prime condition, eggs that are laid by free-range happy hens and herbs that still smell of the morning dew. Bread is baked daily in-house.
"Classic pairing"
My starter was Jerusalem Artichoke soup, which was a bowl of silky, creamy luxury. It was divine; one of those dishes that sits in the memory. I also tasted the homemade ricotta, which had a rich creamy mouthfeel and was complemented perfectly by earthy Heritage beetroot and walnuts; a classic pairing done beautifully.
My main was a Watercress Risotto, with Feta, Asparagus and Spiced Hazelnuts. A garnish of watercress lay across the top of the dish – it had soft mid-green, oval leaves with an unbroken edge, and a stem that was paler. I nibbled a leaf, and that wonderful peppery taste was there; all the information that I needed to know that this was picked at its optimum freshness. – although the pepperiness diminishes when cooked, older watercress can leave a bitter residue. The rice was glossy, creamy and not 'overworked'. The Risotto was, as that small garnish had told me it would be, delicious.
For dessert, I selected Burnt White Chocolate Mouse with lemon curd, candied ginger and grapefruit. I don't have a sweet tooth, so this was just right, the acidity and sharpness of the fruit cutting through any sugary elements. I also tasted the Salted Caramel Tart with ginger ice-cream; it was too sweet for me, but that is solely down to my palate and not any detriment to the dish; the recipient assured me it was delightful.
"Unrushed"
After an excellent night's sleep, I was woken by a family of moorhens taking their morning stroll, the mum fussing over her eight toddlers and dad taking the rear of the line to encourage any stragglers. It was quite delightful, and an indication of the gentle, rural idyl feel of this setting.
Breakfast was relaxed, laid back and served until an indulgent 10.30 am. There were Full English items available, as well as an inviting selection of specially cooked items, which all utilised Walton Hall ingredients or used the best of local producers, but I was quite content to linger over an unrushed pot of tea and enjoy croissants, juice, yoghurt and fruit from the large selection of items on the buffet. The views are magnificent, the pace is so mellow and peaceful, the staff are so unintrusive and it was pleasant just to have time to reflect. On the terrace, Perez was having an informal meeting, looking as chilled as his guests in his own environment.
The achievements of just four years in this beautiful place at the edge of the Peak District have been incredible, but in the Autumn another twenty-seven bedrooms will be added to Peak Edge Hotel, along with a Spa, Hydro pool, Sauna, Steam rooms, Treatment rooms and a café, with full attention being given to conserving the beauty and ecology of the surrounding countryside, flora and fauna. They sound the ideal additions for a destination that shouts mindfulness, self-care and holistic wellbeing. The antlers of that stag are growing ever stronger and more elegant.
"Impressive"
Peak Edge is well situated for exploring the Peak District National Park and all it holds, whether your interest is discovering impressive stately homes, walking or cycling, or exploring the attractive towns and villages, but I wanted to hold on to that rested mindset for a little longer. I went out to Caudwell's Mill at Rowsley to see the exhibition 'Reflective Edge', featuring stunning work by artist Jenny McKenzie, picassiate maker Jo Spencer, and silversmith Sarah Stone, who all use the Peak District as their local inspiration, grabbed a takeaway salad from the Hlaf café and spent a couple of hours sat on the riverbank with my sketchbook and paints, then headed out to see the wonderful folk at LEVEL (also at Rowsley) and to view Ashley James Brown's digital piece, 'The World Awaits You', taking in a couple of well-dressings on my way back home.
Peak Edge Hotel, Darley Road, Stone Edge, Chesterfield, Derbyshire, S45 0LW
Rooms available from £160 per room per night – rate subject to change
01246 566142
sleep@peakedgehotel.co.uk
peakedgehotel.co.uk