Grantley Hall, Ripon – Hotel Review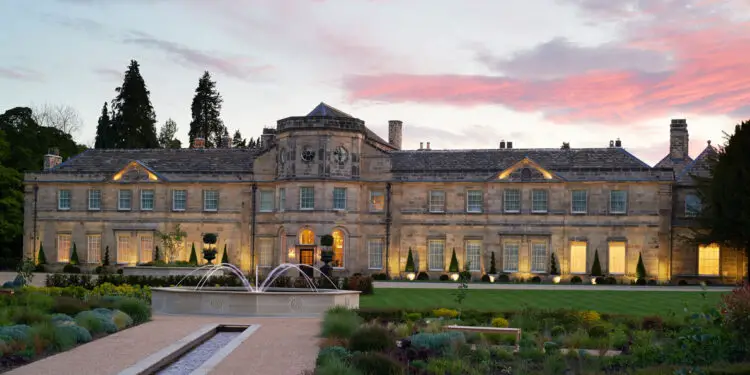 By Julia Paddon & Alison Ritchie
Whether you're arriving at Grantley Hall for dinner, an overnight stay or an event (perhaps your wedding, like the couple ahead of us) everyone sweeps up the grand drive together and no one can help but arrive in style.
It's genuinely impressive and by way of added welcome comes with its own inadvertent classic car show out front – Ferrari, Lamborghini, Rolls-Royce, you name it. Take a look at the beautifully shot video on the Grantley Hall website for a taste of the delights you're in for, and while you're there, the restaurant, EightyEight, is in the curved triangular building with the grey sloping roof. But more of that later.
Check-in was efficient and friendly and in next to no time we were outside our room.
The entrance to our suite was beautifully designed with a spacious vestibule, comprising of a tasteful console and mirror, there was a pleasant waft of the signature scent which tantalised our senses in preparation for opening the secondary door into the spacious, open plan suite.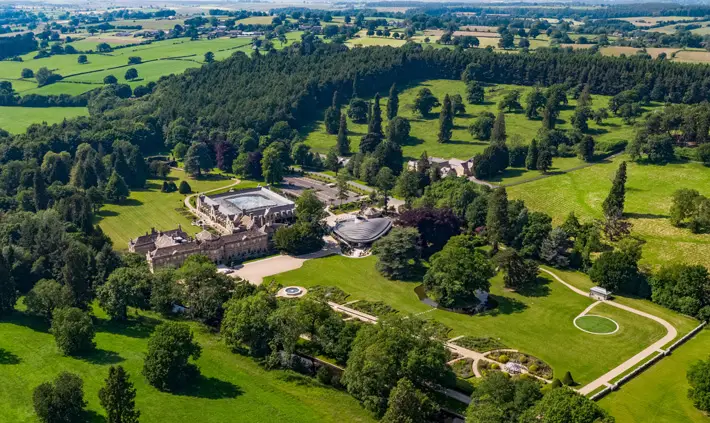 "Delightful"
The views were delightful, a picture postcard panoramic outlook to the magnificent grounds, floral displays and the outside seating area of the spa. Each window had a lovely view bringing the outside in with a burst of daylight, keeping the room light, bright and airy.
The suite was immaculate, with the interior design that one would expect from a 5 star hotel. High quality linens, delectable soft furnishings, a vaulted ceiling adding both interest and lighting opulence. There was also a plethora of books on the bookshelf and furniture that made the room feel both comfortable and stylish. Once again the diffuser filled the air with a scent that is truly delightful.
The room was a feast for our eyes with a perfectly positioned and polished trio of apples, handmade biscuits and Yorkshire crisps. The complimentary decanter of damson gin and personalised greeting card left us feeling warm and fuzzy (delicious though!). There was also a well-stocked mini bar with juices and soft drinks plus a very informative welcome pack. This included some historical references which added both interest and context to the hotel. There was also the usual reference materials for navigating the room, restaurants and grounds. Details of the WiFi codes were perhaps not as obvious to find within the literature but we did manage to log-on to the network with no issues.
"Impressive"
The TV was cleverly hidden as a piece of wall art, there was a multitude of channels including Sky. Those wishing to watch TV from their bed would have struggled as it was fixed and you could only view in the seating area.
The built-in wardrobes were plentiful, well stocked with padded coat hangers, ironing equipment, robes, slippers, umbrellas and raincoats. Interestingly, if the GH crested robe wasn't to your liking, there was a menu of alternatives that could be ordered from the hotel, everything from bamboo to an Egyptian cotton, all of varying weights.
The pillow menu was equally as impressive, guests could order varying sizes, firmness and fillings. It is evident that they want you to sleep well! The bed was a really good size with a marshmallow soft mattress topper. The duvet was weighted enough to envelop you in the night but not so big to overheat. If you wanted to modify the temperature, the room had air conditioning with the ability to change to your liking.
To ensure privacy in the room, the blinds could be closed with a press of a button. However, one press closed all of the blinds, so you were unable to select your windows individually. The lighting and air conditioning were also controlled by the same touch pad, including options for nighttime lights.
"Spoilt for choice"
The bathroom was home to twin sinks, a roll top bath, under floor heating and a large walk in shower. The fluffy towels were ample in size and were embroidered with the GH crest. There was a good selection of Lalique toiletries, however the lids were very tight fitting and we struggled to open these. Once open, the contents did not disappoint. The separate toilet was incredible, a seat that raised on entrance and a heated seat that would have been a real treat on a winter's night stay!
There has been good thought and a real attention to detail in this suite. Whilst out to dinner, we returned to a turned down bed, classical music piping through and a thoughtful poem left on your pillow.
After settling in, we took to Grantley Hall's famous spa, which you can read about here shortly. After an afternoon of pampering, we returned to our room in time to shower and get ready for for food.
And when it comes to dinner you're somewhat spoilt for choice – which I suppose is the point. There's the flagship Michelin Starred 'Shaun Rankin at Grantley Hall' which obviously entices lots of foodies and needs to booked well in advance. It offers best quality, modern, locally-sourced dining and is classic and formal. Fletcher's Restaurant is British European and offers a more casual dining experience, albeit in the Hall's trademark traditional setting.
"A cut above"
We chose to dine in EightyEight. This restaurant is deliberately different and as we make our way through the door into the upstairs bar the décor has transitioned from traditional to oriental, taking its cues from the adjoining oriental garden. We have a drink at the bar and the barman pours a perfect Negroni with an attention to detail that we'll come to realise sets EightyEight apart from the competition. Plush velvet and strong colours are followed through to the restaurant downstairs where a clever lighting and seating layout creates a cosy, luxurious ambience. The hosts are just right – conversational, welcoming, GSOH.
I've not looked at the menu in advance – it depends where I am but mostly I prefer to let my mood on the day dictate my choices and this is no exception. I do always ask for a recommendation from the host or waiter and nearly always order it – it's not a test exactly but if I were staff I'd know what was the best thing on the menu. We are recommended the Duck (Thirkleby Duck Pancakes for Two, £24) and the Bao (Gochujang Karaage Chicken, £12). We order them both along with the Teriyaki Glazed Salmon (£14) from the small plates menu. They arrive hot, thank goodness, and incredibly tasty. Bao really are in the ascendency – they're everywhere, you can even buy them blank in M&S to fill yourself and they're not bad. These Bao though are a cut above, light as a feather, bit messy to eat but that's not their fault. Spicy, crunchy, light and sticky. All the good words. Great recommendation.
"Beautiful setting"
A shared love of curry and cabbage means that the Lamb (Robata Grilled Lamb Cutlets with Massaman Curry, £36) and Pork Belly (Char Sui of Yorkshire Pork Belly with caramelised Chinese Cabbage, £27.50) choose us. The meat on both dishes is perfectly cooked, melt in the mouth, and the massaman curry sauce a revelation with the lamb alongside a subtle smoky aubergine. Delicious fluffy steamed rice and broccoli sides make perfect accompaniments.
I find the further up the restaurant food chain you go the more puddings seem to suffer. Chef's be warned, if there's nothing more that the Off Menu podcast teaches you it's that pudding is a serious business for at least half the population. Acaster v's Gamble on the validity of a cheeseboard as dessert. The Mango Cheesecake (£13) and Banana and Kalamansi Cake (Blonde Chocolate, Banana and Kalamansi Cake £14) are good but, other than their stylish appearance, don't deliver a truly wow moment in the same way the other food does. The citrus sorbet and matcha biscuit base are zingy and interesting flavours we've never had before.
Dinner was really delicious and the beautiful setting and faultless service are all very worthy of special occasion dining. I honestly can't believe I missed the Korean fried cauliflower on the sides menu. Temptingly they also serve a Sunday Sharers menu which would be a marvellous alternative to Sunday lunch and the '8atEightyEight tasting menu' which a few diners around us looked to be really enjoying.
I suppose we'll just have to return to Grantley Hall on another day, to see what it's like.
Rooms at Grantley Hall start from £600 per room, per night including breakfast.
grantleyhall.co.uk