Mysteries of the East: 7 Things You Didn't Know About Asian Holidaymaking
A holiday to the world's biggest continent could mean the trip of a lifetime. Why? Because Asia is a mixture of the exotic and the historic, the monumental and the remote, the truly modern to the distinctly primitive.
From a camel safari in Rajasthan to a Mount Everest expedition tour in Tibet; from the awe-inspiring cityscapes of Dubai to the gentle beauty of a Sri Lankan sunset; from a trek along the Great Wall of China to a relaxing hammock on a snow-white beach in Bali, Asia has something for everyone – and plenty of surprises for those with an inquiring mind.
With that in mind, here are ten Asian travel surprises and ideas that you may not have thought of before…
China's Misty Mountains
The world's most populous country tends to bring to the traveler's mind bustling metropolises like Shanghai or Beijing, or the tourist-heavy Great Wall. But such is China's size and scope its rural backwaters are some of the most unspoiled tourist destinations in the world. Yangshuo's epic misty mountains and stunning, tranquil countryside remain a landscape photographer's paradise – and cyclists can tour the dust roads at the sides of enormous working rice paddy fields.
Beaches of Dreams in Kuwait
Beach lovers scour far and wide for the best seaside bathing spots – but few realize how Kuwait is emerging as a gold sand favorite. Al Khiran Beach, in the south of Kuwait, is considered the country's best and is a paradise for those that love palm trees, barbecues, fine sand, scuba diving, and deep blue swimming. With middle east airlines flying more regularly to the country, it's also never been easier to get there.
Out on a Limb in Mongolia
Considered by many to be one of the last great wildernesses, the remote giant of Mongolia has been opening up for tourists over the past two decades. Now, adventurous holidaymakers can share a ger (tepee-like home) with the country's iconic nomads – a lifestyle that 40% of the country's population still embraces. Elsewhere there are wild horses in national parks, golden eagles in sandstone mountains, and ancient buildings in the extraordinary capital, Ulaanbaatar.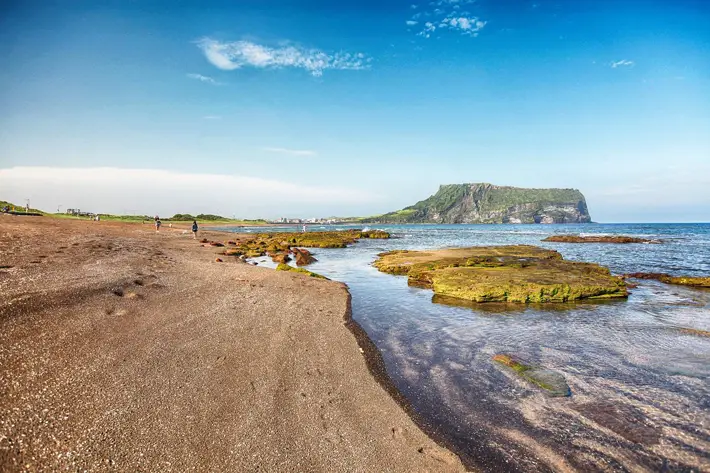 Volcano Island in South Korea
Jeju Island, off the Korean coast, is becoming a tourist hot spot thanks to some particularly nifty Korean tourist marketing – but it's not hard to see why there's so much appeal. Natural beauty, great beaches, and sea life abound – but did you know that under the ground is perhaps the island's most remarkable characteristic? The 8km long Manjang cave system, formed by cooling lava, is a fascinating, albeit somewhat slippery, descent into the earth's crust.
Theme Park Outbreak in Abu Dhabi
Becoming more affordable, the United Arab Emirates capital of Abu Dhabi might still be synonymous with rich footballers enjoying shopping sprees while staying in ultra-expensive hotels, but the city is opening up to general travelers – and this is exemplified by a burst of sparkling theme parks opening up. Among many others, you'll find Warner Bros World, Splash Parks, Waterworlds, Ferrari world, and bounce world, although if culture and learning are more your things there's a culture village and national aquarium.
Ha Long Bay's Fantastical Setting
Picture the scene: You're drifting along an impossibly still Vietnam river on a wooden junk boat, when out of the mountainous mist flashes an emerald green tail, like some ancient jade sea dragon rising from the depths. It's likely you've spotted one of Vietnam's most alluring sights, the sharp limestone peaks of Ha Long Bay, covered in exotic greenery. It's a truly fantastical vision, like something inspired by the CGI minds behind Game of Thrones – but all here in technicolor real life.
Paragliding in Pokhara
One of the world's foremost locations for paragliders, Pokhara in Tibet is also a place to relax and unwind on a par with anywhere in the world. Why? Because here mountains above 6,000m tall can be observed from an altitude of 800m at 28km away. It is a sight so awe-inspiring you really have to see it to believe it.