How to Invent a Music Streaming Service: 5 Steps to an Innovative App
There's no sense to convene a council in order to find out how technologies have changed our everyday habits. A simple observation will tell you enough. Dear to our hearts, music albums are not collecting dust on the shelves anymore. All you need to get access to your favorite singles is a special app on iPhone or smartphone: due to the service thousands of treasures for hearing become available. Equipped with a music streaming app, the engaged fans can be on the cutting edge of musical culture: the new music hits are broadcast through your device. The opportunity to get access to a cute variety of musical novelties and time-tested classics inspires people to install the app on their gadgets: the number of users is gradually growing.
It has been estimated that the industry skyrocketed in the last decade multiplying its volume almost 28 times. Nowadays, about 524 million people acquired a new habit: enjoying music on the go through the specified programs. Many countries are still out of the circle of the trend: this bodes inspiring opportunities for entrepreneurs who are prepared to conquer the new space. By making music delighters happy with a fantastic palette of variety and comfort tools, a startup founder attracts a huge audience: in this light, a music streaming app development seems to be a promising alternative for investment. The Purrweb team invites you to delve into the issue and learn about all the aspects of building such a product.
Music trailblazers: who to look up to?
When we're talking about pioneers in the niche, the first that comes to mind is iTunes. But the form of existence of the project that brought popularity to the product appeared due to Spotify: nowadays, more than 180 million subscribers are charged for the opportunity to listen to their selected tracks. Promoting this money-making strategy, the music streaming app earns about 9bn euros annually. Apart from songs, Spotify supplies visitors with audiobooks and podcasts: such an approach lets the enterprise expand its audience.
Being a leader, Spotify isn't the only product in the niche: Amazon Music can be proud of 55 million adherents. Mostly, its audience is the US-based population: 48 million. Since the music streaming app is absolutely ad-free, it grows its riches only with payment for the subscription. The shtick of the product is it offers analytical tools for uprising music groups and other creators in order to give an adequate picture of their ability to get public resonance.
87% of music lovers in the United States have demonstrated awareness of Youtube music. The namesake of a famous startup being a music streaming app has attracted more than 23 million paying subscribers who demonstrate a high level of loyalty to it. Taking into account that YouTube registered more than 2 bn users, the product has a promising future.
The statistics depict the niche has been surging by 26% in the pandemic, and this uprising trend is kept.
Fundamental features for creating a music streaming app
If you're already convinced that the creation of a music streaming app is a rewarding idea, start bringing it to life. Define the irreplaceable features to make your project viable. Some of them will coincide with the basic functionality in other products: registration page, user profile, a news feed, etc., and others will be original.
The heart of the service is audio streaming functionality: the ability to "broadcast" songs, audiobooks and podcasts to the listener on demand. The essential benefit of subscribers is access to a plethora of audio treasures without purchasing them per piece.
A search bar for music will equip visitors with the tools to find what they want thanks to specific tags: genre, album, orchestra, group, etc. Various filters will help users to navigate among millions of compositions.
Music player becomes an intrinsic part of a music streaming app since its task is to reproduce music: necessary buttons to select composition, make a pause, repeat, manage volume, etc. are mandatory.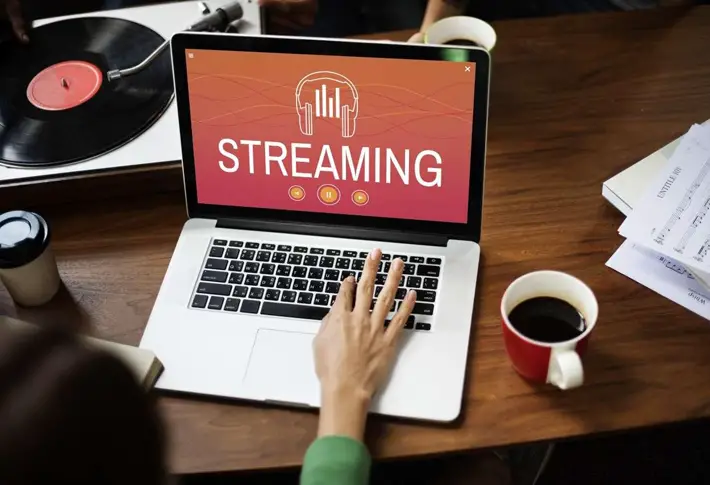 You can make the product more competitive if you put into service artificial intelligence.
Suggesting that the user will like something that coincides with his music tastes and expectations opens the opportunity to make smart recommendation units of music tracks performed by AI. Regarding his mood, task, situation, and environment, the user needs a specific unit of music compositions that could be placed in Playlists in advance. No secret, some people like to learn by heart desirable songs or they use them to conquer a foreign language, so lyrics display wouldn't be a redundant present. The opportunity to download preferable compositions is highly appreciated by people who get used to listening to music in a landscape where the internet isn't available.
Broadcasting interesting audio lectures, audiobooks, audio plays, podcasts, and radio shows makes the product more flexible and after-sought for a wider audience.
5 Steps to succeed: how to perform a music streaming app loved by
Though it sounds like a tremendous task, in reality, the aim of inventing a music streaming app is actually to be achieved in several months due to decomposition into several limited parts.
1. Compose your own vision of a future product: analyze competitors' experience, select features, and identify necessary elements and options for your own project.
2. Select an appropriate contractor and discuss your vision with a team. You can get useful insights as a result of this communication. Determine budget and terms for the realization of the idea.
3. Create a prototype of the app: it shows how the app looks and works. Check the convenience of navigation and relevance of design. If you have enough investment at this stage, you can start parallel development of the user interface and server-side features. The advantage of a full-cycle agency is it helps organize parallel work on various parts of the product. So, you can get a fully-fledged solution in three months instead of six.
4. If your budget is limited, you can build a prototype first and then attract additional investment. At this stage you add backend functionality to the product, transforming it into a ready-to-use service.
5. Testing and maintenance. Real user feedback empowers you to build a really heart-conquering product: if you are ready to polish it to make music fans happier.
Pay attention: in parallel to all these steps, you have to resolve some legacy compliance issues: acquire the license for transmitting music/other audio files to the app users.
Monetization strategy
Sounds amazing, but nowadays, 84% of the US music industry's income comes through music streaming apps.
Paid tariffs
Dreaming to get rid of advertisements or to get access to some exclusive content, loyal listeners prefer to purchase comfort. You can offer various pricing plans for various target audiences and their needs. Most of the profitable solutions in the industry exploit this approach.
In-built advertisement
Short-paid inclinations into music tracks and podcasts can bring you revenue. Be aware: such an approach to monetizing a music streaming app entails the growth of users' irritation. So, keep the balance between the quantity of paid content and the longitude of relevant content.
Freemium model isn't a way to make money from the first day since launching. But it's actually an adequate opportunity to involve a big number of users in a new service. You can offer a trial session for free in order to give new customers an attempt to test your product.
As you see, there's a diversity of tasks to be completed and opportunities not to be missed in order to create something memorable in the niche. And if you feel that the spirit of innovation is something similar to you, don't lose time checking your guesses.