'Unlimited' Arts Programme for Disabled Artists Establishes Home in Wakefield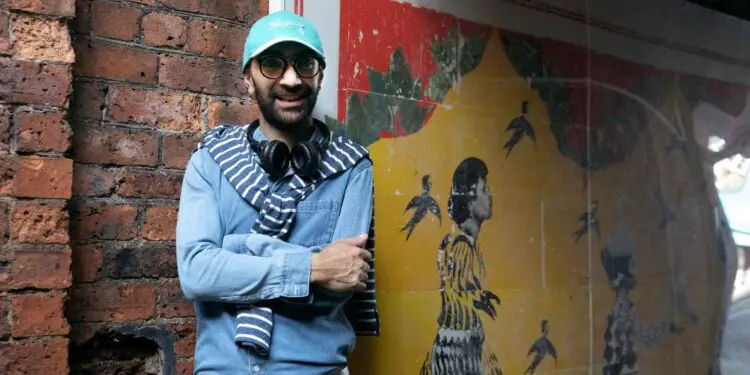 In anticipation of becoming an independent organisation, arts commissioning programme Unlimited will set up its new base in WX Wakefield. Unlimited is the largest supporter of disabled artists worldwide and has awarded £4.7 million to over 400 ambitious artists.
To celebrate its arrival, Unlimited has commissioned Wakefield Artist Mohammad Barrangi to create a new mural in the city and made a film: 'Unlimited moves to Wakefield'. It's currently led by Senior Producer Jo Verrent and delivered by Shape Arts and Artsadmin. And Unlimited supports disabled artists to create and present their work across all art forms.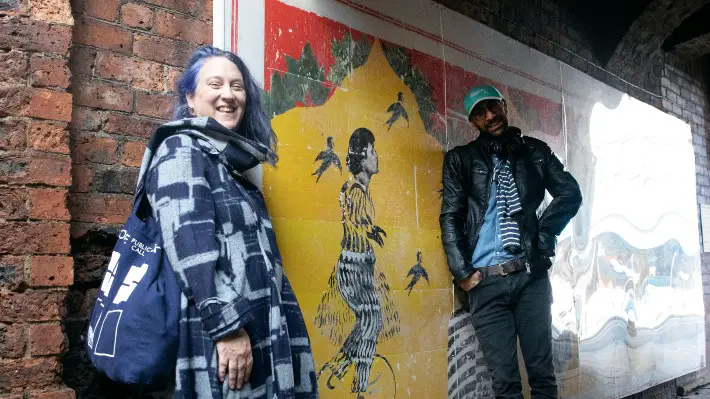 "Intricate detail"
Mohammad Barrangi is an Iranian artist and Paralympian who recently graduated from the London Drawing School. His work often explores his own disability together with influences from Persian miniature painting and personal stories told in intricate detail. Sometimes humour. The Wakefield mural, supported by The Art House, is located near Wakefield Cathedral in a passageway that is used by a wide cross-section of people.
The mural is about travelling and migration. Barrangi depicts five female faces in the mural including the Iranian queen and the artist's friend in Iran. He paints many of the figures with just one arm because the artist himself has "just one arm".
Mohammad said "I think, for me, Unlimited is like my family. And they are very good for all disabled artists. Making this mural has been very new for me because previously, when I have worked at the British Museum or Tate Modern it's been for installations, it's been inside. I think this mural reflects my life and it's interesting because after we put the mural on the wall by the cathedral I received many messages from British people and refugees about it.
He added: "I hope for the future I would have another project like that, outdoor work. Honestly, I am really busy with artwork right now –  for Arts Council, a solo show in Paris, a piece in Los Angeles – I'm just working, working, working. Unlimited is my family and not a small family, it's a big family, linking artists who are disabled across the whole of the UK and further. I think the future is good for Unlimited in Wakefield – and that's good for me actually!"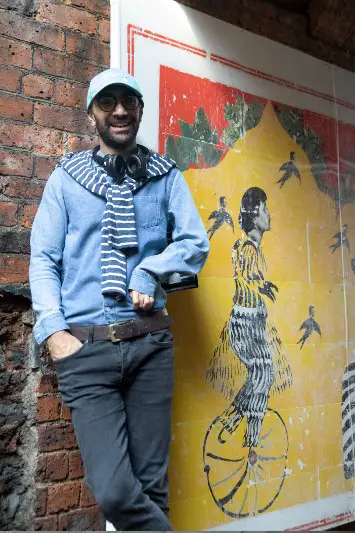 "Opportunites for disabled artists"
The mural is the first project Unlimited has commissioned in Wakefield. And it's part of a UK-wide commissioning programme giving opportunities for disabled artists nationally to develop and make new work.
Unlimited is recruiting a range of new roles from freelance financial and communications managers to a new senior producer, administrator, finance and communications officer. Its base will be in Wakefield but it will also have a geographically dispersed workforce.
It will be connecting, collaborating and partnering with local organisations like The Hepworth Wakefield and The Art House. And to celebrate its arrival, the Unlimited team have created a film 'Unlimited moves to Wakefield'. In it, individuals and organisations express what they feel Unlimited will bring to Wakefield district. The film is available in multiple accessible formats and you can watch it on Unlimited's website.
Unlimited has also supported 'Breathing Room' by disabled artist Anna Berry. That's a kinetic light installation that can be seen at WordFest at WX this October.
For more information, visit www.weareunlimited.org.uk
Images: Daniel Johnson