Add Fuel Mural to be Unveiled in Leeds
East Street Arts is set to unveil a new 10m x 9m mural by Portuguese visual artist Add Fuel on Monday 27 March 2023.
The artwork – painted on the two-storey gable-end of a former pub in Mabgate, Leeds – celebrates the area's important ceramics heritage and features as part of the city's Year of Culture 2023.
Taking inspiration from the city's renowned Burmantofts pottery, the mural 'ECHOES' includes redesigned patterns from tiles that can be seen at some of Leeds' most esteemed institutions – including Leeds Central Library, Leeds Town Hall, University of Leeds, and Leeds Grand Theatre. By combining traditional decorative elements with contemporary designs, Add Fuel, on closer inspection, reveals a detailed world of unique images and characters – brimming with unequivocally original motifs and characters with deep emotions.
'ECHOES' is the latest in East Street Arts' award-winning 'A City Less Grey' series which brings new and unique artwork to the streets and neighbourhoods of Leeds. Add Fuel's artwork sits alongside pieces across the city including: the epic 'Athena Rising' mural on the Platform building near Leeds Train Station by NOMAD Clan; Ian Kirkpatrick's 'Hare of Harehills' outside The Compton Centre; and 'Common Ground' by Mel Holmes at the old ABC cinema site on Vicar Lane.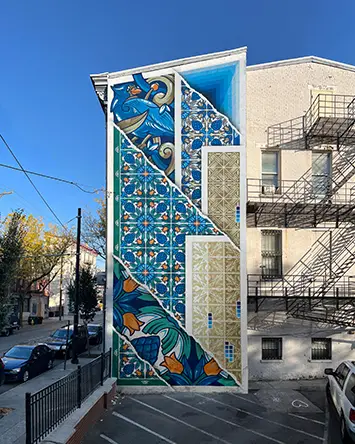 "Inspiration"
Add Fuel said "The rich Burmantofts history and catalogue present in the city was the starting point and main inspiration for this public art piece. I work through research, reevaluation, redesign and recreation, so for me it was a pleasure to work and rework the rich immense cultural patrimony. My intent is the creation of something truly unique but also truly familiar to the community. An echo of the past living vividly in the present."
Shazia Bibi, Programme Producer at East Street Arts, said: "Add Fuel's approach to working with sites, communities and heritage presents a unique opportunity to bring together Mabgate's rich tapestry of histories and cultures through public art that transforms a major site in our neighbourhood. Add Fuel is known for creating symmetrical art which plays with the visuals of interpretation, it makes the viewer think more about what is on view due to layered patterns. This piece has been inspired by different tiles from Leeds as well as an infused redesign of Persian tiles, giving it a blend of illusions from East and West."
Emma Beverley, Director of Programmes at LEEDS 2023, said: "It is incredibly exciting to have an artist like Add Fuel come to Leeds for the first of a series of new public artworks as part of LEEDS 2023. Inviting international artists to learn about and connect with the people of Leeds is exactly what the Year of Culture is about – it turns out Portugal and Burmantofts have much in common! The opportunity to support East Street Arts to build on their award-winning work with A City Less Grey is why working in partnership is so integral – their work will be here for everyone to enjoy during 2023 and beyond."