The Railway Children Return: The Interviews – Sir Tom Courtenay, John Bradley, Beau Gadson and Eden Hamilton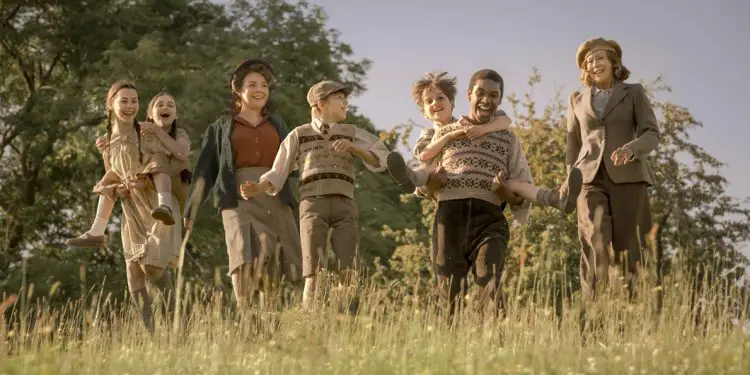 Inspired by one of the most beloved British family films of all time, The Railway Children Return is a moving and heart-warming adventure for a new generation.
For the northern premiere, the cast first convened at Oakworth Station in North Yorkshire before taking a steam train to Keighley Picture House. Roger Crow was there for the ride – and spoke to key cast members on the way…
---
Hull-born Sir Tom Courtenay has appeared in some of the most memorable projects of the past few decades, including Billy Liar, and Doctor Zhivago, for which he was Oscar-nominated.
Sir Tom, what was it about The Railway Children Return that attracted you to the movie?
Well I loved it, the first one, but this is quite different. Part of it is racism in America believe it or not, and I'm a bit worried about (that) America (in 2022). It's set in the Second World War and three of the children are refugees from Manchester. One of them is Grandad's grandson. He lives here," explains Sir Tom looking around Oakworth Station. "He comes here to escape the bombing. And they find a young black soldier who's deserted from the local American base, so it becomes a sort of international incident."
What was the most memorable day of filming?
Well I have a couple of nice scenes. I do an impersonation of Churchill for the children. They say, 'Never work with children'. Well, I'd much rather be upstaged by children than some grown-ups.
There have been so many great moments in you career. What's a personal favourite?
The most famous is standing on the back of a train in Doctor Zhivago; certainly one of my favourites – such a big film.
And what are you working on next?
Honestly I wish I could tell you. Something I'm hoping will happen, but whether it will remains to be seen.
---
John Bradley starred in Game of Thrones and disaster epic Moonfall – in The Railway Children Return he plays Richard, a cantankerous man with a soft heart beneath his gruff exterior.
John, what was it attracted you to The Railway Children Return?
It was just the sort of affection that people still have for it. When you tell people even now that you're going to be in it, their faces just light up.
Despite so many showbusiness legends on board, the global success of Game of Thrones has made you one of its biggest stars.
Well I never sort of think of it that way. I went into this thinking, 'I'm just going to play my part in this and just do the best that I can'. But it's a nice thought. If people have watched some things that I've done before (who) might not watch something like this… so if me being in it can bring them to it, and let them give it a chance and see a film they wouldn't normally see, that's a nice to thing to do, to be able to play that part in it. I think some actors judge their next job on what it's going to do for their career, and that's sort of 80 per cent of it, but I also like to do a certain amount of jobs that I enjoy and have a certain place in my heart, not for career reasons but to do them because I want to do them. That's also very important.
Moonfall is one of my favourite films of the year.
Oh I'm really pleased you enjoyed it. Thanks so much.
The comedy aspect was a great element. Was that in the script?
Yeah, the script wasn't quite as comic as it became. Myself and Roland (Emmerich) worked together on lightening the mood a bit. As much as I enjoyed the humour of it when I read it, it's all about the twist at the end and the emotional turnaround. That's what I really enjoyed. I like playing those characters where you think you've got a handle on them, and then they surprise you with moments like that. Yeah, I was very pleased with it, and very happy to be on board."
Have you got a favourite scene in The Railway Children Return?
I've not seen it, so I'm very much looking forward to seeing it. It's one of those things where we shot it here (Oakworth Station), and you have a sense of what it's going to look like, but you sometimes forget the director, and the director of photography, and the design element that plays into bringing the film together. And when you've got this backdrop to film against anyway, we're very lucky, but when you get all that expertise as well, it's going to look incredible.
---
Beau Gadson, 15 (Lily) and Eden Hamilton, 11 (Pattie) are two of the young stars of the new movie.
Please tell us about new movie.
Eden: Well I'd seen the original and this is the next thing, a few years older. It's really, really important.
Beau: I think what's great is it has lots of moments from the original, which you'll soon see, and it's really clever the way they've done it. I've seen the original film, I've read the book and I'd seen the plays, with a real steam train in actually, so when I went and auditioned for it I was so excited. I mean even auditioning for it was amazing.
Were you amazed by how good the supporting cast is?
Beau: Working alongside Sir Tom Courtenay, Sheridan Smith, Jenny Agutter… John Bradley too. They came, they lit up the set.
Eden: Oh yeah. On the day we were meeting them all I just couldn't wait. I couldn't sleep the night before. It was so exciting.
Beau: And meeting these guys too (the rest of the young cast). They're all amazing to work with as well. When I first met them, we were all in the same apartment complex. Eden I think had arrived before KJ (Aikens) and I, and she took us down to see some ducklings and some sheep. It was so lovely. The thing about all of us is we mirror our characters quite a bit. We're all adventurers but some of us are a little bit cautious. We thought should we go and talk to the parents before we see the sheep. But we thought would we really be the Railway Children if we didn't climb a fence and explore the Yorkshire Dales, so 'let's go'. And we would sometimes take the actual train to set!
What are you working on next Eden?
Eden: Well I've had a lot of schoolwork to do so I'm hoping to get back in the saddle next year.
And how about you Beau?
Beau: At the moment I'm working on something called The Critic. It's got Sir Ian McKellen. It's got Romola (Garai), Ben Barnes, Mark Strong. I'm working with some amazing actors. I'm so grateful and lucky to be working with them. And the day before I started this, I'd just finished a Netflix series I'd been filming called Treason alongside Charlie Cox and Oona Chaplin.
'The Railway Children Return' is released in UK cinemas from July 15