An Interview with Eddie 'The Eagle' Edwards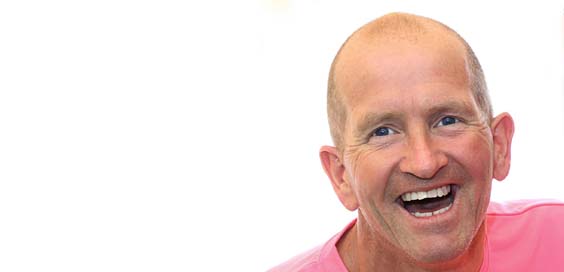 By Roger Crow
It's almost 30 years since Eddie Edwards became a national hero at the Calgary Winter Olympics. After the success of Eddie the Eagle, a movie based on his life, he chats about his career and new theatre tour, Try Hard,  in which he discuses the ups and downs of his extraordinary life…
Eddie, what can we expect from your new tour?
It's going to be my life story basically. I'm going to be talking about how I grew up as a child, going into skiing, into ski jumping, going to the Olympic games, all the funny stories that happened to me on the way to Calgary. And about what happened after Calgary. And I show photographs, video clips, commercials that I've done over the years, the odd TV show, so hopefully it will be entertaining and informative too.
How did it feel to see the big screen biopic?
Oh brilliant. I never dreamed 29 years ago that they'd make a movie about my life. I signed this deal 18 years ago, so it's been a long time in the making, but they did such a good job. Taron (Egerton) played me beautifully. He looked and sounded and acted just like I looked, sounded and acted 29 years ago. And Hugh Jackman was great as my coach. I loved it. They made such a great film and did it very sensitively.  It makes you laugh. It makes you cry. Plus, it inspires you. It's lovely that they chose me to have a film made about my life really.
"I had a number two hit in Finland"
Last year was the film, and now there's the tour. It must be strange for you to have this constant resurgence of interest in your life.
It's been wonderful. I've been so busy over the past year. And I'm so busy this year and part of next year as well off the back of the film, and long may it continue. It's been great. It's been like Calgary all over again really.
What advice would you give to someone trying to overcome their fears?
It's amazing what you can achieve just by daring yourself to do something. And that's what I did. I did lots of little steps. Sometimes I took great leaps forward and great leap backwards, or to the left and to the right. Sometimes things failed miserably and I got hurt, but you learn from your mistakes and you try not to make the same mistake twice. It's a case of 'slowly slowly catchy monkey', and keep pushing the boundaries each time. It's amazing what you can achieve just by pushing those boundaries.
Is it true you were a pop star overseas?
Yes, I had a number two hit in Finland. A guy wrote a song about me, and I went over and sang the song with him and had a great time. That was back in 1991, many years ago now. I sung it in Finnish which was a very, very difficult language to learn. But it was great fun. I did a few gigs for a couple of months around Finland. Singing in pubs and clubs and supermarkets.
"It still makes me cry when I watch it"
For me 'Eddie the Eagle' was one of the best films of last year, not least because of the soundtrack.
Thank you. It has a fantastic soundtrack of music from the 80s. I've seen the film 16 times now and I still love watching it. It still makes me cry when I watch it.
Is there any chance we can hear some of your Finnish hit during the tour?
Yeah, I might do an odd verse. And people can sing along with me.
The tour is obviously the biggest thing on the horizon, but what's after that?
I'm getting offers all the time really, from all over the world, to do some speaking. I've got a few things down in Australia. There a possibility of doing something in China, South Korea, America, Canada. All over the place, and in the UK. So lots of speaking and motivational talks; appearances, that sort of thing; the odd TV show that comes in. So life is fun and exciting at the moment.