Living Room Themes That Will Transform Your Home
Living rooms are often the main focal point of a home and an ever-evolving space. They play host to social gatherings, work-from-home spaces, quiet evenings in front of the television, or the ideal space to curl up with a good book.
Because they are so versatile and are required to fulfil so many expectations, the furniture choices, paint colours, lighting, and textiles need to reflect what we want most out of this room. It can seem like a daunting task to get every aspect correct. But sticking to some easy rules and following some helpful hints will leave you with plenty of options for styling your favourite leather couch or Boucle furniture in Australia.
Always Layer Lighting
In interior design, lighting is arguably the most vital aspect to get right. When done correctly, it can create the perfect mood and make an area look cosy, elegant and welcoming. The living room is the best example of this and layering your lighting is the way to achieve the best results.
The reason to layer is to accommodate the different scenarios for which you plan to use the room. For example, do you primarily use it as a place for the family to gather in the evening, or have you turned it into your home office space? With layered lighting, you have the flexibility to perfectly match the mood for the social occasion or lack of when appropriate.
Add Large Rugs
Depending on the size of your living room, you may have separated the seating slightly to create different zones to sit in and relax. This is normal in most designs, but it does mean you need a decorative feature that ties all these areas back together for a more cohesive look.
This is perfectly achieved through a large area rug. By picking a big enough rug to fit under each piece of furniture, you connect all the individual parts back together through one focal point. Additionally, having a carpet or rug adds a layer of cosiness and warmth to the room.
Don't Skimp on Small Finishes
In smaller rooms, where you have less space to make an impact, it pays to focus on the finishing details you can include. This can be pops of colour on furniture pieces, patterned cushion covers, chic rug designs or a modern art lighting fixture.
These elements help to retain an element of design and a focal talking point for the room. For example, use colours and patterns that complement each other on the colour wheel, or get creative with contrasting colours that work as a cohesive unit. An array of books that differ in size and shape, various candles and other decorative ornaments adorning the shelves and countertops in the room will finish off the look.
Combine Materials
The texture of items should always be considered as important as colour and patterns when choosing design elements. You want to evoke multiple senses, and the sense of touch is often overlooked.
Mixing textures like soft velvets and silks with sturdy leathers, thick wools and smooth wooden finishes create a treat for the senses. However, it is easy to make the mistake of using too many contrasting materials, which can become overwhelming. Instead, choose three or four that you feel complement each other and work from there.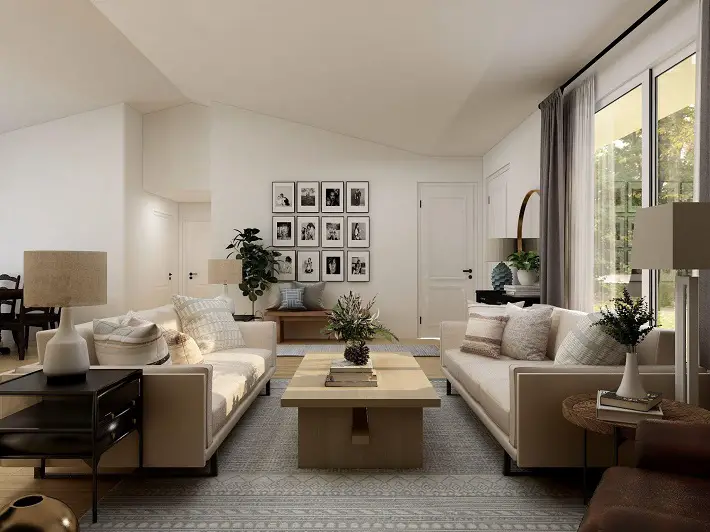 Experiment With Paint
As interior designing evolves, the trend of moving away from the classic white walls and instead using paint in bold and expressive ways is becoming increasingly popular. Dark jewel tones and colours that remind us of nature lead the way to create dynamic spaces with clear statements.
It primarily comes down to using paint to alter our perceptions of rooms. For example, painting ceilings and using monochromatic paint schemes can skew our brains perception of the room and make it seem bigger than it really is. Your outgoing paint choice doesn't always need to be the centre of attention. Instead, it can highlight desired finishes on window sills, door frames, or skirting boards.
Consider Furniture Placement
In a living room, it is tempting to take your big pieces of furniture and push them close to the wall, to create a feeling of space and openness. But don't jump to this conclusion so quickly. As with lighting, you must consider how you want to use the area. Creating a feeling of openness might hinder other important aspects you want to achieve.
Furniture that is too far apart takes way from the intimate feelings of conversation between friends and family. It can also make the room feel disjointed and disconnected, with big gaps breaking up the consistency of the pieces. Instead, use your larger items to create spaces for the various activities you want to perform within the room.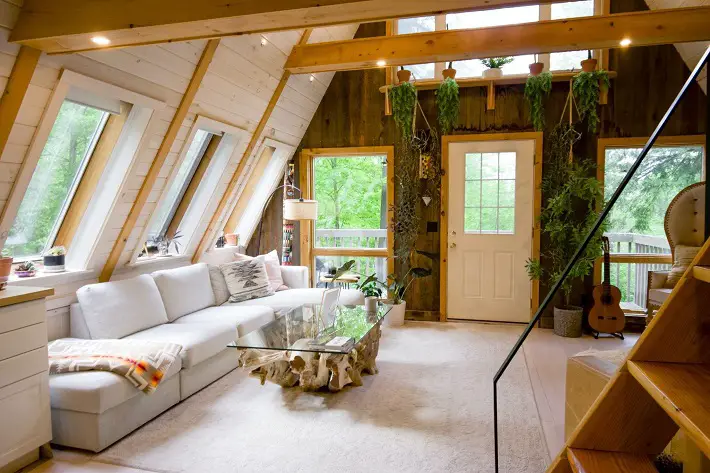 Incorporate Nature
Bringing the outdoors in has been scientifically proven to boost one's health and mental well-being. And whether your fingers are completely green or a simple house plant is all you feel comfortable managing, bringing nature indoors is a fun and chic way of elevating a room.
The size and type of your plant is primarily up to your preference and the room in question. But it is a good idea to research before purchasing to ensure the plant you choose can survive indoors and how best to care for it. Also, if you have animals, you must check that nothing is poisonous for your furry friend.