5 Ways to Make Your Home Feel Brand New
Do you feel as if your home could benefit from some changes? Luckily, you do not need to move in order to make your home feel new and exciting. There are several ways to change things up. But if you are looking for a little inspiration, we have created a list of possible changes which can be exactly what you need in order to make your home feel brand new.
Paint an accent wall
It might be easy to keep the same colour on all four walls of a room. At the same time, this can also make it easier to decorate the room with furniture and knick-knacks, especially if your walls are a neutral colour such as white, cream, or beige.
If you are looking for a way to add new life to any room in your home, an accent wall can be a great way to start. All you need is some paint and before you know it, the entire room will feel completely different. Choose a subtle colour such as pale purple or blue to add just a touch of colour. Or how about a bold colour to really make the wall pop? If you find that having freshly painted walls brings you a little extra joy, you can even choose to paint the entire room to truly transform it into something that will feel exciting and new.
Add some green plants to your home
Not only are plants good for the air quality in your home, but they can also help boost your mood. But that is not all. If a room feels a little dull, empty, or simply as if it is missing something, a green plant or two might make a world of a difference. There is a wide variety of beautiful green plants and colourful flowers to choose from, which allows you to add a touch of colour exactly where you see fit.
Place a small succulent on your desk or a big, leafy plant in the corner of your living room. You can even consider having a gorgeous flower close by your entrance to always welcome guests with a nice view – and maybe even a nice smell, if you choose a fragrant flower.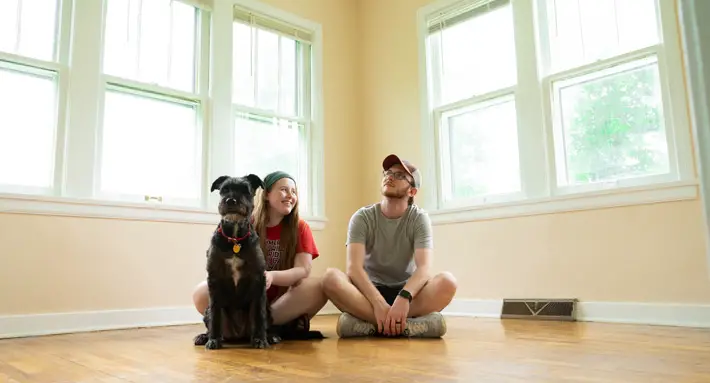 Replace your old couch with a new one
One of the obvious ways to switch up your home is by replacing some of your interior with some new furniture. You do not even need to throw out old furniture in order to replace it with something new. When it comes to interior design, there are no rules as to how you have to decorate your home. You can have a mix of different styles and colours if that is what makes you happy. Style is very individual, which means you should not hold yourself back. Explore the possibilities, and consider whether you wish to spoil yourself with a new:
● Couch
● Chair
● Dining table
● Coffee table
Whether you decide on only one piece or maybe even several pieces, adding something new to your home can be just what you need to make it feel brand new.
Rearrange your existing furniture
Looking through interior design magazines and websites might help inspire you to new ways to decorate your home. At the same time, browsing through stylish and functional solutions can also give you new ideas as to how you can take full advantage of a room's potential.
This way, you do not even need to spend a lot of money to make your home feel less boring. Something as simple as putting the couch in the opposite corner of the room can make a big difference in how the room is perceived. At the same time, it can even be fun to play around with the many options when it comes to interior design.
Switch out your art to add new colours
If you do not already have a beautiful piece of art in your home, it might be time to change that. A painting or picture can both help show your personal taste and style, but it can also be part of what makes you feel joy when entering a room. Add a personal photo with many memories to your wall to always remind you of the good times or choose a beautiful painting which speaks to you or reminds you of someone or something.
Do you already have art on your walls? Then maybe it is time to switch some of it out. This does not mean you have to get rid of something that you love. But if you want to avoid having your home feel dull with time, it can be a good idea to rotate between artwork from time to time.