4 Cool Hanging Wall Art Ideas for Any Room
Hanging art on the wall adds personality and style to any room, but sometimes you can't find the right piece to fit your taste and space requirements.
Canvas prints can be the centerpiece of any room, but it can also become an afterthought in the process of picking out furniture and other decor. To avoid this, incorporate your wall art into your overall design plan, making sure to select pieces that fit both the style and feel of your home. The following four hanging wall art ideas will help inspire you to find the perfect pieces for your space—whether you're looking for something simple or elaborate, modern or traditional, bold or subtle.
1. Curate a Collection
When you're looking for the perfect piece of artwork, consider curating your own collection. There are many different ways to do this, including creating a collage with old magazine pages and adding new photos, or using different types of art supplies to create original pieces. When you find something, you love, hang it right away in your home.
Starting with a large wall space, you can start curating your own collection of art. This is a great way to get started, and it's also a fun way to build up your own style. If you have any large items that you're not using or just don't like anymore, now is the time to get rid of them! You can really use this concept as an excuse to go through all of your belongings and determine what will work best in your home. You may even find that some of your things were never meant for art at all!
2. Go Monochromatic
A monochromatic room is one where every item in the space has the same color palette — so no matter where you look there's not much variation. This look can be great for those who have trouble mixing colors together because it gives each piece focus without being overpowering. It also makes for a clean design because there aren't any sharp transitions between colors. You can use this style when decorating small spaces like children's rooms or offices, but it will work best if you're using furniture that takes up less space and is more neutral than bright and bold or colorful items.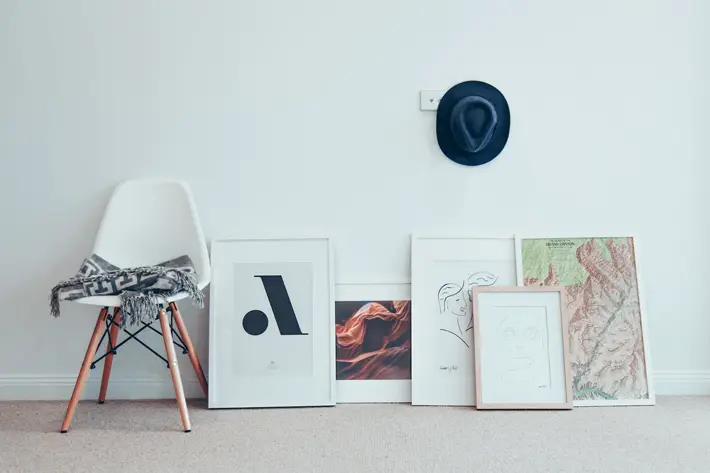 3. Incorporate Textures
Textured wall art is another way to add dimension and interest to any room while also making it feel larger than it actually is. Using textures such as wood grain, twine or even rugs will help bring out the beauty of any space without distracting from what's really important — like your furniture!
A great way to add texture to your wall art is to use different materials. For example, you can create an abstract piece with paint on wood paneling. If you don't have any wood paneling in your home, consider using a metal panel or metal frame instead. You can also try using other materials like metal grating or metal pipe for the background of your artwork. The metal will give it a rustic feel and look great against the bright colors used in the rest of the piece.
4. Use Unexpected Materials
Another great option for incorporating texture into your artwork is to use unexpected materials like feathers or fur from a local pet store. You can also add this effect by using different cloth textures such as velvet or tweed fabric. If you have access to old furniture pieces that are covered in fabric, this will give them a new life as wall art!