The Ivy, York – Restaurant Review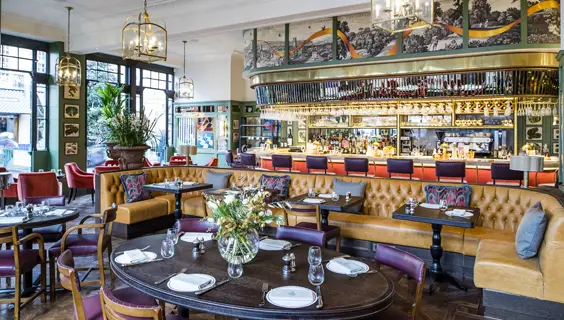 By Roger Crow
Whenever I'm passing The Ivy in London, I get a photo outside to remind me of my first visit back in the day. Not because of the food, but because of the brand. It's become synonymous with showbusiness, power lunches and networking.
So when offered the chance to sample the new York branch, I think for a nanosecond before saying yes. If only all gut feelings were so accurate, because General Manager Jon Pinner has done a terrific job of taking that well known brand and turning it into THE place to eat in York.
My partner Rachel and I arrive early because I don't want to miss a minute of this fine dining experience. We're shown to our table from the booking entrance that connects St Helen's Square to the restaurant itself. The furnishings and seating do not disappoint. I'm soon languishing on the opulent, comfortable seats; dazzled by the beautifully designed menu and feeling like a lottery winner.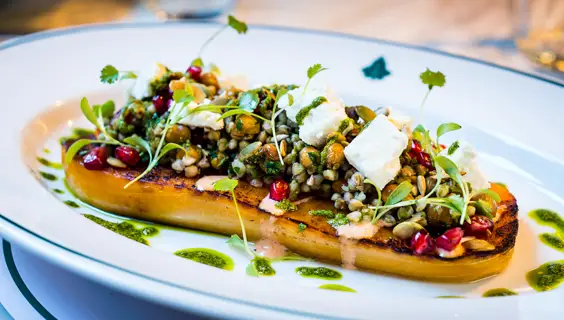 "Tempting dishes"
The decor is stylish, fresh, modern and engaging. I'm also in love with the menu, which boasts a beautifully designed cover. For me it's a dining experience years in the making since a Press launch gave me a taste of Ivy excellence in the 1990s. It doesn't hurt that Ryan, our waiter, has the charm of namesake actor Gosling with the Geordie patter of Ant and Dec.
Like all great restaurants, engaging banter is the key to a fine stay, and we're instantly at our ease while tucking into delicious starters. My oak smoked salmon with crab, dill cream, rye soda bread and a squirt of lemon is melt-in-the-mouth marvellous at £11.50.
There's no shortage of tempting dishes for the main, and the good thing is the price isn't so outrageous that you need a second mortgage. I opt for The Ivy chargrilled hamburger (£14.25, picture below), which arrives with a potato bun, and a collection of the usual accoutrements: red onion, dill pickle, lettuce and tomato, so I can take my pick instead of deconstructing the burger.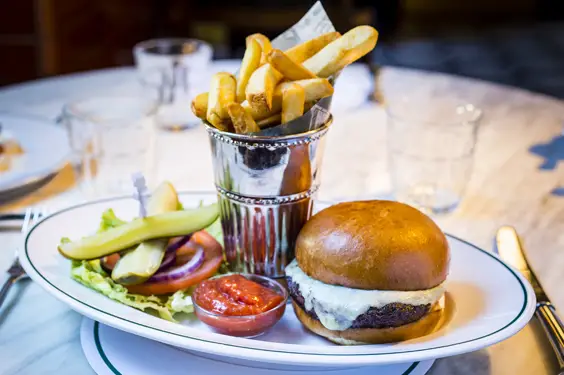 "Outstanding"
Talking of which, the meat is beautifully cooked, and the thick cut fries are outstanding, especially with Bloody Mary tomato sauce. To quote Sam Jackson in Pulp Fiction: "Mmm, that is a tasty burger."
Like his screen partner, mine is also vegetarian (well, pescatarian), but she has no shortage of equally tasty options to choose from. Wild mushrooms on toasted brioche with grated truffle and Gran Moravia (£7.95) for starter, and for main, an HLT – grilled halloumi, black olive, avocado, baby gem lettuce and tomato with herb mayonnaise (£9.75), all of which is terrific.
After the restaurant's own Champagne (which makes a change from the ubiquitous calorie-busting Prosecco, though they obviously have that too), we have a couple of Cosmopolitans; Rachel's with alcohol, mine without.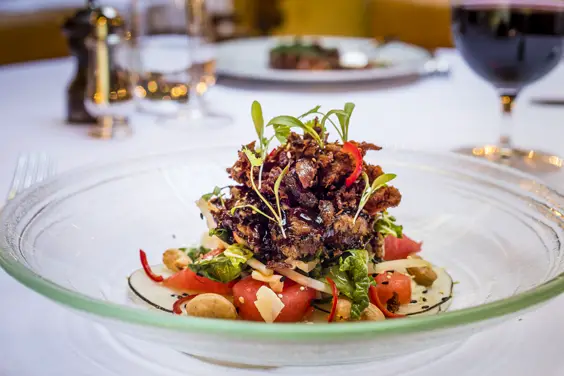 "Memorable"
I'd thought the reception area was over staffed with three folks ready to take coats and the like, but given the fact the place is soon heaving, it eventually becomes apparent how popular the restaurant is. Ladies who lunch; tourists and locals are soon tucking into mouthwatering food in the beautifully decorated restaurant. The atmosphere is terrific, not least because, unlike one chain, there's no screaming feral kids or Cliff's version of 'Congratulations' interrupting the mood at top volume.
This is the place to bring friends and relatives if they're in town for a few days and you want to ensure they have a memorable dining experience. And like all good eateries, the best is saved for last. Due to tactical portion control (I leave half my burger bun), I ensure I have room for dessert.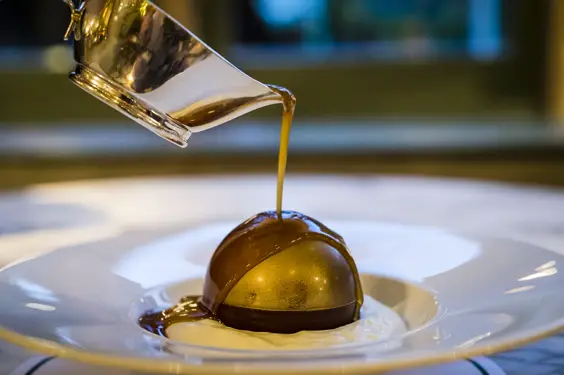 "Divine"
The Chocolate Bombe (£8.50, picture above) is a glorious mix of theatre as the delicious dark choc sphere at the heart of a large black plate disintegrates on contact with salted caramel sauce, revealing a lake of honeycomb and ice cream. Rachel opts for apple tart fine (£7.95, picture below), drizzled in Calvados, which is expertly ignited by Ryan.
Again, the table theatrics are key to a memorable meal, and the fact it tastes divine is the icing on the cake. (Or rather the hot fruit sauce on the tart). We round things off with cappuccinos, which could be a generic epilogue to a terrific culinary story, but even they are exceptional.
It's rare to find a restaurant that ticks so many boxes, but The Ivy is my new favourite York eatery, and that's saying something in St Helen's Square, a region which is bursting with them.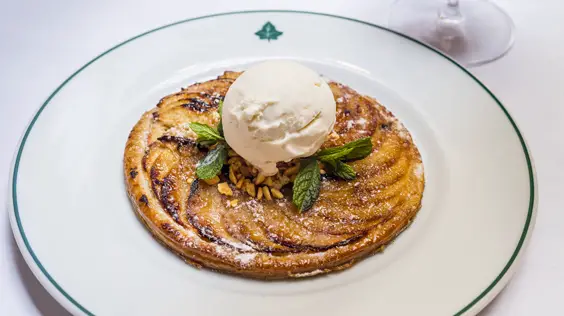 "Not just about the food"
"It wasn't just about the food, which I loved, it was the atmosphere," enthuses my fellow gastronaut as we emerge back into the reality of a crisp winter's day. It's now Rachel's favourite dining experience after 12 months of exploring some of the best restaurants the UK has to offer. It's easily in my top three.
"There is a difference between dining and eating," remarked 18th-century poet and gastronome Yuan Mei. "Dining is an art. When you eat to get most out of your meal, to please the palate, just as well as to satiate the appetite, that, my friend, is dining."
That, my friend, is The Ivy, York.
The Ivy York, 2 St. Helen's Square, York, YO1 8QP
Opening times:
Monday – Saturday: 8am – 12am
Sunday and Bank Holidays: 9am – 11pm
01904 403 888
theivyyork.com