Slug and Lettuce, Park Row, Leeds – Restaurant Review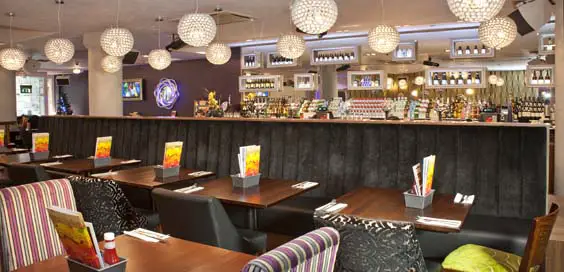 By Rob Siddle
Set in the financial district of Leeds City Centre, an area which has recently seen council backing to pedestrianise the major thoroughfare Greek Street, the Slug and Lettuce could be a great starting spot for a night out around this end of town.
Cleanly decorated, light and welcoming, the staff are on hand to greet us as we arrive and show us to our seats. There are good drink options, with a large choice of draft on tap, bottles and 2-for-1 cocktails, all day everyday. So, let's get the party started.
Sampling the new menu is the aim of the night and, with a tipple of Amstel Lager, I peruse the offerings. The menu offers all the usual suspects that you might expect from a pub selection and clearly tries to cater for a wide range of taste requirements.
"Accompanying extras and fries are excellent"
To start, we opt for the Feast with Friends sharing platter at £12.99. Served on a traditional platter board and well presented, the dish offers Southern Fried Chicken, BBQ Skewers, Crispy Tempura Vegetables, Beer Battered Onion Rings and Skinny Fries. It is a finger buffet-style starter and bar-like in its quality, perhaps missing some of the finesse you would get from a restaurant, although still at a restaurant price. But the good service and pleasant surroundings ensure the dish hits the spot all the same.
For main, Smothered Chicken Burger (£9.79) served with BBQ Sauce, Bacon, Cheddar and burger sauce and accompanied with skinny fries, again presents well and comes in an ample portion size – yes, size important around these parts. I'm not too keen on the chicken breast used in the burger though, thinking it lacks a little of the juiciness and succulence that you might expect. It's a shame because the fries and accompanying extras are excellent.
"Needs something more out-of-the-ordinary"
With some serious competition in the area, it's difficult to see where The Slug and Lettuce food offering can fit in, save for a quick snack before hitting the bars. The presentation and service is definitely above pub standards – and the venue is certainly striving for a higher standard. But ultimately, the fairly average pub fare I'm eating doesn't do enough to convince me.
If you're looking for a a bite with friends after work, or a serious meal there are far better options. But if it's a good drink in pleasant surroundings before you head off into the Leeds night, then it's an ideal location – and, one suspects, where most of the bar's custom will come from.
The Slug and Lettuce on Park Row is an excellent bar in the heart of the financial district of Leeds – but the range of food competition on its doorstep might mean it needs to offer something more out of the ordinary to make it stand out to the hungry hordes.
Slug and Lettuce, 14 Park Row, Leeds, LS1 5HU
Opening Times
10am – 10pm Monday – Saturday
10am – 8pm Sunday
0113 244 9209
slugandlettuce.co.uk/leeds