Pizza Express, Arena Quarter, Leeds – Restaurant Review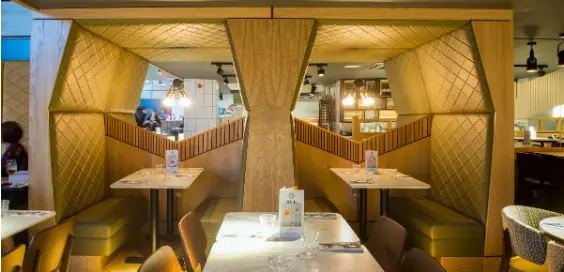 People might say "you can't go wrong with a Pizza Express". That's a compliment of sorts, but one so very tame and understated for a place that actually goes above and beyond most pizzerias in the UK.
In almost every town you have authentic Italian pizza parlours, takeaways, and the high street chains.  Pizza can be found everywhere, but what Pizza Express offers is consistently good.
And the restaurant on Merrion Way, Leeds is part of an area that's been having a great face lift over the years. So my friend and I ventured up there after work one evening for a catch up and a feed.
"Buzzing"
It was a Thursday tea-time when we walked in and the place was buzzing. There was an event on at FD Arena, so many had chosen Pizza Express to fill themselves up before heading across the road for the darts.
After a pleasant welcome, we were offered a seat at a table overlooking the oven. However we'd spotted a table in the corner next to the window, and as people watchers (polite code for "nosy parkers") we opted to sit there instead, watching the world go by.
But the first thing we noticed about our visit was the staff. They were thriving on the restaurant being so busy. And when we asked for a couple of pints of Peroni as we looked over the menu, we got some very cheery attention.  It was nice to see staff floating round the place smiling with speed and urgency. And doing so stress-free.  As far as good impressions go, this one was hard to beat.
The menu has too much temptation. New dishes and old favourites, plus the specials. They cater for every taste, and after a few minutes we'd decided what we were going for. For starters we decided to go for the Crab Arancini (£6.80) and Lemon and Herb Chicken Wings (£6.40).  For the main dish, I'd been recommended the Calabrase pizza (£14.95) by a colleague at work. And because of her Italian heritage, I took her advice. My friend went for the Diavolo option on the Romana base, which is again priced at £14.95.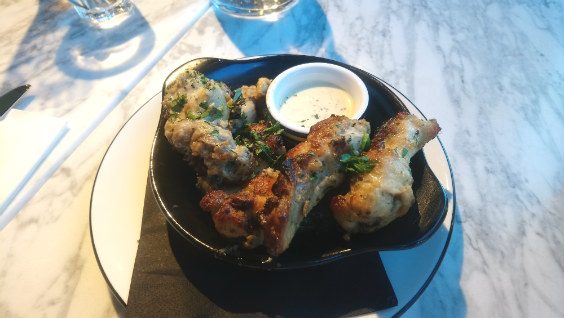 "Added something to the experience"
Whilst we waited, we caught up on life, and did the people watching that the huge floor to ceiling windows allowed us to do easily.  As well as droves of people heading to the arena, we had people leaving work, and others going to and from the nearby gym.
But we were watching people in the restaurant too. From where we was sat we could see the chefs making the pizzas. This adds something to the experience of coming to Pizza Express. Those in the kitchen were enjoying what they were doing too.  There was a really happy vibe going on!
And before long our starters came, and they were presented nicely. We couldn't wait to tuck in.
My six chicken wings were marinated in lemon and herbs, and served up with house dressing dip and fresh parsley.  They were succulent, and carried a nice flavour with them.  I found the dip nice and refreshing, and I needed plenty of napkins to wipe my fingers clean between each wing.  That's a good thing by the way… you don't want dry chicken wings, and a touch of grease goes a long way!
My friend loved his choice too. The Crab Arancini are crab and risotto balls. They're baked in golden breadcrumbs, served with rocket, a wedge of lemon and a sour cream & chive dip.
We cleared both plates, and were looking forward to our mains.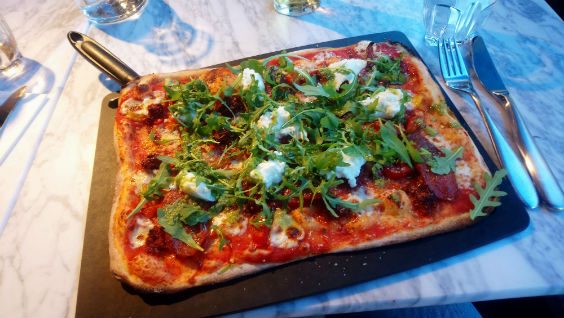 "A spicy kick to each bite"
Within seconds of our plates clearing, our pizzas were placed in front of us. Now, what my friend at work didn't tell me was how big the Calabrase was. Rectangular, and seriously pleasing on the eye, it was enough for two people. A definite eyes-bigger-than-the-belly moment. But I made a start, and I'd been given good advice. Sludge free, quite light, and with a small but noticeable spicy kick to each bite I enjoyed.  It's a busy pizza. Hot, soft 'nduja sausage is joined by Calabrese sausage with red chilli. Roquito pepper, roasted peppers, mozzarella and tomato are added, and it's finished with buffalo mozzarella, rocket, pesto and Gran Milano cheese
My friends pizza was spicy as well. The Diavolo comes equipped with hot spiced beef, pepperoni and mozzarella. Then there's tomato, green pepper, red onion and Tabasco with a choice of hot green, Roquito or jalapeño peppers. And we did the thing that we normally do these days, he had a bit of mine and I had a bit of his. I think we both came out victorious with our mains. We'd chosen well.
Despite the size of each pizza, we polished them off, and had wide kid-like grins on our faces. Definite senses of achievement there! And we had room for dessert too.  So back came the menus!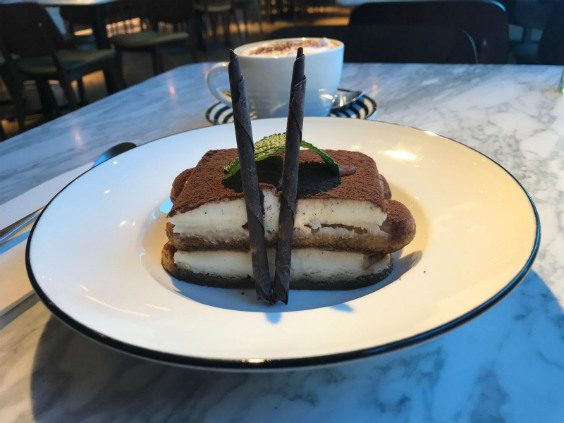 "Spectacular"
We didn't have a problem in deciding how to finish off the night. It was tiramisu for my friend, and the Honeycomb Cream Slice sounded too good for me to ignore. Both at a cost of £6.45.
And when they arrived, they looked absolutely spectacular. The Tiramasu's layers of ladyfingers, mascarpone cream, marsala wine, coffee and cocoa looked substantial. And the honeycomb slice with honeycomb and chocolate pieces did too. Tastewise, they were delicious – the light creamy topping with salted caramel and crunchy biscuit on the Honeycomb Slice was special.  I had ice cream on the side, and it was a great way to end the meal.
We rounded the night off with a couple of coffees, and said thank you to our hosts for a wonderful evening.
Pizza Express had really done us proud, and we'd had a lovely couple of hours here.  This restaurant has a little extra, and it's more than worth a visit.  Check ahead though – if there's an event on at the arena I would suggest booking a table. You may struggle to get in otherwise. On the flip side of that, it's worth going on an event night for the atmosphere, and trying to grab that table in the window.
After tonight, I know that you'll always go right with Pizza Express.  That sounds better, doesn't it?
Pizza Express Leeds Arena, 23 Merrion Way, Leeds, LS2 8BT
Opening times:
Mon – Sun: 11am – 10pm
Tel: 0113 221 1890