Browns Brasserie, Leeds – Restaurant Review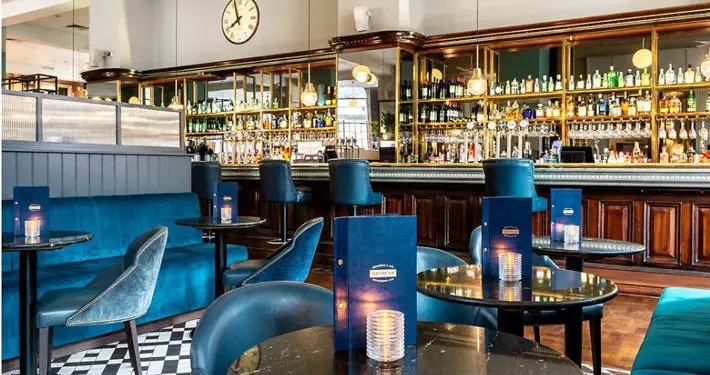 By Rachel Howard
It must be at least ten years since I last set foot in Browns Brasserie. It used to be one of my go-to restaurants in Leeds – I even spent a New Year's Eve or two there. But it hasn't been on my radar for some time. This is probably in part due to the vast amount of new restaurants that have opened in Leeds city centre during the last decade. In fact, Leeds has become known as something of a culinary hotspot, with eateries including The Man Behind the Curtain, The Ivy and Tattu causing a front-page sensation in recent years.
So, can Browns compete with the shiny new kids on the block, and will it be as good as my memory serves? I book a table to find out.
I arrive with my Mum on a very rainy and cold Thursday evening, just as they are setting up the Christmas market on the Headrow, making road access to the restaurant a little tricky. I wonder whether this will affect customer numbers, but as we walk inside, it's busy and bustling, but not overcrowded. Perfect for us.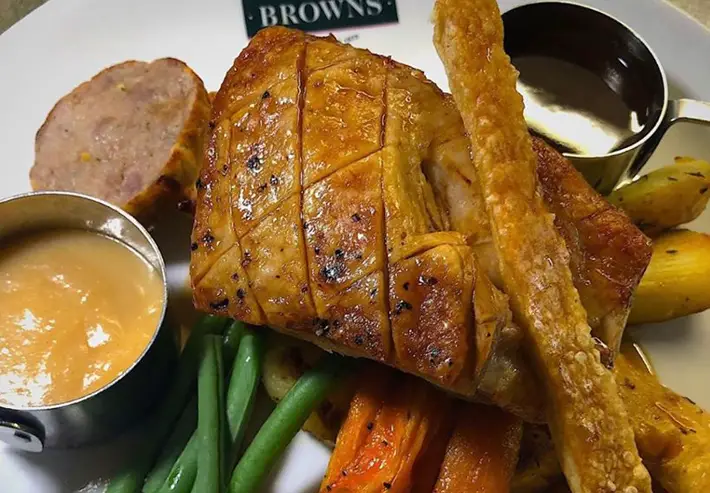 "Mammoth space"
We are quickly shown to our table and given menus to peruse. Alongside the main menu is a fixed-price option (served Monday-Friday until 7pm, with two courses for £11.95 and three courses for £15.95) and the chef's specials. As we read through the options I take a look around the spacious restaurant and realise not much has changed in the intervening years since I last visited.
The building, which was originally the Leeds Permanent Building Society, was transformed into Browns in 2001 and has retained many original features. It's a mammoth space but one they have used very effectively. The restaurant is split level, and feels comfortably separated from the bar area, which I would imagine is especially busy on Friday and Saturday evenings.
As our drinks orders are taken by our waiter, Eddie, he offers to move us to a warmer table, away from the draught of the door. We hadn't complained, but we kindly take him up on the offer and take our seats next to a radiator and settle in for a comfortable evening.
"So tasty"
Having ordered two glasses of wine, our starters quickly arrive and we dig in. I opt for the salt beef and Isle of Man cheddar croquettes, served with a celeriac remoulade and celery cress (£7.25). To say this is one of the nicest starters I've had in a very long time would be an understatement. For something so simple, it is so tasty I could easily eat it twice over. The mustardy remoulade is the perfect accompaniment to the rich and satisfying croquettes. I clear my plate in no time.
Mum picks the duck liver parfait served with Stokes red onion marmalade and toasted brioche (£7.25). The portion size is perfect, with enough brioche for the parfait (a rarity in my experience) and she deems it delicious, also clearing her plate.
It isn't long before our main courses arrive and I have high hopes given the standard of the starters. Mum goes for one of her favourites, fish pie. The Browns fish pie (£15.25) is described as salmon, prawns, scallop, Isle of Man cheddar mash, parsley crumb, peas and shallots. My Mum knows a good fish pie when she sees one and she couldn't be happier. In fact, I do believe I hear the words "the best fish pie I've eaten"… that says it all. Every last mouthful is devoured with a smile.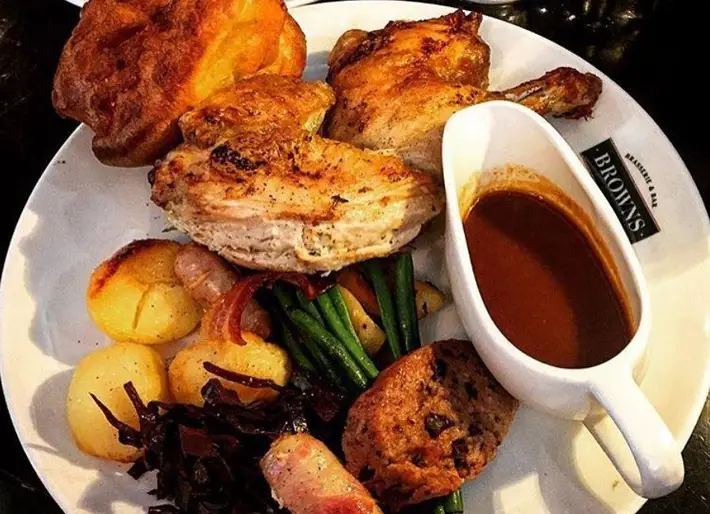 "Outstanding dish"
I decide on the roast monkfish and chorizo served with heritage potatoes, cavolo nero, beluga lentils, kale and hazelnut pesto (£22.50). Again, portion size isn't overfacing – in my opinion it is the perfect plate of food. The monkfish is cooked to perfection and not overpowered by the delicious and slightly spicy chorizo. The cavolo nero is an excellent accompaniment and the potatoes provide just the right amount of carb satisfaction without being too heavy. It really is an outstanding dish and one I wouldn't hesitate to order again and again.
We decide that desserts are possibly a step too far so we finish our meal with coffees – I go for a Bailey's latte and Mum opts for an Americano. They are the perfect way to finish off a, dare I say, perfect meal. As is clear from my review, the food was first class, but it was the customer service that really took this experience to the next level. Eddie our waiter couldn't have been more helpful, friendly and knowledgeable. He is a fabulous asset to Browns, even booking us a taxi home and making sure we knew where to pick it up from. We felt looked after from start to finish and, unfortunately, that isn't something you experience everywhere these days.
I think it's safe to say that Browns hasn't lost its touch. In fact, I'd go as far as to say it has improved in the last ten years. So although it may be tempting to visit the sparkling new restaurants popping up across the city, don't forget the stalwarts like Browns, they may just surprise you. I certainly won't be waiting another ten years for my next visit…
Browns Leeds, Unit H28, The Light, 70-72 The Headrow, Leeds, LS1 8EQ
Food service times:
Mon-Thu 9am-10pm
Fri-Sat 9am-11pm
Sun 9am-9pm
0113 2439353
browns-restaurants.co.uk