The Hallé Orchestra – Live Review – Hull City Hall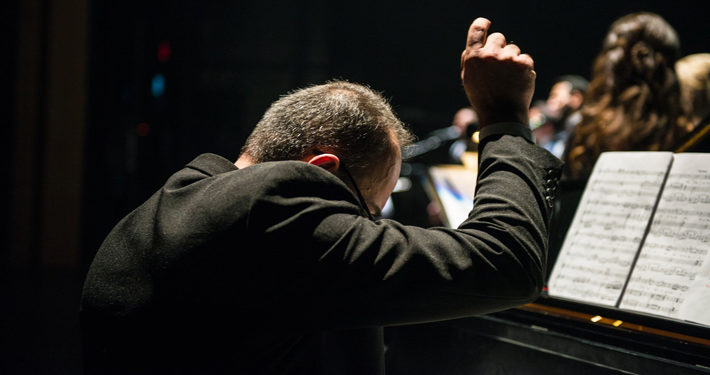 By Karl Hornsey, November 2019
The Hallé returned to Hull City Hall last week under the baton of Belfast-born conductor Courtney Lewis, for a concert that featured works by Ravel, Elgar and Sibelius. The evening's entertainment under Lewis, the music director of the Jacksonville Symphony in Florida, began with the quirkiness of Ravel's 'Mother Goose – Five Children's Pieces'. Each of those five pieces takes its inspiration from a French fairytale, including Sleeping Beauty, Tom Thumb, and Beauty and the Beast, with each short, sharp burst of music acting as a great entrée to the following main course.
Elgar's 'Cello Concerto' is considered a classic staple of the instrument and, in the safe hands of American cellist Nicholas Trygstad, it's easy to see why. Since its renaissance in the 1960s, when it came to more prominent attention thanks to a seminal performance by Jacqueline du Pre, any cellist worth his or her salt has added it to their body of work, and it occupies a fitting position in being the composer's final major work.
"Working beautifully"
One of the beauties of this piece is that the soloist is prominent throughout, right from the off, driving the performance on, and Trygstad was thoroughly at home working alongside Lewis to bring the work to life, embracing the livelier passages, while also being sympathetic to the more subdued moments. The initial lilting melody is gradually joined by the violas and then the full orchestra, with the strings, woodwind and brass all prominent at one point or another. Having said that, the cello remains at centre stage throughout, the star of the show, and the piece is all the better for that.
After the interval, the final piece of the evening was Sibelius's Symphony No 5, which has been used in popular modern culture on several occasions. This eclectic take on its swan-call motif has featured in films as diverse as Interstellar and Disney's Beauty and the Beast, and in songs such as 'Since Yesterday' by Strawberry Switchblade and 'On Melancholy Hill' by Gorillaz.
Sibelius himself, who was commissioned to write the piece as part of his 50th birthday celebrations, seemed a big fan of the work, with good reason, declaring rather excitedly that "It is as if God Almighty had thrown down pieces of a mosaic for heaven's floor and asked me to find out what was the original pattern". However, composing the piece wasn't without its problems, and it took Sibelius five years to finally bring it to the level he desired. By which point his 50th birthday was just a distant memory. Under the direction of Courtney Lewis, this well-balanced piece was light for the most part, with the star turn, for me, being the majestic horns, which emerge in all their glory as the piece develops, working beautifully in tandem with the woodwind to bring this Swan Hymn to life, and to bring an enjoyable concert to a fitting climax.