How Bitcoin Survived its First Decade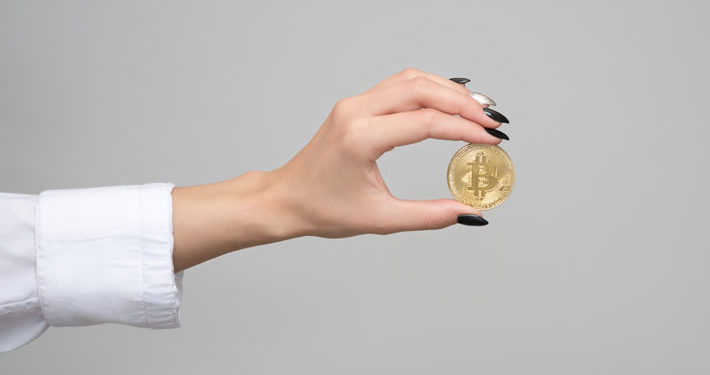 The launch of so-called 'virtual' currency and its rollercoaster relationship with investors has been the financial story of the last decade.
Cryptocurrency, headed by the ubiquitous Bitcoin, is basically electronic cash – an internet-based medium of exchange which uses cryptographical functions to conduct financial transactions. These digital assets can be sent directly between two parties via the use of private and public keys.
When Bitcoin launched in 2008, it caused barely a ruffle in the markets – in fact it was paying at just £0.08 at the time. By 2019 its stock had risen by over 60,000 percent. Indeed, Bitcoin became for some the last decade's most profitable investment.
But its short history is both turbulent, controversial and complicated. The research highlighted in the timeline below shows not everyone who jumped on Bitcoin is now sitting on a fortune – but its story is a fascinating journey into the financial unknown.

How it Started
Launched in 2009 by the presumably pseudonymous Satoshi Nakamoto (the person, or more likely the collective responsible for the launch has always remained anonymous) this early period was the quiet before the storm. In fact, it wasn't until 2010 than Bitcoin traded and actually sold for cash.
Then, in May 2010 the first Bitcoin transaction came in the unlikely form of two Papa John's pizzas. Those 10,000 Bitcoins used for the purchase (worth about $40 in 2010) would now be worth an astonishing $90.5million.
Soon after, however, came the first major Bitcoin crisis and controversy. An anonymous hacker, via a complicated exploitation of Bitcoin code, created over 180 billion Bitcoins. Owners quickly hard forked the blockchain – an action that saved Bitcoin from an early collapse. But the first breach of security had occurred.
Here Come the Competitors
Like any potentially successful venture, it was not long before rival cryptocurrencies started to appear. Among them were Ethereum, Ripple, Stellar Lumens and Litecoin – most of them fuelled by Bitcoin's 2011 parity with the US dollar – a watershed moment for cryptocurrency.
Soon after, the University of Nicosia became the first business in the world to accept Bitcoin for tuition fees. In 2019 companies from Starbucks to Microsoft, Wikipedia to Burger King all accept the currency.
Some competitors fared better than others – and as the infographic below from Betway demonstrates, some cryptocurrencies were perhaps doomed before they'd really begun.
One notorious cryptocurrency called OneCoin amounted to nothing less than a Ponzi scheme, but still managed to be one of the biggest scams in history – it brought in £4 billion before being closed down, with multiple worldwide arrests. None of which did much for the overall stability of Bitcoin or other cryptocurrencies.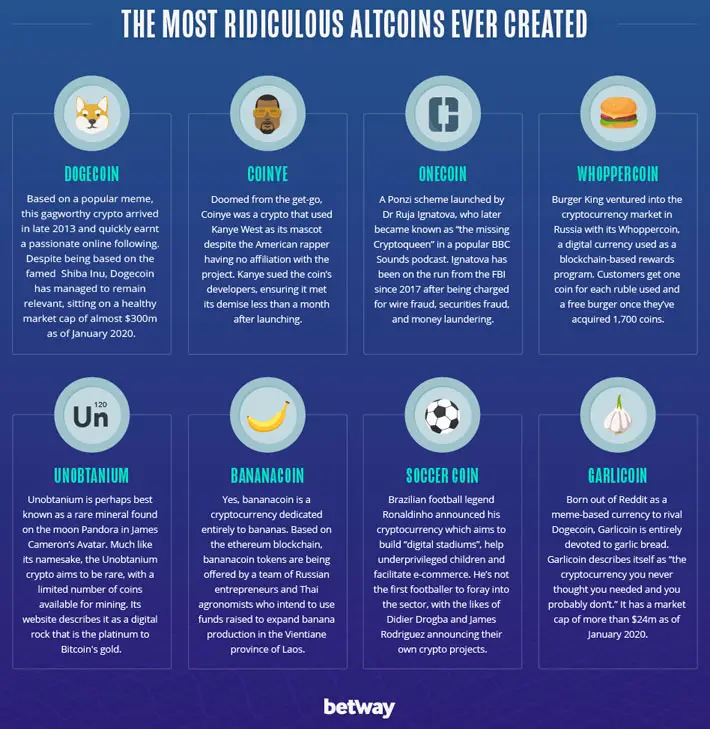 The Rise, Fall and Rise
2017 was the year Bitcoin investors really hit pay dirt. In December of that year its price reached $19,783.06 – a figure so far unsurpassed. Yet such was its volatility, five days later it had lost a third of its value – and by February 2018 its value was under $6,000. Despite stabilising around this figure, December saw a further drop to £3,300.
Still, in 2019 the price rebounded sharply, at one stage reaching just under $14,000 – and traders will be encouraged by the least volatile year since the cryptocurrency took off.
The Future for Bitcoin
Predicting the future of cryptocurrency in general has become something of stocks and shares Holy Grail.
In May 2020 there will be a readdressing of Bitcoin's block rewards, with miners receiving half what they currently receive. Last time Bitcoin did this, in 2016 its value plummeted – but the strategy is to make Bitcoin more 'urgent'.
What is clear is that the competition will increase and the cryptocurrency offering will diversify. Facebook will launch its Libra cryptocurrency in 2020 and Ethereum already offers a much more streamlined transaction process.
With cryptocurrency still basically in its infancy – but with increasing stability and acceptance behind Bitcoin – there is no reason why Bitcoin can't go on to become a part of everyday life and everyday financial transactions in the next decade.