What To Do When Your Parent is Diagnosed With Cancer
A cancer diagnosis can come as a huge shock, not just to the patient but also to their loved ones. And when it's your parent that has cancer, you may feel like your world has turned upside down and be left not knowing how to cope with the news.
Whilst your priority might be being emotional and practical support for your parent, it's also important that you take the time needed to come to terms with their diagnosis and ensure you have your own support mechanisms in place.
This article provides guidance on what to do when your parent is diagnosed with cancer, including tips on how to process your feelings and where to get extra help if you need it.
Honour your emotions
After finding out a parent has cancer, it's normal to experience a range of emotions. It's also understandable if you believe nothing will improve your mood or if you find certain situations, environments, or conversations difficult. Common feelings that can arise when you find out a parent has cancer include:
● Fear about how your parent and wider family will cope or what their diagnosis means for the future
● Grief over feeling like you and your parent have lost the lives you had before their diagnosis, and for future plans
● Denial as you don't want what is happening to be the reality or for anything to change
● Anger that cancer has impacted your life and the lives of those you care about
● Sadness that someone you love has to go through such a difficult thing
● Guilt that the situation is out of your hands or that you are well when they are not
● Resentment that the support they need from you means you have less free time or that your relationship has changed.
The important thing is to remember that all of these emotions are valid and that you don't have to push them away. It's ok if you have trouble staying positive or if your feelings change frequently. You might find it helpful to find a way to manage the intensity of your emotions. Exercise, journalling and meditation are commonly used methods.
Take things one step at a time
Dealing with things step-by-step can help things feel less overwhelming and prevent your mind from wandering too far into the future. It can be beneficial to set yourself small, manageable goals or divide the day into smaller sections. For example, you might decide to get out of bed, get dressed and have a cup of tea before re-evaluating your feelings and what this means for your day. Or you might aim for one hour of household chores.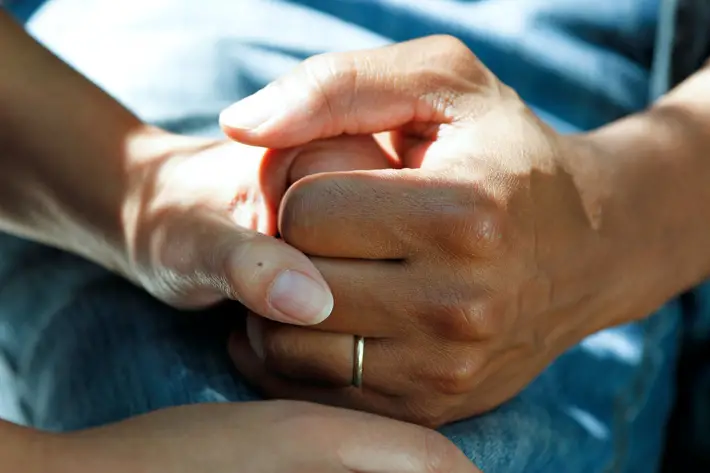 Don't bottle your feelings up
We know that some people are more private than others but telling someone else how you feel can alleviate some of the emotional weight you may be feeling. Who you decide to open up to will depend on the relationships you have and what you will find most comfortable. For example, it could be your other parent, your partner, a friend, or someone who understands what you're going through, like a peer from a cancer support group. It doesn't even have to be in person if you find this prospect too daunting. You could write a letter, talk on the phone, or have a video call.
Seek specialist support
If you recognise that you aren't coping with how you feel or that your emotions are impacting your day-to-day life, there is no shame in pursuing specialist support. There are many options available, such as counselling, group talking therapy and CBT. Book an appointment with your GP to discuss your struggles and which mental health services they can refer you to. Some cancer support charities might also be able to connect you to additional aid. You might also find online cancer support valuable. It will give you access to specialised support that is available to you from the comfort of your own home when you need it most.
Enjoy time with your parent
It's easy for your parent's diagnosis to become the focal point of both your worlds and for it to dominate conversations. However, it can be cathartic and meaningful for you both to spend time in each other's company where cancer isn't the focus. For example, you could have a movie night where you watch your favourite films or head to your favourite café for an hour to have a chat over tea. Don't forget that amongst the appointments and treatments, it's alright to engage in general chit-chat and laugh together.
Recognise your own wellbeing needs
Supporting someone with cancer can be time-consuming as well as physically and emotionally draining. Therefore, if you don't make space for your own wellbeing, you risk burning out and not being able to be there for your parent as much as you'd like.
Make time for things that benefit your physical and mental health. Rest, quality sleep and exercise are important, as are eating balanced, nutritious meals and keeping hydrated. However, don't overlook things that fill your emotional cup. This could be seeing friends or doing a fun activity.