Strictly Ballroom – Review – Bradford Alhambra
By Steve Crabtree, March 2023
The musical adaptation of Baz Luhrmann's 1992 film Strictly Ballroom has danced its way into Bradford. And on opening night, there was barely a spare seat in the Alhambra as young, old, families and groups enjoyed two and a half hours of lively, colourful fun.
The classic movie is about Scott Hastings, a rebellious young male ballroom dancer disillusioned with traditional dance steps. And he's adamant he's going to bring his own to the dancefloor.  That meets with the strict disapproval of others, as Scott is approached by a young female beginner, who wants to partner up and do the same. Then, after eventually finding the same rhythm, they connect in more ways than just ballroom.
Right from the curtain going up we're treated to eyes and teeth, dancing and bright colours.  And a talented cast gave us lots of excitement and inspiration to move your hips.
"Breath-taking dancing"
The role of Hastings was played by Grimsby's very own Strictly Come Dancing star Kevin Clifton. Clifton's moves were as obviously exquisite as you'd expect from him, but Strictly Ballroom showed he has more in his locker than just breath-taking dancing.  He scores highly on the acting, the emotion and the Australian accent ability too.
Across from him is Faye Brookes, making her debut in the show tonight as Fran, the plain-Jane who hasn't been dancing long enough to be considered Hastings' partner.  I've seen her in a few shows including Chicago, and know she's an exceptional leading lady, and tonight was no different.
There's also quite a few notable cast members to go alongside the leads. Gary Davis' portrayal of Barry Fife was very funny – imagine, if you will, a Donald Trump/Benny Hill love child. Kieran Cooper's Wayne was very good, as was Edwin Ray who stepped in to play Ken tonight.
"Bright, cheesy glitz and glamour"
Now, Strictly Ballroom isn't a show that'll get you thinking too hard. It'll make you laugh and get your toes tapping.  It gets your eyes opening wide too, and if you remember it, you'll see the film reflected throughout. From the witty one-liners, to the Coca-Cola ad on the roof; it's all there with a very nice, nostalgic look back at the 31-year-old flick.
The production has the costumes down to a tee too. The bright, cheesy glitz and glamour of the ladies' sequin-and-feather-laden costumes married up nicely to the deliberately awful, badly-made and hideously fitted wigs across many of the cast.  It took me a while get used to the wigs. But I gradually realised that these were part and parcel of keeping the production true to the film.
And the set is quite simple, dressed in lights to bring out the sparkle and shine that the performance requires.
It's very much a feel-good and fun show. One that borders on cheese and silly, but in a very much intended way. If you want dance, happy faces, fun, frolics and farce, look no further.  That's certainly what Strictly Ballroom gives you.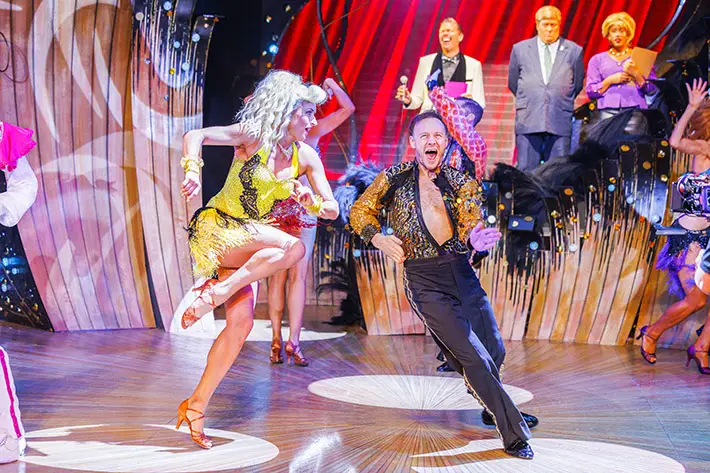 "Quite the spectacle"
Away from the comedy, there's some fantastic scenes that makes sure Strictly Ballroom isn't all cheese. The stand-out moments of the show for me came at the end of act one when Scott visits Fran's family party in the bar, and gets taught how to Pasodoble from the heart. Here, I felt the energy raise in the build up to the entire cast putting on a powerful routine, offering us quite the spectacle.
Then also there's an emotional scene in act two that reminds you that the film was a romcom, where Scott and Fran perform 'Beautiful Surprise' with a lovely delicacy that rightly gets one of the longest ovations of the night.
And, of course, you've got a finale of the entire cast dancing to 'Love Is In The Air'. You know you're sending an audience home happy with that coming in at the end.
All in all, I wasn't immediately sure how much I'd enjoyed Strictly Ballroom.  But as I headed home with the finale number in my head, and took off the 'serious theatre' hat I perhaps entered the Alhambra wearing, I'd enjoyed the show and had a very fun evening.  It had packed lots of lively entertainment on to the stage. And it's a production that I'm glad to say I have seen.
Strictly Ballroom runs until Saturday April 1st, 2023.