Mamma Mia – Review – Sheffield Lyceum
By Helen Johnston, October 2022
If ever there was a need to escape to a sun-drenched Greek island to be serenaded by the music of Abba, it's surely now.
With political turmoil and an economic forecast as gloomy as the rapidly darkening nights, there's never been a better reason to celebrate the arts and how important they are to our wellbeing.
Little wonder then that when Sara Poyzer (playing mum Donna) roared during the singalong finale "Do you want one more, Sheffield?", the answer came back loud and clear "Yes!"
It seemed fitting that the final song was 'Waterloo', which was how it all began for Abba back in 1974 when they won the Eurovision song contest. I'd defy anyone not to get on their feet for that one.
Their ability to tap into human emotions has made the lyrics of Bjorn Ulvaeus and Benny Andersson perfectly adaptable to fit seemingly any situation.
Make-ups, break-ups, love lost and found, parental love, the bonds of friendship, happy times, sad times – whatever the life event, Abba seem to have a song to sum it up.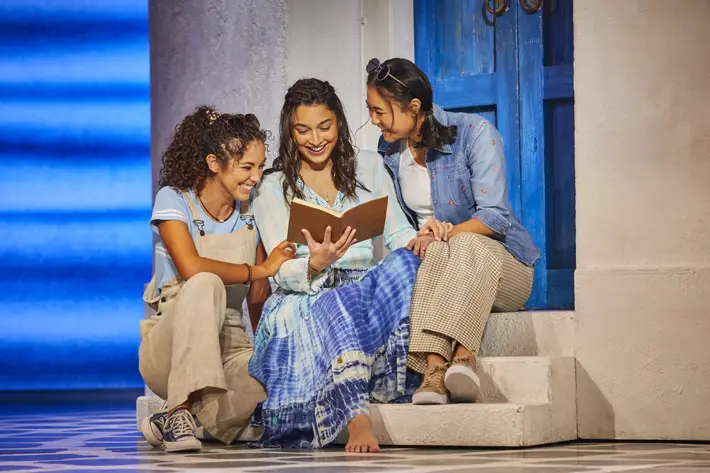 "Whole lot of mayhem"
It's no surprise then that Mamma Mia has universal appeal. The show opened in London in 1999 and is now the West End's longest running jukebox musical. It has also secured international acclaim with tours in 50 countries and 14 years on Broadway.
Written by Catherine Johnson, the story centres on 20-year-old Sophie (played by a hard-working Jena Pandya) who is about to marry her boyfriend Sky, played by Toby Miles, who was left looking a tad embarrassed as he hastily rearranged his boxer shorts in the stag night scene where his friends disrobe him.
Sophie wants her dad to walk her down the aisle – but first she must find him. Reading her mum Donna's diaries from the year Sophie was born, she discovers there are three possible contenders, so she invites them all to her wedding without telling her mum.
Cue the arrival of Geordie free spirit Bill Austin (Phil Corbitt), city banker Harry Bright (Daniel Crowder) and architect Sam Carmichael (Richard Standing), who first introduced Donna to the fictitious island of Kalokairi back when they were dating.
Add to the mix Donna's long-time chums Rosie (Nicky Swift) and thrice-divorced Tanya (Helen Anker) and the scene is set for a whole lot of mayhem and misunderstanding. Swift and Anker got the most laughs as the middle-aged menopausal women still determined to have a good time.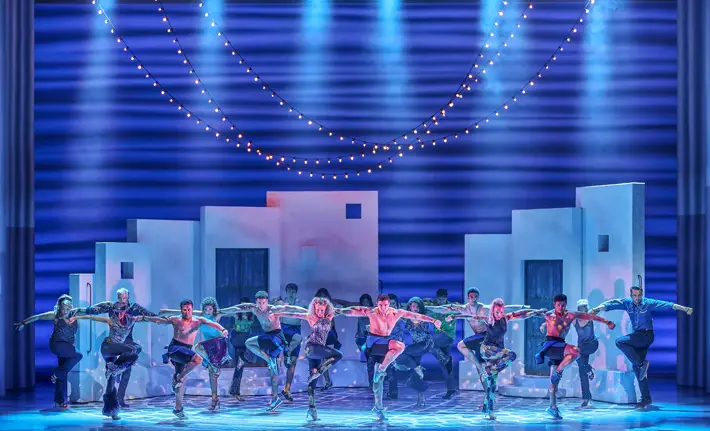 "Raucous laughter"
They performed a joyful 'Dancing Queen' with Poyzer, each grabbing an appropriate 'microphone' – hairbrush, hairdryer and roll-on deodorant. And let's face it, who hasn't done that when dancing round their bedroom to Abba?
Swift's seduction of Corbitt raised some raucous laughter as did the scenes when the svelte Anker spurned the advances of Sky's friend Pepper (played with gusto by James Willoughby Moore who was clearly having a good time).
And the Abba hits just kept coming. 'Knowing Me, Knowing You'; 'Take A Chance On Me'; 'Chiquititta'; 'Voulez-Vous' – to name just a few. Not forgetting the first single I ever bought, 'Super Trouper'. All credit to the musical supervisor Martin Koch for the arrangements.
The finale summed it all up. Donna, Rosie and Tanya in their shiny Abba outfits with the whole cast dancing around them, getting the audience up and dancing too as the ticker tape rained down. An uplifting end to a few hours' escape from reality. That's the Name of The Game.
'Mamma Mia' is at Sheffield Lyceum until 5th November, then continues touring
images: Brinkhoff-Moegenburg