Lucrezia Borgia [ETO] – Review – Sheffield Lyceum
By Helen Johnston, March 2023
While the debate goes on about where best to base English National Opera for the good of everyone living outside London, English Touring Opera is busy taking the art form to theatres around the country.
The dramatic tale of the notorious Lucrezia Borgia was one of two operas staged at Sheffield's Lyceum Theatre this week and gathered a sizeable audience, if not quite a full house. Proof that there is a desire for opera in the provinces and it shouldn't be the preserve of those who can afford to travel to London.
ETO is also helping to make opera more accessible to the masses by including English subtitles displayed on screens either side of the stage. So, if you've been put off opera before because you can't understand what they're singing about, now is your chance to find out.
Full disclosure, I'm not an opera buff. My only previous experience is seeing La Traviata at The State Opera in Prague a few years ago (how's that for sounding super-cultured), so it was time to sample some more.
Lucrezia Borgia had the kind of tumultuous life you would dismiss as too unbelievable if it was written in a novel. She was born in Italy in the 15th century to a Catholic cardinal who later became Pope Alexander VI – and you thought they were celibate! – and his mistress Vannozza de'Cattanei.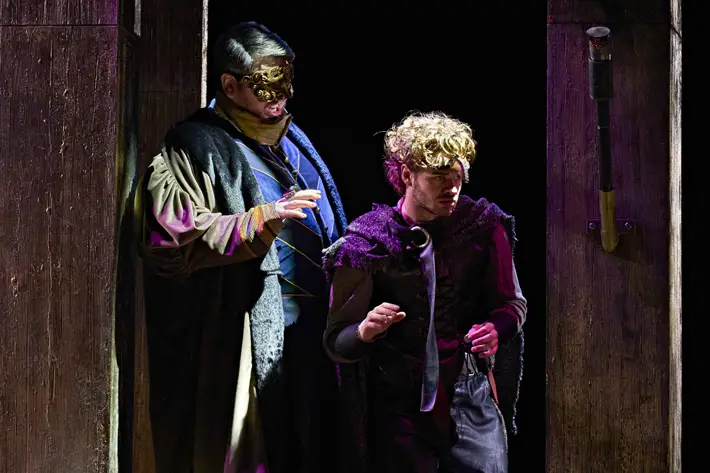 "Troubled and sensitive"
Lucrezia was just 13 when she was first married off to a cousin of the duke of Milan, for diplomatic reasons. By the age of 21 she was on her third husband, Alfonso d'Este, heir to the duchy of Ferrara. She was rumoured to have had several affairs over the years and an illegitimate child, but also had a business head on her shoulders and set up a mozzarella factory, among other achievements.
The opera begins at the Venice Carnival in 1510 and the simple but effective set works well, with a moveable gondola holding the sleeping Gennaro (Thomas Elwin), while his friend Orsini (Katie Coventry) regales the rest of their group with warnings about the infamous Borgia and her murderous ways. Coventry has great stage presence, despite being smaller physically than her male counterparts.
As the friends depart, Gennaro is left behind as a masked woman approaches. When he wakes, he opens up to her, telling her of his childhood as an orphan. It's only when his friends return and recognise her that he discovers she is Lucrezia Borgia (Katherine McIndoe).
New Zealand soprano McIndoe is the understudy and stepped up to the role magnificently. These opening scenes with Gennaro show Lucrezia as a troubled and sensitive woman, longing to be able to tell Gennaro that she is the mother he pines for.
The pair look too close in age to be mother and son but that's part of the plot because Lucrezia's husband Alfonso (Aidan Edwards) later becomes suspicious and believes they are lovers. Edwards put me in mind of Henry VIII with his beard and regal stance.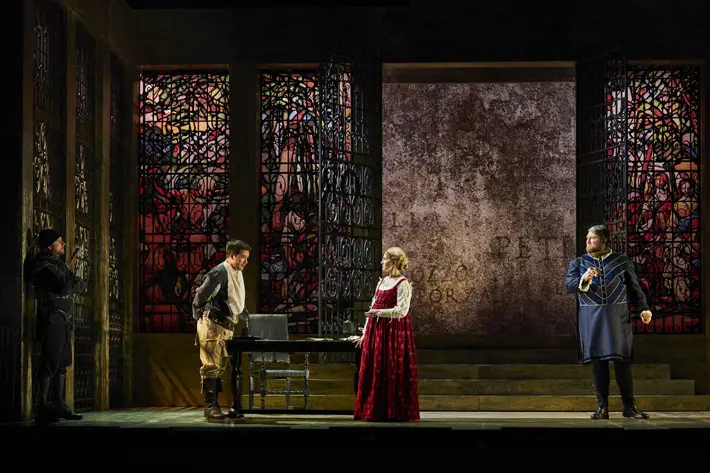 "Intense"
Now we see another side of Lucrezia. She is angry at the group of men who have insulted her and she demands her husband put to death the person who vandalised her family name on the palace gates. This is the cold, calculating face of revenge. But it quickly changes to sorrow when she discovers the culprit is none other than Gennaro.
The scene with the three of them singing on stage at the same time is wonderful, with Gennaro in a good mood mistakenly believing the Duke has his best interests at heart, while Alfonzo and Lucrezia are arguing. The subtitles had their work cut out with that one.
What follows is tragedy and heartache of the kind operatic singing seems to deliver so well. The music is provided by the excellent Old Street Band which uses period instruments to better recreate the sounds originally heard by the composer Donizetti.
Lucrezia Borgia isn't a happy tale and it's quite an intense experience to watch. If you're not sure about opera this might not be the best one to start with if you're looking for a fun night out. However, the power of the voices, and the passion behind them is something to behold. And, if nothing else, you'll know a whole lot more about the intriguing Lucrezia than you did before.