Girl From the North Country – Review – Sheffield Lyceum Theatre
By Clare Jenkins, January 2023
A decade or more ago, The Telegraph's much-missed theatre reviewer Charles Spencer wrote of a National Theatre production of Bertolt Brecht's Mother Courage: "Here she comes again, Mother Courage and her bloody cart, condemning audiences to three-and-a-quarter hours of hectoring lectures, unrepentant Marxism, tiresome alienation devices and a bucketful of condensed misery. It is enough to make you pull the duvet over your head and turn your face to the wall."
Brecht was a major influence on Bob Dylan. When the singer first came across him in the Sixties, it was like a Damascene conversion: "My little shack in the universe was about to expand into some glorious cathedral, at least in songwriting terms." While Girl From the North Country is written by award-winning Irish playwright and director Conor McPherson rather than the German Brecht, it contains enough "condensed misery" in both script and choice of Dylan songs to have the same effect. If you want cheering up on a dark winter night as the world goes to hell on Mother Courage's handcart, maybe stay home with a good book.
If, however, you're a massive fan of Dylan and admire imaginative staging, bleakly atmospheric lighting, acutely choreographed ensemble acting, and want to comfort yourself with the thought that, while things are bad here at home today, they were far worse in America's Great Depression – well, all those elements are also here in the course of two and a half hours. Along with elements of Where the Crawdads Sing, Eugene O'Neill's The Iceman Cometh, A Streetcar Named Desire – and more than a sprinkling of Sylvia Plath suicidal despair.
The musical – first staged in the West End five years ago before moving to Broadway – is now back on tour, having gathered awards on its journey. It's set in a run-down boarding-house in Duluth, Minnesota – Dylan's hometown – in 1934, seven years before the great man's birth.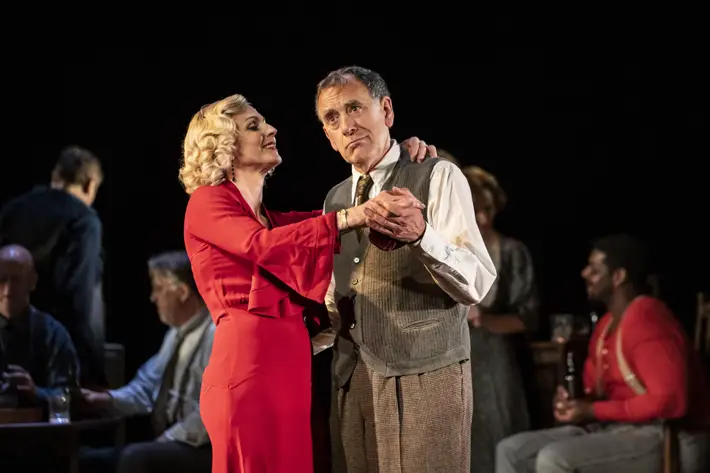 "Soulful rendition"
It doubtless helps if you're familiar with the Dylan back catalogue – the 20 songs, all reimagined by music director Simon Hale, range from 1963's title number and 1965's 'Like a Rolling Stone' to 'Duquesne Whistle' from 2012 (sung in a weird after-death gospel scene by man-child Elias, wearing a blindingly white suit). It also helps if you can decipher the lyrics, and sometimes the quickfire dialogue, rendered indistinct by some rather fudgey acoustics. But would it cheer you up to do so? Or would you rather go for a pizza with the Grim Reaper?
Every character has a sad story to tell: boarding-house owner Nick (Colin Connor) is about to go bankrupt, his wife Elizabeth (a riveting Frances McNamee) broods and swirls around the stage in a cloud of dementia. Their son Gene (Gregor Milne) is a hard-drinking, unsuccessful writer about to lose the love of his life (Eve Norris) to another man, another town – cue a soulful rendition of 'I Want You'. His adopted black sister Marianne (Justina Kehinde), meanwhile, is pregnant at 19 – and plaintively sings, "Has anyone seen my love?"
Lodger Mrs Neilsen (Maria Omakinwa), is having an affair with Nick while waiting for her dead husband's $10,000 legacy to come through (and guess what? It never does). A well-dressed couple (a troubled James Staddon and Rebecca Thornhill) arrive with Elias (Ross Carswell), their adult son with the mental age of a child. Turns out they've lost all their money in the crash. A couple of escaped convicts arrive, one (Eli James) pretending to be an evangelical preacher-cum-Bible salesman. Just as the devil has all the best tunes, he has some of the best lines: "A devil pursues me and his name is Commerce"… "Jesus makes his lifetime of light eminently affordable".
His companion (a quietly compelling Joshua C Jackson) is a beaten prize-fighting boxer. Finally, Chris McHallem is the town's drug-addicted doctor but also, rather clunkily, the narrator, at times taking to the side of the stage to tell us – via a much-employed old-style radio microphone – about people's back stories or a Ku Klux Klan lynching or the rise in suicide rates and, eventually, to tell us what the future holds for everyone. And – surprise! – it's not happy-ever-after.
"Defeat and frustration"
The cumulative effect is of lives blighted by poverty, lack of opportunity, lack of luck in smalltown America in the Dust Bowl years. Lives that are indeed blowin' in the wind.
The songs – folksy, gospel, ballads – are embedded in the storyline, used to illustrate the struggles, hopes and flickering dreams, the human capacity for – as the final number has it – pressing on and on and on… But for what? There is humour here – including some sly references to Trump-style politics: "What we need in the White House is energy. Someone doing something, even if it's the wrong thing". But there are no highs, just a low-level humming of loneliness, defeat and frustration, accentuated by the subdued lighting and designer Rae Smith's illustrated backdrops that bring to mind the photographs of Dorothea Lange or Grant Wood's American Gothic painting.
Even the hoedown scenes – with music played live on fiddle, piano, drums by The Howlin' Winds and individual speeches sometimes drowned out by background chatter – aren't joyous. They're more a desperate attempt for the sad-at-hearts to escape from harsh reality. As the doctor puts it in one of his monologues: "Pain comes in all kinds – physical, mental, indescribable." Or, as Nick asks Mrs Neilsen: "What the hell are you wasting your life here for?" "Well," she replies, "you've got to waste it somewhere."
And you thought Leonard Cohen was depressing?
'Girl From the North Country' is at Sheffield Lyceum Theatre until Saturday.