The Curious Incident of the Dog in the Night Time – Review – Sheffield Lyceum
By Clare Jenkins, February 2022
It's almost 20 years since Mark Haddon wrote his million-selling book, The Curious Incident of the Dog in the Night Time; ten years since Simon Stephens turned it into a multi-award-winning play. Now that National Theatre adaptation is back on tour – and it's wonderful, as demonstrated by the cheers and standing ovation on its Sheffield opening night.
The story of Christopher, a neurodiverse teenager who discovers his neighbour's dog stabbed to death and determines to find the culprit, may initially sound dark and troubled. And, indeed, there is shadow and anguish – not least because Christopher, while a brilliant mathematician, is also a misfit inhabiting a world he struggles to make sense of.
There's also the fact that he's been told by his father that his mother is dead. He only discovers she isn't when he finds a cache of her letters hidden in his father's bedroom – a scene which, under Marianne Elliott's highly imaginative direction, powerfully evokes emotional turmoil as the letters cascade down over him in a whirl of illuminated words. Truth and lies and issues of trust are part of the overall story.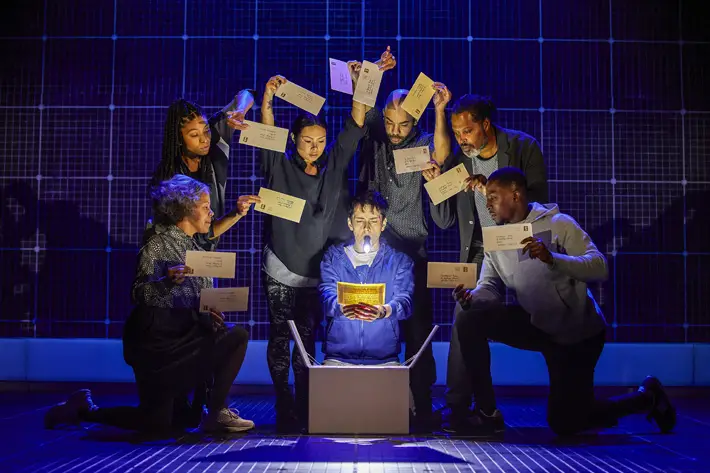 "Energy and sensitivity"
But there is also much in both the book, the play and this production that is funny and life-affirming.
On stage throughout, David Breeds conveys Christopher's 'otherness' with astonishing energy and sensitivity, showing what it must be like to live in a world where you can't bear to be touched, you have no friends, and you understand facts but not feelings.
Breeds's ever-restless hands and mouth, his tremulous voice, twitching limbs and lack of eye contact create a sense of perpetual anxiety, alleviated only by the company of his pet rat or when he focusses on numbers, his model railway or the stars at night. Breeds (who role-shares with Connor Curren during this run) does both calm and manic, never once missing a beat.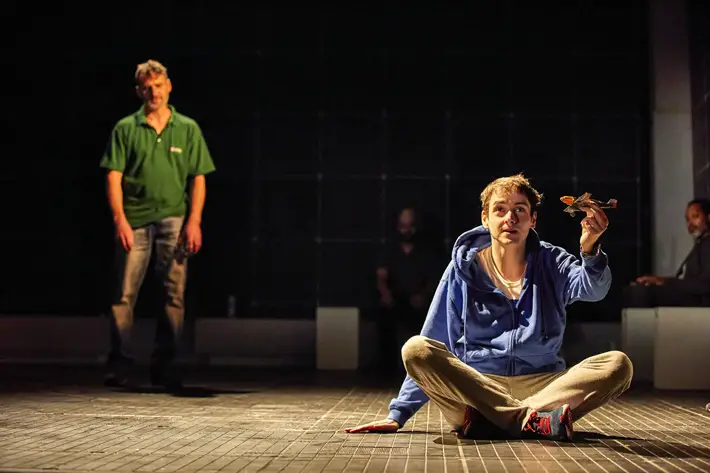 "Strain of parenting"
For the rest of the cast, well, the National Theatre's ambition was, they say, "to cast a diverse and representative company, including performers who identify as neurodivergent and autistic". Beyond that, they prefer not to say – and it doesn't matter. Sophie Stone, who plays Christopher's mother, signs as well as speaks, but what really strikes home is the moving sense of maternal conflict: she loves her son but can't live with him. The scene where they are reunited and she runs to hug him before realising she mustn't is particularly poignant.
As Christopher's father, Tom Peters also demonstrates the strain of parenting and protecting a child who is 'different', ranging from sweary anger to teary softness. And Rebecca Root shows grace and calm commonsense as Christopher's teacher, a still point in his ever-turning world.
The rest of the cast work seamlessly, almost balletically, together – all fluidity of movement and physical support. The scene where they help Christopher literally walk around the walls is startlingly gymnastic.
"Sensory overload"
All the action takes place inside Bunny Christie's black boxed-in set (like a computer circuit board) which, together with Paule Constable's digital projections and lighting effects, help convey chaos and confusion. This culminates in Christopher's railway journey to London, when the world goes into a sensory overload of flashing train stations, pulsating lights, pushing passengers, automated instructions – 'Mind the Gap', in this case between his vulnerable world and the turbulence of the one most of us learn to deal with.
On a damp Tuesday night, the theatre was full, and fully engaged – not least the half-term groups of school and college students studying drama. "We couldn't have brought them to a more inspirational production," said the drama teacher sitting next to me. "It shows them what can be done – and how to do it."
Haddon has written of his book that, "if anything it's a novel about difference… about seeing the world in a surprising and revealing way. It's as much a novel about us as it is about Christopher."
Leaving the Lyceum after seeing it, the world did indeed seem a different place.
'The Curious Incident of the Dog in the Night Time' is at the Lyceum until Saturday then tours
images: Brinkhoff-Moegenburg