Anna Karenina – Review – Sheffield Crucible Theatre
By Clare Jenkins, February 2022
The Crucible launches its 50th anniversary year with what it bills as 'a bold new production' of Tolstoy's epic tale about the conflict between love, passion, duty and defiance. According to director Anthony Lau, it's "a universal narrative boldly reimagined to speak to a modern audience".
Well, if bold equates to mixed messages, he has succeeded. Because this Anna Karenina – originally adapted by Helen Edmundson for the Shared Experience theatre company in 1992 – is a tale of two plays. One is a powerful psychodrama of an 'adulterous' woman's descent into mental illness; the other is a mash-up of French and Saunders sketches/vaudeville/burlesque with hip-hop music and a psychedelic display of shocking pink and garish green.
The former grips – largely thanks to Adelle Leoncé's wonderfully nuanced performance as the central character. The latter – while it receives the laughs it seems to be playing for – at times detracts from both the story and the tension.
"Atmospheric"
For much of the play, Anna and Levin (Douggie McMeekin), the shy landowning farmer in love with Kitty, talk to each other across a bare, misty blue-grey expanse of stage, setting the scenes: "Where are you now?" "I'm on a train…" It's a clever ploy, giving pace to a story that, in its original form, has octopus-like sub-plots.
This adaptation offers Georgia Lowe's pared-down set and a pared-down cast – precious few props (the child's toy train is a delight), a lot of charging around the stage, and seven actors duplicating roles, often with highspeed costume changes. Lau also hints at what is to come with the help of steam train smoke, Jack Knowles's atmospheric lighting effects, and scenes that subtly juxtapose birth and death.
Tolstoy's storyline is famously tragic – an attractive, intelligent, passionate woman married to a dry bureaucrat, bearing him a son, then falling madly for the supposedly dashing Vronsky.
"Energetic scenes"
'Supposedly' because Chris Jenks' Vronsky seems far too stiff, unsophisticated and charisma-free to attract Anna. The scenes in which they should clearly fall head over heels in love/lust are hampered by a lack of passion on his part. Never trust a man who doesn't wear socks – or one who doesn't know when his own baby is due.
It's hard to take tragedy without some lightness among the shade – even Hamlet had a couple of gravedigger scenes to lift the mood. But here, the number of slapstick scenes threaten to almost completely derail the drama. Kitty (Tara Tijani), for instance, is first seen in a pink tulle frou-frou dress, on rollerskates. When she and Levin eventually declare their love, they do so in a kind of textspeak, using sparklers to write the words. Why?
Other energetic scenes reprise the fairground, or a tacky nightclub, or RuPaul's Drag Race – shocking pink tutus, shiny sequined coats, gem-studded horn-rim glasses, a glittering disco ball… At one point, Stiva (Solomon Israel) – Anna's philandering brother – is wheeled around bare-chested in a bath. In another, he appears as the character on the Fisherman's Friend cough sweets – yellow oilskins, green wellies, a fishing rod. All too often, he shows off that same bare chest in a gold-lamé suit and fluorescent trainers. It's as though Graham Norton has taken over the costume designs.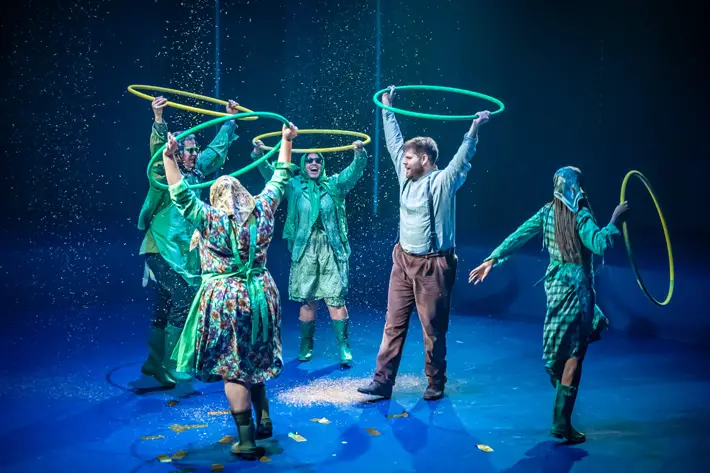 "Mental torment"
The aim behind this may be to show the clash between bourgeois decency (encapsulated by Anna's dull husband Karenin and Levin) and the blingy vapidity of 19th Century Russian aristocracy. Or maybe it's simply to 'get on down with the young ones' so as to distract youthful audiences from that 'universal narrative' of love thwarted, passion extinguished, the conflicts within marriage, the personal and societal consequences of 'sin'.
"We are born to suffer," as Anna says, by this time smeared in tar – heralding her railway suicide? Unfortunately, the device does often distract – from the story of one woman's doomed attempt to flout society's double-standard norms, together with other poignant experiences of loves lost and found.
It also distracts from some very fine performances, most notably Leoncé's, as Anna succumbs to mental torment, but also McMeekin's well-judged, self- and faith-doubting Levin (Anna's conscience, who knows "it will end in destruction"), Isis Davis as the much-put-upon Dolly, and Nick Fletcher as Karenin, the buttoned-up bureaucrat repressing much deeper emotions. Sarah Seggari provides a number of glitzy comic turns, and Tijani moves attractively from playful to soulful in her dual roles as Kitty and Seryozha, Anna's young son. It's just a shame about all the frou-frou.
Anna Karenina runs at the Sheffield Crucible Theatre until February 25th
images: Marc Brenner