9 to 5 – Review – Sheffield Lyceum
By Helen Johnston, February 2022
Dolly Parton provided an anthem for women everywhere when she penned the lyrics to '9 to 5', tapping her false fingernails to find the opening rhythm that's become so familiar.
When she appears on the clock face centre stage to start the show, looking nowhere near her 76 years, there are immediate smiles from the audience who join in with the opening rendition of the title song.
Although not there in person, her warmth and humour provide the foundation to this glorious celebration of three women defeating their sexist boss in a 1980s office where men earned more for doing less.
It would be nice to think that 40 years on things had changed but the gender pay gap remains an issue in many workplaces. It's enough to drive you crazy if you let it.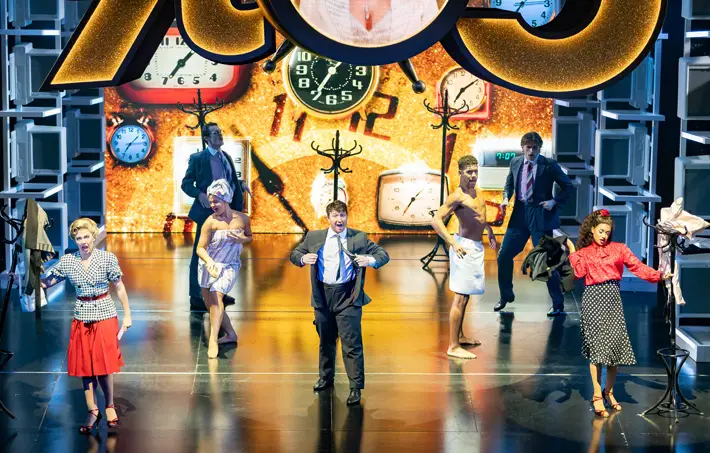 "Superb"
It's the first time I've seen Claire Sweeney live on stage and she was everything I hoped she would be. Powerful voice, great acting, and clearly enjoying herself in the role of Violet Newstead, the supervisor who loses out on promotion to a younger man she trained.
Claire sets the bar high and her co-stars rise to it, with Stephanie Chandos channelling her inner Dolly perfectly to play Doralee Rhodes, the petite and pretty platinum blonde PA to the boss Franklin Hart Jnr.
She doesn't know why she's shunned by the other women in the office until she discovers Hart has been telling everyone they're having an affair. Sean Needham is absolutely superb as sleazy Hart, who thinks women are only there to make his coffee and have sex with him.
Needham strikes precisely the right comedic note, playing Hart as the misguided fool he is, puffing on a fat cigar and telling sexist jokes that elicit groans and boos from the mainly female audience. He also gets some of the biggest laughs though, particularly when the women kidnap him, kit him out in his own bondage gear and string him up in his bedroom.
He was left swinging from side to side above the stage at the interval and laughingly warned the audience not to take pictures while he waited for a stagehand to get him down. The curtain fell while he was still swinging so who knows how long he was left up there.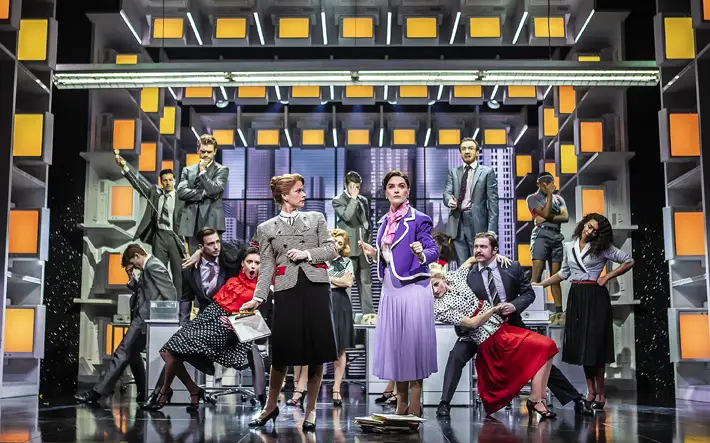 "Pitch perfect"
The third member of our heroic female trio is Judy Bernly, played with aplomb by Vivian Panka, making her UK debut with the show. Judy has just been left by her husband, the appropriately named Dick who ran off with his secretary.
Judy has never worked before and is taken under Violet's wing, building her up so that when Dick comes crawling back she has the confidence to tell him where to go. Her solo 'Get Out and Stay Out' wins appreciative applause.
Another stand-out performance is Julia J Nagle as Roz Keith, an older secretary who secretly lusts after Hart for some perverse reason. The scene where she reveals her desires, and her underwear, is hysterical.
All the cast is pitch perfect and this show is one of the funniest and most joyous I've seen in a while.
Dolly finished the show from her clock screen and then everyone was on their feet joining in the final rendition of '9 to 5', word-perfect with those lyrics that continue to resonate with so many women.
images: Pamela Raith Photography