James Blunt – Live Review – Leeds Arena
By Graham Clark, February 2022
Arriving to a gig early can reap rewards – especially if the support act is as good as Gavin James. The Irish singer-songwriter is understandably a major star in his homeland.
Armed with a set list that read like a greatest hits collection it made you wonder why he is not as well known this side of the Irish sea. It would be so easy to say his music fits in well with his fellow countrymen such as Kodaline and The Script – and the references are valid on tracks such as 'Always' and 'Hearts On Fire', with the latter sounding even better in an arena setting such was the enormity of the song. Winning a whole new set of fans in the process, this was a job well done.
When James Blunt released his Greatest Hits album last year the cynical might have questioned the title when he is only known mainly for one song, 'You're Beautiful'.
"Easy going nature"
As Blunt himself is quick to point out as he arrives on stage in Leeds, he jokingly says he is "going to play 'You're Beautiful' 22 times"
But it would be unfair to think of his repertoire as just that one big Number 1 ballad as he can rock out with the best of them and even touches on a bit of Euro pop on the Robin Schulz banger, 'OK'.
His dry wit and self-deprecating comments that he drops throughout the night are at odds with the easy going nature of his music. "We were going to call this the Omicron tour," he jokes: "Feel It, Spread It, Love It."
Hearing his songs back to back highlights that you probably know more than you think; 'Goodbye My Lover' still sounds emotional, 'Love Under Pressure' has a house music piano feel to it, whilst you can hear the quiver in his voice when he performs 'Monsters' – a touching song dedicated to his father that is one of the most moving moments of the night.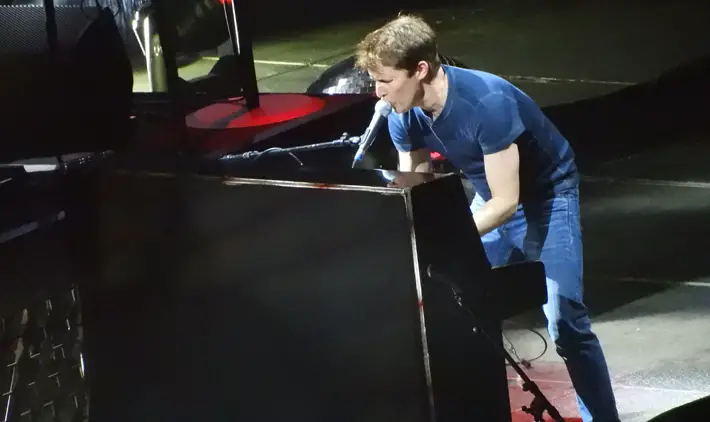 "All ages embrace"
Unexpectedly Blunt covers the Slade hit 'Coz I Luv You'. As he wears an old gas mask he leaps off the stage to go walkabout through the audience. Whilst it's an opportunity to get closer to his fans it also provids plenty of chances to get those selfies that will undoubtedly appear on social media sites, boosting his profile further.
Naturally 'You're Beautiful' arrives towards the end of the evening. Couples of all ages embrace each other as security struggles to get those that choose to stand up in the aisles back into their seats.
'1973' seems to be a good number to encore with, as Blunt climbs on the top of his piano to take a photo of the Leeds fans, jumping down in wild abandonment afterwards. Looking like an original move, it is something Jamie Cullum has been doing for years.
With Blunt disclosing that he once lived in Strensall outside York for two years, the choice of John Denver's 'Take Me Home Country Roads' playing as the audience leave the arena seems apt. Homecomings don't get better than this.