Introducing: Snakerattlers
Bloodthirsty take on garage rock and rockabilly from York…
YOUR NAME: Dan Oliver Gott.
BAND NAME: Snakerattlers.
WHAT DO YOU DO / PLAY? Guitar (very badly) vocals (even worse).
HOW LONG HAVE YOU BEEN TOGETHER AS A BAND / PLAYING MUSIC?
Just over three years.
GIVE US 3 REASONS WHY WE SHOULD TRACK DOWN, LISTEN AND DISCOVER YOUR MUSIC?
We perform a blistering take on rockabilly, have a very intense live show and fight for outsiders, freaks and outcasts everywhere.
WHERE DO YOU SOUND BEST – FESTIVAL, CLUB, BEDROOM – OR SOMEWHERE ELSE?
Small clubs and bars. The smaller the better.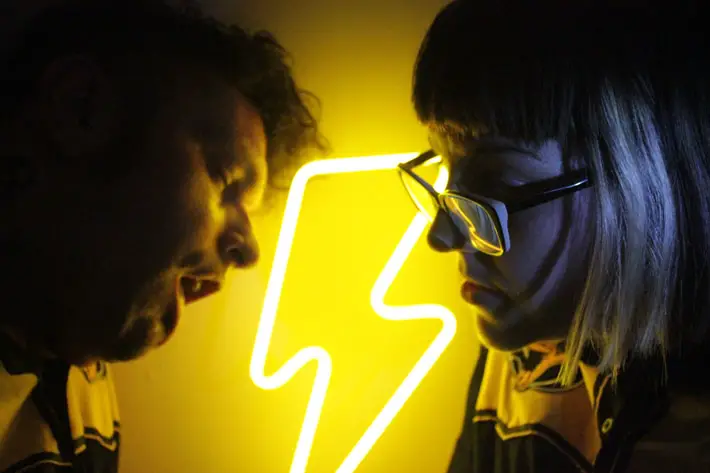 WHAT WAS YOUR FIRST…
RECORD? GG Allin – Terror in America.
CD? Presidents of The United States of America – 'Lump' (CD single).
DOWNLOAD? I don't do downloads.
SO, WHEN IT ALL GOES RIGHT AND YOU'VE GOT A MANSION AND A SUPERMODEL GIRL / BOYFRIEND, WHAT WILL BE YOUR BIGGEST MUSICAL INDULGENCE?
I am married to the other half of my band, so I have already won this bit. But if money was no object, I would build my own rehearsal space / bomb shelter.
SO, WHEN IT ALL GOES WRONG AND YOU'VE ACRIMONIOUSLY BROKEN UP CITING HUGE MUSICAL DIFFERENCES, WHAT DO YOU FALL BACK ON?
I manage three other bands and work for a music venue booking touring bands. So that!
CITE SOME INTER-BAND MUSICAL DIFFERENCES…
We don't really have any when it comes to writing, but sometimes I get cravings to listen to 90s pop music, and Naomi doesn't like that.
WHO ARE YORKSHIRE'S FINEST IN CULTURE, SPORT AND MUSIC?
Culture – Chris Sherrington (Fulford Arms owner), Kai West (various odd mind-bending shows) and Miladdio (York-based artist).
Sport – Roger and Hilary Westerman (super serious cyclists), Leeds United Football Club (because Tottenham are a London team).
Music – Segregates (the only other true rock and roll band in York), Perspex (young lads with big futures), X Ray Cat Trio (the best rockabilly band ever).
NAME YOUR SUPERGROUP – WHO'S PLAYING WHAT, WHO'S ON VOCALS AND WHO'S YOUR BEZ?
Drums / vocals: Naomi Gott – Snakerattlers.
Bass: Tarryn Watkins – Fat Spatula.
Guitar: El Nico – X Ray Cat Trio.
Vocals: James O Caoimh – formerly of Pink Candle.
Keyboard: "The Black Bride" – The Wax Phantoms.
Bez: Fez – Formerly of Surf Sluts.
GO SEE THIS FILM: The Joker.
GO READ THIS BOOK: Exquisite Corpse.
GREAT LOST BAND/ARTIST: The Preachers.
WOULDN'T BE CAUGHT DEAD SUPPORTING: Vice Squad.
LONDON, L.A OR LEEDS? Leeds.
AND FINALLY, AS YOU LEAVE THE STAGE, WHAT ARE YOUR PARTING WORDS?
We've been Snakerattlers, join us, be an outsider.
Snakerattlers play York Fulford Arms Jan 31, Huddersfield Northern Quarter Feb 1
For more info visit: snakerattlers.com